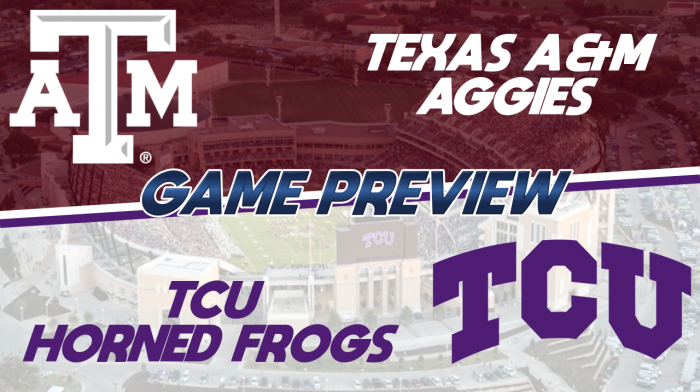 The Texas A&M Aggies (3-6, 1-3) travel up north to take on the TCU Horned Frogs (1-8, 0-4). Both of these teams rank at the bottom of the SEC but are looking to try and secure their spot in a bowl game with a win. The Aggies enter play after completely dominating Florida State, 63-31. The Horned Frogs come into this game after losing in a blowout to Clemson, 49-13.
PREVIOUS MATCHUP
Season 3: TCU 45, TAMU 38 2OT.
Texas A&M
The Aggies come into this game after an impressive victory over FSU that many did not see coming. Quarterback Walker Mills and Jimmy Tickle rushed all over the poor Seminole defense and set the team rushing record of 563 rushing yards. Mills had 336 rushing yards and five touchdowns, while Tickle added 227 yards and four touchdowns. While both Mills and Tickle have started off slow, they rank third in the league in rushing after last weeks performance. Adding to the dynamic of this offense is wideout Christian Barnes. Barnes was the star of the show the last time these two teams met, catching six passes for 140 yards and two touchdowns. Jay Wells, DeAndre McPherson IV, and Jerrett Jensen provide a security blanket for Mills in the receiving department.
On defense, the Aggies will fit very well with what TCU will likely do. With TCU being a pass-heavy offense, it will be up to the fourth-ranked pass defensive team to stop them. Players such as Adrian Smith, Sky Taylor, Zay Manning, and Billy Kidwell help provide coverage against opposing defensive backs. If they can lock down the TCU wideouts, look for Claevon Buckalew, Jack Browns, and Dom Sparrow, to get to the TCU quarterback. Add in East McFadden and Damien Willis, and you have yourself a pretty solid defense.
TCU
The Horned Frogs enter play tonight on an eight-game losing streak. After losing two close games to Auburn and Tennessee, TCU waved the white flag and was promptly defeated by Clemson last week, 49-13. Quarterback Dalton Andrews leads the charge with his 3205 passing yards and 19 touchdowns this season. Backfield mate Koda Adok comes in with 558 yards and nine touchdowns to his name. Wideouts Ray Conley and Horace Lynch provide the fireworks and the reliable weapons for Andrews.
The defense has not been TCU's strong point this season, ranked near last place in nearly all defensive categories, this Horned Frog attack will need to step up tonight. Jabril Jackson, Aaron Davis and Kobe Jordan are the stars of this defense. Xavier Colon plays on the opposite side of Davis while Erik Gibson, O.J. Dawkins are tasked with covering TAMU's wideouts. Vonn Harris and Sam Bammerson round out the secondary for TCU.
WHAT TO WATCH FOR
Tickle and Mills vs TCU's defense.
We were all witnesses to last weeks coming out part of Jimmy Tickle and Walker Mills. Both ran woodshed on FSU's defense and they have the opportunity to add to their rushing numbers tonight. TCU's defense is ranked 13th in the league, giving up 209.1 yards per game. With the way that TAMU likes to run the ball, it could be a long night.
KEY MATCHUP
TCU QB Dalton Andrews vs TAMU FS Sky Taylor
If TCU wants any shot tonight they will need Andrews to repeat his five touchdown performance that he accomplished the last time these two teams met. Going up against him will be free safety Sky Taylor, who has impressed in his freshman season with 87 tackles and six for a loss. TAMU will be heavily dependent on their secondary to make plays but will Andrews expose the freshman defender? Or will Taylor rise to the occasion?
PREDICTION
You have to feel for TCU. Eight straight games they have suffered a loss with a couple of those being really close. Which TCU team shows up tonight will be the real question. Will TCU step up and play tough as they did against Auburn, or roll over as they did against Clemson? TAMU, on the other hand, would love to continue to beat opponents as their season winds down. Tonight, I see TAMU's offense being too much for TCU. The Aggies roll, 45-10.