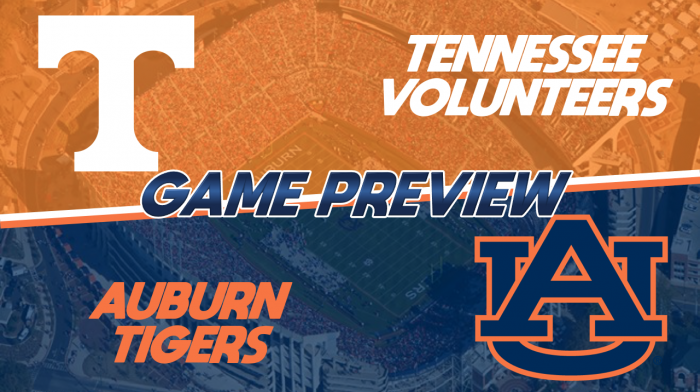 Some might say that Texas' win last night lowers the stakes of this game, but it really doesn't. Auburn, with help, still has an opportunity to squeak into the Orange Bowl. For that to happen, Auburn has to win out and that's a tall order considering the fact that Tennessee has been able to get the better of Auburn in recent meetings. The fact of the matter is this: it's a crucial SEC tilt for both teams, but for Auburn especially.
TENNESSEE
The Volunteers have got nothing to worry about offensively. With quarterback Dewey Ainge getting into a quick rhythm, courtesy of receivers Nick Bagg, Conrad Farrell, and Cutter McGillicuddy. Can't forget tight end Glenn Stewart either, who happens to be an absolute stud in the open field if given such an opportunity. While the Volunteers are able to boast of halfback Donny Kazee, who has a nice game on occasion, the real threat of this team is their passing attack.
The defense, well, the same can't quite be said for. Linebackers Jumon Hilliard and Thomas O'Donnell have contributed to the best of their capabilities, to which they often answer the bell. Defensive end James Mitchell, more often than not, is able to come up with crucial plays that can ruin drives for the opposition. Problem is, he often finds himself getting double teamed, making his work exceptionally difficult.
AUBURN
The rushing leader, Billy Carter is still leading the charge for Auburn. The halfback leads the league in yards and is dang near impossible to bring down by opposing defenses. Quarterback Griffin Jelkic has been steadily improving, albeit perhaps not at the rate the Tigers wish. That said, tight end Chris Bullard has established himself as the favored target of Jelkic, but he's not alone. Wide receivers Wayne Carter, Jace Rosser and Bubba Davis have all found stretches where they make some pretty big plays. Rosser and Davis especially, as they have come up successful on critical third downs in games.
Then there's the Auburn defense, where linebackers Jack Law and Micah Myers are doing their part. Myers and Law are usually the first ones to the ball, but they've received help. Safety Ollie P. Peters has been an absolute phenom in the Auburn secondary. Having the pressure that is offered by defensive ends L.E. Uchia and Albert Macklin tends to assist that, but Peters finds a way to add to his highlight reel every single week with some devastating hits.
WHAT TO WATCH FOR
Alright, on the subject of these two teams, it's going to be another heavy dose of one Billy Carter. If Hilliard and O'Donnell can't slow him down, Tennessee safety Buster Bates will have to. That would be fine, if it weren't for the fact that Carter has a tenacity for finding his way past, or through, safeties like Bates.
PLAYER MATCHUP
WR Nick Bagg vs. CB Jesus Kitchens
So, I've highlighted the Carter-Bates matchup, but get a load of this one. Nick Bagg is one of the better receivers in the league, as he has made some incredible plays so far, but he's going up against Kitchens who is likely going to keep him Bagg as locked up as possible. If Kitchens is successful, that's one less receiver the Auburn secondary has to worry about. If Bagg is able to beat Kitchens then, well, Auburn may have a rough game.
PREDICTION
Look, this game is crucial for Auburn if they hope to have any semblance of a shot at the Orange Bowl. They have to win. Tennessee's in a similar spot, but the help they need is a bit different. With the news of Tennessee's fate being revealed last night, they'd love to go out with one last passionate "Hurrah!" but I don't know that this matchup is in their favor for that to be the reality. I'm guessing Auburn will find a way to squeak out a win tonight.
Tennessee 31, Auburn 34