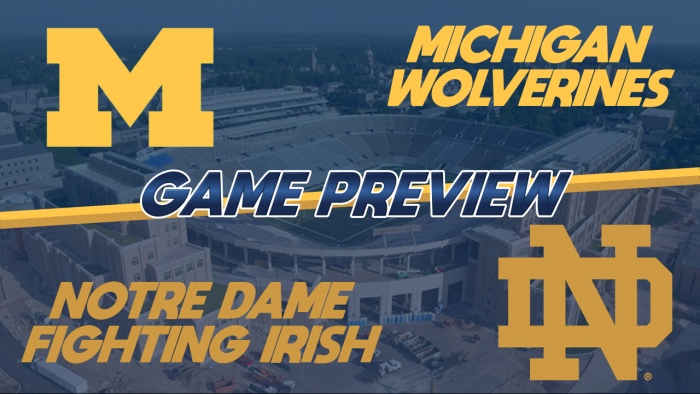 The Big 10 night continues with a rematch of last seasons Rose Bowl. Notre Dame (6-3, 3-2) travels to Ann Arbor to take on the Michigan Wolverines (6-3, 2-2). Both of these teams are in the hunt for a Big 10 title but trail conference leader Oregon by one conference loss. This game will surely eliminate one of these teams from contention, while the other lives on another week.
PREVIOUS MATCHUPS
Notre Dame holds the series lead at two games to one. The Irish have taken the past two games, including the blowout of Michigan in the Rose Bowl, 59-31. Michigan won the first-ever matchup between the two teams, 37-24 in season two but have not been able to repeat that success.
NOTRE DAME
After a tough loss to Oregon two weeks ago, the Irish responded well with a 31-26 win over Iowa last week. This offense is led by the duo of quarterback Jose Bueno and running back Joe Pantoja. Joining the two freshmen are Skyler Schnee and Alistair Kye on the receiving end. The offense for the Irish runs out of a pistol scheme, a scheme that the Irish have used before. While Notre Dames offense has limited turnovers, tied for first in the league, they have suffered in nearly every other category. The Irish rank 13th in the league in total offense and third down efficiency. Notre Dame will need to sustain drives in order to keep up with the Wolverines tonight.
Defensively, the Irish fare much better than their offense. First, in the league in creating turnovers, the Irish also rank near the top in pass defense and points per game. Most of that credit is due to the upfront presence of Shane Razorback. Giving Razorback time in the backfield is linebackers McKinley Hall and Duke Thomas. Tyrell Solo, Jackson Stone, LaQuarius David, Michael Pluth and Lamont Terrier round out a secondary that is very good against the pass. The big question tonight will be how well they do against the run where they rank 12th in the league in rushing yards per game.
MICHIGAN
When you think of Michigan, you think of the so-called "game-manager". Quarterback Javon Mack has been consistent all year, throwing for 17 touchdowns and rushing for 12. What's even more impressive is the 74.2% completion rate. Joining him in the backfield is EJ Mack. The second Mack has rushed for 868 yards and five touchdowns and should be able to eclipse 1k tonight. Bobby Jackson, Nick King, and Darwyn Garcia are the weapons outside for this Michigan team.
On defense, Jake Lake has had a solid year at linebacker and is joined by Jesse Horrigan at the linebacker spot. Cornerback Joshua Priest Jr., Elliot Wells, and Blue McFadden assist with forcing turnovers for this defense. Michigans defense is currently ranked 3rd in takeaways.
WHAT TO WATCH FOR
The key to tonight's game will be turnovers. Michigans offense ranks last in turnovers given up with 14. Javon Mack is the prime contributor with that number, with 13 INTs. Notre Dame leads the league in turnovers created with 17 of their own. Tyrell Solo and Jackson Stone have a combined number of nine INTs.
KEY MATCHUP
Notre Dame QB Jose Bueno vs Michigan CB Joshua Priest Jr.
Priest Jr. made a name for himself with his ability on kickoff returns and is usually tasked with guarding the number one wideout on teams. The crazy thing about Priest Jr. is that not only does he wear Nikes for shoes at an Adidas school, he also has only one INT to his name. Notre Dame quarterback Jose Bueno is very good at picking his windows and has only thrown three interceptions all season. Can Priest make an impact on the defensive side of the ball and force Bueno into rookie mistakes? Or will Bueno continue to pick apart opposing defenses?
PREDICTION
Both of these teams are in for a fight. No one wants to get knocked out of a title race so expect this one to be close. For Michigan to win, they need to limit turnovers and play sound defense. For Notre Dame to win, they need to get their offense rolling and create turnovers on defense. This matchup is a big one and I am taking Notre Dame in this game. Look for the Irish to create havoc in the secondary and for Razorback to come down with a couple of sacks. Notre Dame wins by 10. 34-24.