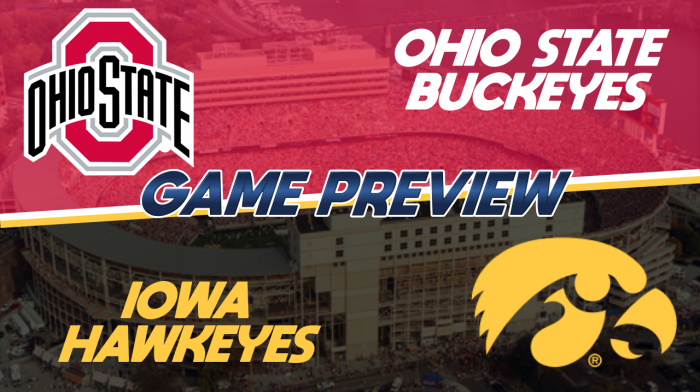 Tonight, two Big Ten foes square off as the Ohio State Buckeyes take on the Iowa Hawkeyes. After last week's fall to the Oregon Ducks, Ohio State is all but eliminated from Orange Bowl contention. They are still in the hunt, however, for a Rose Bowl berth, something not many expected out of Ohio State at the start of the season. In their last season, Iowa has been relatively similar to their last few seasons. They are always a tough team that will play you to the end. While this has not resulted in many wins, they are always a threat to a top team.

Ohio State

This offense has leaned on the run all season. They nearly have two 1000 yard ball carriers. Xavier Garcia-Allen has been one of the most consistent running threats. He is just under 1K, but the player mining up behind him, Frost Carlson, is having an even better rushing year. He has surpassed 1K, racking up 1026 yards, and has 13 touchdowns, good for eighth in the league. Royce Mills leads the team in receiving with 358 yards and four touchdowns.

Ohio State has many key playmakers on this team, but one really stands out. Kevin Brackett has been a monster all season. He is just under 100 tackles with 99 and an interception. Brackett also forced a fumble that gave Ohio State a chance against Oregon. This defense is full of playmakers. Corners Juan Cantu and Tom Pence have been lockdown on the outside. Cantu has three interceptions and Pence has been superb in the return game.

Iowa

Joe Kane has beaten people all season with his legs. He has the record for the longest touchdown, taking one 99 yards against FSU. He has 871 yards and 11 touchdowns. Avery Jordan, star sophomore halfback has been doing what he can. Darren Pegues has been the main receiver in this bunch. He has three touchdowns on the season.

Mohammoud Dmour has been a beast on the line with four sacks and a forced fumble. Jerry James is the leader of this defense. He has 76 tackles, 16 for a loss, and three sacks. Marcin Olesniewicz has been making plays, but not at the level he and his team want him. Neal Mason and Othello Jones both have an interception. Bo Bodine has the third most tackles on the team with 52. But he has been effective on returns.

Key Matchup

Joe Kane vs Kevin Brackett

This Iowa team is going to run and with Kane at the center of that, Kevin Brackett will need to step up to it. He is capable of it and so are his teammates. This game is on Brackett's shoulders and it should be exciting to see two players who excel at the perfect things to meet square off.

Prediction

Ohio State – 34

Iowa – 24