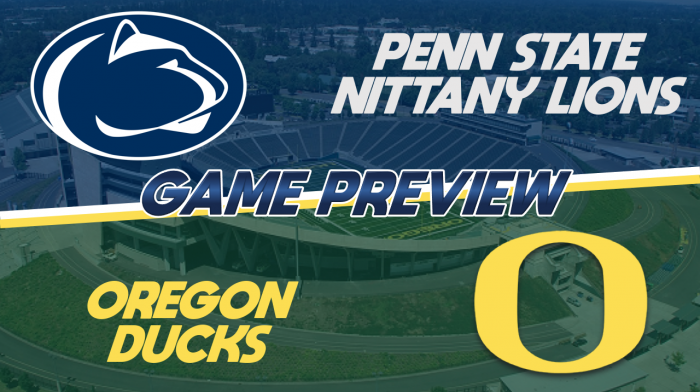 The Big 10 matchups continue tonight with Oregon and Penn State. Oregon (6-3, 3-1) travels to Beaver Stadium to take on the Penn State Nittany Lions (2-7, 1-3). Oregon is on a route to becoming the Big 10 champion. This game could cause Oregon to fall behind in the Big 10 standings.
PREVIOUS MATCHUPS
Oregon won the only matchup between these two teams 23-21. In that game, Penn State almost upset Oregon on their way to the Orange Bowl. Penn State's defense was the cause of that almost upset.
PENN STATE
The Nittany Lions had much work for them this season. Aidric Berry leads this team alongside their HB Robert Davis. Berry has a completion rate of a little over half and 2447 total yards. Assisting the QB-HB duo is Ronald Fields at Wide Reciever. Fields has had 28 receptions, 5 of those being touchdowns.
Defensively, the Nittany Lions aren't much better. The key to success in football is scoring more than you get scored on. With a net score of negative 128, one looks to the defense as to why. One thing Penn State does well, however, is creating opportunities in the backfield. Having a combined 125 tackles, Harper Allen and Jack Tyler are going to be crucial in this game.
OREGON
When you think of Oregon, you think of the great offense. Quarterback Devonta Cribbs has been consistent all year, throwing for 2605 yards and rushing for 291. What's even more impressive is the 68.8% completion rate. Joining him in the backfield is Speedy Love. Love has rushed for 1008 yards and nine touchdowns. King Twizz, Dijon Swann, Coty Betts, and Humphrey Wells are the weapons outside for this Oregon team.
On defense, Jack Frost has had an amazing year on defense. With his 3 interceptions, he is sure to make a difference tonight. Alongside him on the defense is Thor Odinson, Israel Cassius, Locky Downington, Shane James, and Noah Lopez. Oregon's defense is currently ranked 2nd in takeaways.
WHAT TO WATCH FOR
The key to tonight's game will be 3rd downs. Oregon's offense ranks 2nd to last in 3rd down conversion rate with 40%. Penn State allows a 55% 3rd down conversion rate. The real test will be who's rate will improve.
KEY MATCHUP
PSU QB Aidric Berry vs Oregon FS Jack Frost
Frost made a name for himself with his ability in the backfields. He stops plays when nobody else could. Berry, on the other hand, is known for his breakout plays. Can Frost stop Berry? Or will Berry continue to make these plays?
PREDICTION
Both of these teams are in for a fight. On one side of the ball, you have to find a way to keep building your record and on the other side, you have to find a way to get back in it. For Penn State to win, they need to limit turnovers and play sound defense. For Oregon to win, they need to get their offense rolling and create turnovers on defense. This matchup is a big one and I am taking Oregon in this game. Look for the Ducks to create havoc in the secondary and for Cribbs to supply a couple of touchdowns. Oregon wins by 7. 35-28.