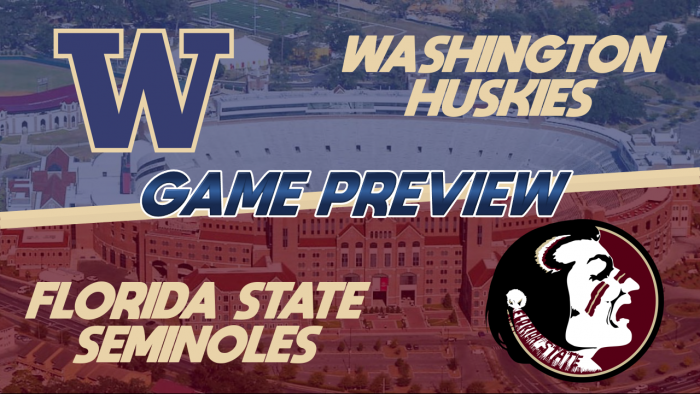 The second to last week of the season four regular ends tonight as a struggling Seminole team takes on a middle of the pack Washington Huskies. Florida State has been called the best 1-7 team someone could hope to see. They have been in so many games, and let so many more slip away. Washington has been up and down all season. In the initial polls, they were ranked at the top, sitting at number one. Ever since, however, they have faced crushing defeats at the hands of Clemson, the Hawkeyes, and Notre Dame in consecutive weeks.

FLORIDA STATE
This Seminole offense has always been pass, pass, pass. Ever since James Kovach has stepped on the scene, he has been in the top of every board in passing. He has the third most touchdowns and fourth in yards. His wide receivers live a lavish life under this scheme. All of his receivers are nearly at 500 yards, the one not being Giorgio Pipino at 474. Jared Tetonis and Albert Saenz lead with 1004 and 774 respectively. Adam Croft has been doing his damage in the passing game. He leads the league in receptions and has over 500 yards.

Defensively this defense is fairly weak. Nate Tetonis is the face of this defense, being the only player over 70 tackles. Dale Higgenbottom has been lockdown on the outside. George Tetonis leads the team in picks with two and has almost 60 tackles. Marlon Davis has been doing it from the line. He has six sacks and 27 tackles.

WASHINGTON
Washington has been a ground and pound attack all season. Doug Ohle has been the man in the middle, setting up the read option and hitting his receivers when needed. Ron Dayne is third in rushing, with 1215 yards, and fifth in touchdowns with 15. Matty Rose has been elite in the return game, while Lord Helix has been filthy receiving the ball, making all sorts of catches. Derrick Gray has been called the greatest tight end in CFSL history and looks to continue his legacy in his last few games.

This Husky defense has numerous playmakers. Richard Bradley has been playing fantastic as of late. He has 32 tackles, 12 for a loss, and six sacks. DeJounte Wilson and Erik Langston have been patrolling the middle. Both have lived in the backfield, having 13 and 14 tackle for losses respectively. Austin Johnson, Freddy Petty, and Bradley Knox have been locking down opponents receivers all season. Kalu James continues his tear, knocking down anyone in his path.

KEY MATCHUP
Ron Dayne Jr.vs Nate Tetonis

Every since he appear3d in the CFSL, Dayne has been a monster. He can win games all by himself. If FSU wants a chance, Tetonis will need to play huge.

PREDICTION
FSU – 38

Washington – 42