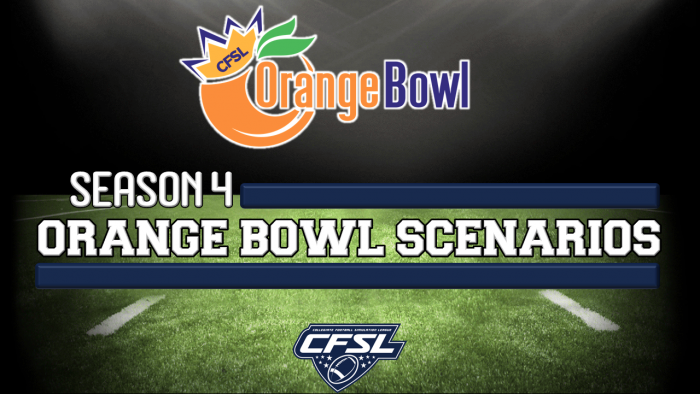 The Orange Bowl is considered the National Championship of the CFSL. This season is the tightest race for it yet. In the SEC, three teams fight for one spot. In the Big Ten, one team has no control over their destiny, while the other is playing for their ticket. This is a guide to know who goes in and who stays home throughout the week.
SEC
For Clemson to make an Orange Bowl appearance they will need either
a) Texas to lose to Texas A&M
or
b) While Texas beats A&M, Clemson has a higher point differential than Texas
For Texas to play for a national championship, they will need Clemson to beat Auburn and Texas will need a higher point differential than Clemson.
For Tennessee to try for their second title, all they need is Clemson to beat Auburn.
Auburn, Texas A&M, Florida State, and TCU are eliminated from the Orange Bowl race.
Big Ten
For the Oregon Ducks to make it to the Orange Bowl, they would need to defeat Washington on Thursday.
For Notre Dame to make the Orange Bowl, they will need Washington to beat Oregon on Thursday.
Washington, Michigan, Ohio State, Iowa, and Penn State are all eliminated from Orange Bowl contention.
Final Thoughts
After the Tuesday games, the SEC will be settled and one of the three best teams on the nation will face off against their Big Ten opponent. As for the Big Ten itself, it all comes down to one game, Oregon vs Washington, on Thursday. This week may be the best week the CFSL has ever seen, so be sure to tune in and watch the scenarios unfold.