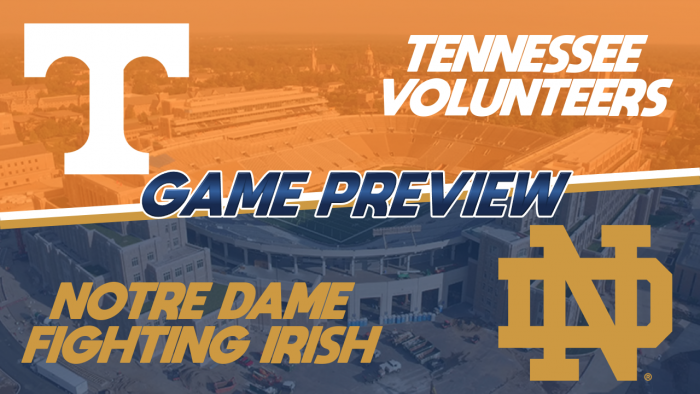 This is it, the final week of the regular season in the CFSL and it kicks off with what very could well be this season's Orange Bowl matchup. The Fighting Irish and Volunteers, both have won two in a row, and at least one of these teams will likely be in the Orange Bowl next week. How can that happen, and what can we expect for tonight? Well, let's dig deeper.
NOTRE DAME
How about that Jose Bueno? The quarterback of the Fighting Irish has come on strong as of late, as his passing is improved and his rushing abilities continue to serve him well. He's been aided by halfback Joe Pantoja despite all the jokes made by the league at Pantoja's expense he continues to provide a great deal of support for Bueno. Pantoja, despite his numbers, is able to keep some pressure off Bueno, and it helps when the receivers make the plays they do. Tight end Alistair Kye comes up in crucial moments, as does receivers Skyler Schnee, Bojangles Jackson, and Upton O'Goode.
Let's get something straight regarding this defense. Defensive end Shane Razorback, more often than not, sets the tone of the defense. As Razorback often makes the instrumental and crucial plays or at least opens up the door for his teammates to do so. Linebackers McKinnley Hall and Duke Thomas find themselves in position to take advantage of the openings provided by Razorback. Factor in corners Tyrell Solo and Jackson Stone and, well, this defense knows how to come up with crucial plays.
TENNESSEE
Quarterback Dewey Ainge is trying to take the league by storm and he's had a monster of a season doing so. It helps, though, when your receivers are making incredible plays. Nick Bagg, Conrad Farrell, and Cutter McGillicuddy are making the plays that they are, especially with consistency. Oh, and tight end Glenn Stewart is doing all that he's doing. That's a pretty major plus, as is halfback Donny Kazee finding ways to contribute in uniquely critical ways.
Then you flip to the defense and you'll find that safety Buster Bates is making a major contribution. His devastating hits sets the tone for linebackers Jumon Hilliard and Thomas O'Donnell. Those are the three major contributors as is safety Andrew Tillman, who works well with Bates. This Tennessee defense, despite how they appear on paper, is playing incredibly well. Oh yeah, and defensive end James Mitchell recorded six tackles for a loss last week, in an impressive victory no less.
WHAT TO WATCH FOR
As it stands, Tennessee will likely put the pressure on Notre Dame and test the secondary with Nick Bagg. That opens up the door for Stewart, Farrell, and McGillicuddy to have big games. As for Bueno, he's going to do his part and do all he can to guide this team to victory.
PLAYER MATCHUP
CB Jackson Stone vs. WR Nick Bagg
We'd argue that this should be Tyrell Solo, and I admit he'll be challenged by Bagg, but Solo's a junior so he's been around. It's Stone who I think is in for the biggest test tonight. Bagg's size with his speed means that Stone is in for a tough night, and it's a matchup that, on any given play late, could be the deciding factor in this game.
PREDICTION
This game matters as it has National Title implications written all over it. This game alone won't decide it, but it will likely play a large role. So, there's a lot on the line. And honestly, I've been incredibly impressed with the way Notre Dame has been able to come up with their wins recently. The close games, leaving them to have to find ways to come out on time speaks volumes. Now, I get it, Tennessee is the same way, but they've become a little too dependent on the passing attack, despite some of Kazee's performances. The Volunteers are explosive as an offense and they can stop you defensively, but I'm trusting Bueno to find a way to win.
Notre Dame 38, Tennessee 35