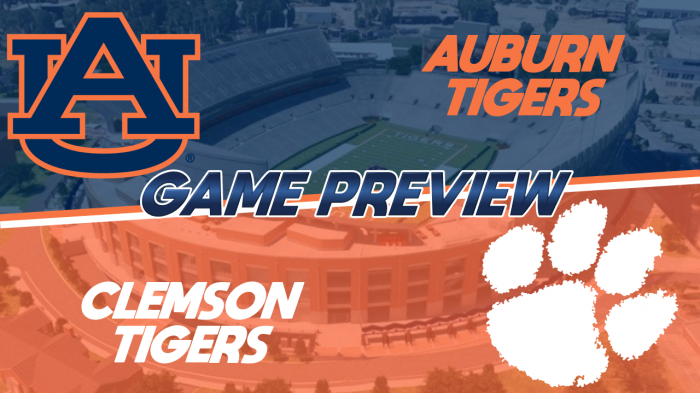 The most important night in SEC history ends with the Auburn Tigers (6-4, 3-2) head to South Carolina to take on Clemson (8-2,4-1). Both of these teams are needing a win tonight. Clemson needs to win, and win big in order to go to the Orange Bowl. Auburn needs to win to end their season on a high note and to hurt Clemson's and Texas's chances at an Orange Bowl bid.
You might remember the last time these two teams met. That was the week that Auburn raced out to a 21 point led, only to lose it in the second half. Auburn scored 35 points in the second quarter alone but fell 52-45.
AUBURN
The number one rushing offense in the league takes the field in the duo of Griffin Jelkic and Billy Carter. Jelkic has rushed for 699 yards on the season, while Billy Carter leads the league in rushing with 1634 yards and 16 touchdowns. Surprisingly, these two struggled last week against the Tennessee front, gaining only 133 yards total. This week should give them a good opportunity to bounce back but it won't be easy. Wideouts Wayne Carter, Jace Rosser, Bubba Davis, and Chris Bullard lead the receiving corps for the Tigers.
While Auburn is good at running the ball, they are also very good at defending the run. Ranked second in the league at allowing 128.1 rushing yards per game, this game will hinge on the pressure up front from defensive ends Uchia and Macklin. The secondary remains loaded for Auburn with Kitchens, Sanders, Peters, LeClear and Chambers. Overall this defense ranks fourth in points per game allowed at 29.6. Keeping this a low-scoring game will be a priority for this Tiger defense.
CLEMSON
Clemson enters tonight after losing to their arch-rivals Texas. A late missed field goal left the Tigers with a bad taste in their mouth and they would love to take it out against Auburn and increase their chances at an Orange Bowl berth. Quarterback DJ Moss continues to be a touchdown machine with 26 on the season, with 11 coming via the ground. Running back Mike Chadwick joins him in the backfield with 1,140 yards rushing and 16 rushing touchdowns. Wideouts Anthony Robertson III, Keith Blazer, and Jay Moe look to end their seasons on a high note for the second-ranked offense in the league.
What Clemson has done on the defensive side of the ball has been nothing short of impressive. Tied for first in sacks, Tyson Ali and Mike Miller have accumulated for 21 sacks this season. Miller has already broken the record for sacks in a single year with 14 and Ali could garner double-digit sack totals for the second year in a row. Kobe King mans the middle of the defense at the linebacker position. The secondary is led by safety Barry Allen and is joined by Andrew Fuller, Stratton Mowry, Jordyn Hall, and Nick Thompson. Overall this team should do very well against the Auburn team because of their ability to stop the run, which ranks first in the league.
WHAT TO WATCH FOR
As mentioned above, the thing to watch for will be Auburn's rushing attack vs Clemson's rushing defense. Both teams rank first in the respective categories and it should be very entertaining to watch.
KEY MATCHUP
Auburn HB Billy Carter vs Clemson's defensive end/line Mike Miller and Tyson Ali
Billy Carter has shown the ability to run over opposing defenses but has disappeared in key games. Auburn will need him tonight if they plan on pulling off the upset. Standing in his way is the dangerous duo of Mike Miller and Tyson Ali. Both Ali and Miller have combined for 39 tackles for loss, and they have the ability to get in the backfield quickly. If they can do that, this game could be over for Auburn quick.
PREDICTION
Clemson enters this game needing to win and win big if they want to make the Orange Bowl. They have been the best team all year outside of just two losses. Can DJ Moss and company prevent what happened last year when they were down big and came back? Can Auburn continue to hold onto a lead against Clemson? Those questions will be answered tonight along with the SEC title.
Clemson wins 42-24.