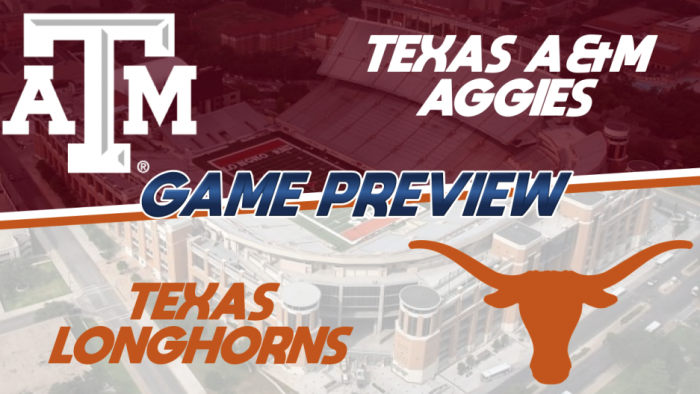 The Texas A&M Aggies (4-6, 3-3) head to Austin to take on their hated rivals, the Texas Longhorns (7-3, 4-1).
These two teams have met once before in the CFSL, a 31-12 win by the Longhorns last season. Unfortunately, this will be the last meeting for the time being as the Aggies will leave the CFSL in season five. The Longhorns are needing a win to keep their championship hopes alive, while Texas A&M would love nothing better than to end their foes season.
TEXAS A&M
The Aggies are entering this game on a two-game winning streak. Wins over TCU and Florida State have propelled the Aggies from a basement dweller to a bowl contender. Walker Mills and Jimmy Tickle have averaged over 100 yards each during their two-game winning streak. Mills on the season is 14o yards away from having rushed for 1k yards and has also thrown for 1,504 yards. His backfield mate, Jimmy Tickle, has rushed for 1,297 yards to go with 18 touchdowns on the ground. Wideouts Chrisitan Barnes and Jay Wells provide Mills targets on the outside in the event that TAMU does need to pass.
Defensively the Aggies are led by Claevon Buckalew, East McFadden, and Sky Taylor. This defense struggled against the TCU offense last week but was able to hang on late. Safety Sky Taylor has had a solid freshman season with 91 tackles with seven for a loss. He will look at breaking the 100 tackle mark tonight and would be the sixth CFSL player to hit that mark this year. The biggest question mark tonight will be the play of corners Adrian Smith, Zay Manning and Corey King. Each corner will be paired up with a Texas receiver. If these corners can lock down the receivers, the Aggies should have a good night.
TEXAS
Last week proved to be one of the biggest wins in Texas's history as they were able to beat Clemson 31-28. Quarterback Ray Tatum continues his march towards OPOY with a 263 passing yards and three touchdowns stat line. Tatum has passed for 3891 yards and 35 passing touchdowns. He leads all quarterbacks in quarterback rating and would love to end this season over the 4k mark for the second time in his career. Halfback Geaux Bamba plays in his last regular season game tonight as he will be leaving the Longhorns after the season. Bamba has rushed for only 705 yards and nine touchdowns. Receivers Scooby Lewis, Vincent McCoy, and Dedric Scaliso give Tatum threats on the outside with tight-end Jackson James eat up the middle. Each one of these wideouts has a shot at getting over 1k receiving yards for the season tonight.
Defensively the Longhorns will need to shut down the run as this Aggie team is built to chew up the clock. Linebacker Justin Boudreaux plays in his final game at Texas and will be looked upon to shut down Jimmy Tickle. Safety Jimbo Smithers is nine tackles away from the record mark for a player in the CFSL and would love to pad his resume for DPOY. OLB Howard Cook roams the middle with Boudreaux and would love to end his freshman campaign with a sack. Jalen Davis and Terrence Top are the corners outside that will need to watch for the PA, while safeties Zachary White and Dorian Cope will look to help stop the run.
WHAT TO WATCH FOR
The Longhorn defense is ranked third in the league in rush defense. Going up against that defense is the dynamic duo of Mills-Tickle. The storyline to watch for tonight will be the ability of Mills-Tickle vs Smithers-Boudreaux. Which duo will win out?
PLAYER MATCHUP
TAMU Secondary vs Texas QB Ray Tatum
One way to shut down this Texas offense is to limit the big plays of their offense. Ray Tatum has made stars of these wideouts and it will be up to the secondary of Smith, Manning, King, Taylor, and Kidwell to keep TAMU in this game. If this team allows Tatum to get on a roll, this could be a long night for the Aggie defense.
PREDICTION
Buckle up folks, this game means more than what is in the standings. The Aggies would love to leave the CFSL by beating their arch-rivals. The Longhorns, however, would love to kick the Aggies out with style. Texas A&M will need to find success running the ball and taking time off the clock while the Longhorns will need to get into a flow on offense early and sustain drives.