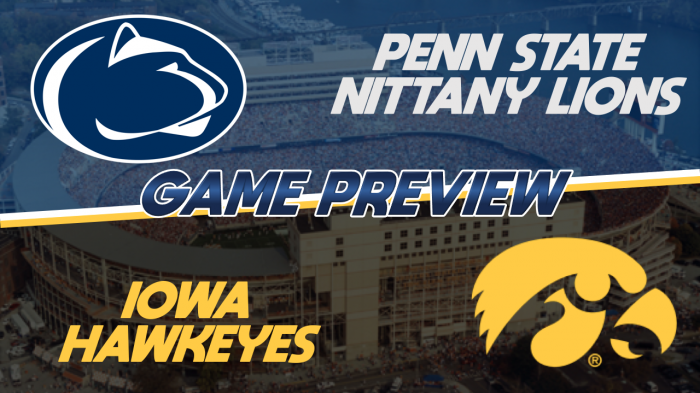 The last week of the regular season has arrived, and with it comes the bowl hopes of these two teams. This Penn State team is, with a few things going their way, in contention for a Rose Bowl berth. After being the butt of the joke for so long, they have a chance to prove everyone wrong and go get a big bowl win. Iowa is in the same spot. They need a little help, but a win tonight could boost them to the Rose Bowl.

Penn State

In his last regular season game, quarterback Aidric Berry looks to put it all on the line to get Penn State the win. Robert Davis has been very effective out of the backfield. He is 4th in rushing with 1252 yards and he has six touchdowns. Ronald Fields has 546 receiving yards and 5 touchdowns. Robert Gomez has been solid all season long.

This unit has committed to the front seven and the pass rush. Jack Tyler is the man in the middle doing it all. He leads the team with 90 tackles. Harper Allen has also been key. He has been their only hope on the outside, and he has been playing well. Deadrick Kingston and Leroy Brown have also been helping in the secondary.

Iowa

Joe Kane and Avery Jordan have been lightning out of the backfield. Both have nearly 1000 yards, with Kane having 1035 and Jordan having 990. Darren Pegues has been playing well, especially on returns. Franklin Richards and Lavonte Thompson have been the better receivers though, having more receptions, yards, and touchdowns.

Mohammad Dmour has been fantastic on the line. Jerry James is an excellent linebacker and hopes to boost his draft stock in these last few games. Marcin Olesniewicz has been a little disappointing but he's still young and has time to grow. Neal Mason also looks to boost his stock in the last few games. Bo Bodine and Othello Jones have been very good at coverage and been making plays all season.

Prediction

Iowa – 21

Penn State – 35