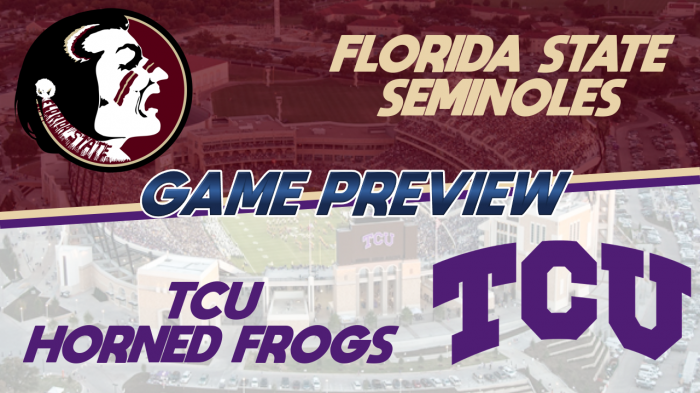 In this July 4th matchup, TCU and FSU don't have many stakes in the terms of bowls. With that being said, these are two teams who are sure to air it out and put up many points. This game is going to be fun for the sheer amount of points about to be put up in this game. Both teams are not looking like they are heading to a bowl so this is the last chance they have to get a win.

FSU

James Kovach has been lights out all season. He has 3851 yards and 27 touchdowns. He has done that with only eight interceptions. His receivers have benefitted from this a whole lot. Jared Tetonis is one of only three players to have over 1000 yards. Albert Saenz is 81 yards away from 1000 and has five touchdowns. Pipino has fewer yards and touchdowns but he is still having a productive season. Adam Croft is the league leader in receptions and has five touchdowns.

This defense has a ton of holes, but a lot of talent. Marlon Davis is having a very productive season. He has seven sacks. George Tetonis has two interceptions and is approaching 70 tackles. Dale Higgenbottom has been locked down on the outside. Nate Tetonis has been a force in the run game and has made some plays in the pass.

TCU

Dalton Andrews has been effective all season long. He has nearly 3700 yards and 24 touchdowns. Andre Gyan is six yards away from 1000 and has nine touchdowns. Ray Conley also has nine touchdowns and 800 yards of his own. Koda Adok has been productive in the passing game but has faltered in the run.

Jabril Jackson has been a beast on the line. He has six sacks, 13 TFLs, and a forced fumble. Aaron Davis is among the league leaders in tackles with 105. Xavier Colon is also having a good season, accumulating four sacks. Kobe Jordan is also one of the top tacklers. He has 88 at the moment and is sure to get plenty more.

Prediction

In their final game, FSU pulls out the win:

FSU – 55

TCU – 49