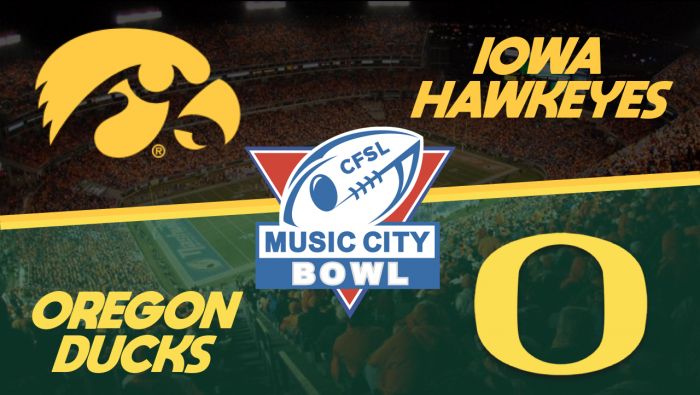 Bowl week is always an exciting time, but it might also be a desperate time for the Oregon Ducks. After all, they're one of few teams to have never won a bowl game in their history. Even before that, though, they were poised to reach the Orange Bowl and compete for a title, until their hopes were dashed in Seattle. Factor that with an Iowa team coming off a win a week ago and, well, we're in for an interesting night.
IOWA
Speaking of the Hawkeyes, allow me to start there. Quarterback Joe Kane has had some growing pains this season, but we've also seen evidence of growth. The best evidence is found in one of the game of the year candidates. Kane had to overcome an 18 point deficit and did so primarily with his legs. Since that time, halfback Avery Jordan has found his legs, and Kane has benefited. So too has receivers Darren Pegues and Lavonte Thompson who have made some crucial plays. Likewise, tight end Franklin Richards has been a reliable target all season and continues to live with that title.
Defensively, there's linebacker Jerry James. Once again, it appears as though James has flown under the radar, but make no mistake. James is a legitimate threat and contributor from the linebacker position. Add in the play of fellow linebacker Marcin Oleśniewicz who continues to make plays. Their play is further benefited by defensive end Mohammad Dmour who has had quite the season in his own right. Face it, this front seven has been a dominant part of the Iowa team.
OREGON
Quarterback Devonta Cribbs had his team in position to win a week ago, but I'm sure he wishes they could have been in a better position. A couple picks are hard to overcome, but I expect he'll play much better tonight. Part of the reason for that will be the aid he finds in halfback Speedy Love. Love will make crucial plays and that will set up shots downfield. Receivers King Twixx, Coty Betts, and Dijon Swann. Swann has had an impressive season, especially over the course of the past couple of weeks.
This is defense has been maintained by the play of safety Jack Frost. Frost is the driving force of the defense but he's not alone. Ben Marquez, the defensive tackle, has forced pressure and linebacker Damion Black has been stepping up consistently over the past couple of weeks. Between Marquez, Frost, and Black this defense can make the plays necessary to defeat the Hawkeyes, but only if they play well.
WHAT TO WATCH FOR
Let's get some things straight. This game is going to be impressive, especially as these two offenses go head to head. In fairness, they're different styles of offense, but they're absolutely going to showcase some fireworks tonight and I'm looking forward to it. Expect Cribbs and Swann to attack the Hawkeyes, while Kane and Jordan try to challenge Black.
X-FACTOR
The way I see this playing out, I imagine it would be Oregon receiver Coty Betts to be counted on. Betts has got to come through in the clutch and make the crucial catches. If he doesn't Oregon could find themselves in some tight spots. But, that's what it's going to come down. Swann and Love can't make every play and Twixx has been limited at best. So it's Betts on the table.
PREDICTION
The way I see this playing out, Iowa is going to make things challenging for the Ducks. Kane and Jordan are going to attack Black and Frost as best they can. But, Oregon's defense can make plays and force turnovers. Marquez can come through and make plays in the backfield, but if he does that, then Cribbs and Love will make all kinds of plays. Factor in the plays that Swann is capable of making, then I imagine we'll see Oregon reclaim their pride from a week ago.
Iowa 34, Oregon 37