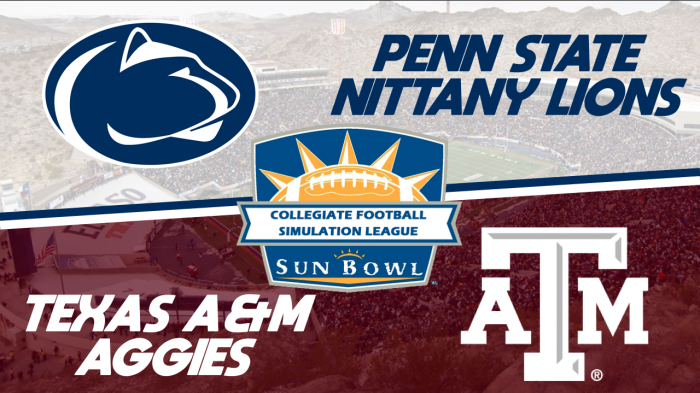 Bowl week kicks off tonight, as Penn State takes on Texas A&M in the Sun Bowl. Penn State had Rose Bowl hopes, but a few key games knocked them down to the Sun Bowl. However, they look to finish their season right and send senior QB Aidric Berry off with a bowl win. Texas A&M comes into the Sun Bowl hot. They have four straight wins and look to finish off their CFSL tenure with a win.

Penn State

The star of the show in this game is Aidric Berry. The senior looks to boost his draft stocks and end his career with a win. The OPOY candidate has had a very good season, even leading the league in rushing touchdowns. Halfback Robert Davis has also had a very good season. He has nearly 1350 rush yards and six touchdowns. Davis has also had a good year in the return game. Ronald Fields has also been very productive, leading the team in receiving yards and touchdowns. He also has a rushing touchdown.

Penn State has relied on their front seven all season. The man who runs it all in Jack Tyler. The All-American linebacker has over 100 tackles, along with 15 TFL and four sacks. Harper Allen is the best part of the secondary. He has two interceptions and 50 tackles. He also has over 500 return yards.

Texas A&M

This A&M offense has relied on their run game all season. Walker Mills has been dominant on the ground, amounting over 1000 yards rushing. All-American halfback Jimmy Tickle has also been insane this season. He has over 1400 yards and 18 rushing touchdowns. He also has a kick return touchdown. Christian Barnes has been efficient this season, having over ten yards a catch. Jay Wells also has over ten yards a catch and two touchdowns.

Claevon Buckalew has been dominant on the line. He has five sacks and 27 tackles. East McFadden has also been productive, racking up 56 tackles and 11 TFLs. Adrian Smith has two interceptions and decent return yards. Sky Taylor has been one of the best safeties in the league. He has 97 tackles and interception. He also has a forced fumble.

Key Matchup

Jack Tyler vs Jimmy Tickle

Tickle has received critical acclaim all over the league. After this game, he will be in the transfer portal and be one of the biggest names in it. He has been killing defenses all season, and Jack Tyler has the task of stopping him. This matchup may determine the game, and it will be a battle between two of the best player in the CFSL.

Prediction

Penn State – 38

Texas A&M – 35