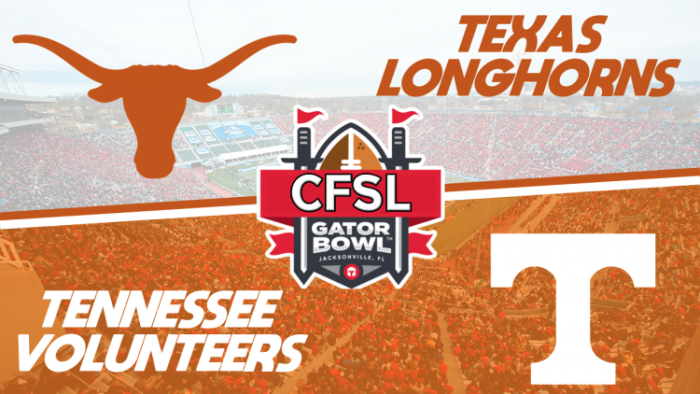 Oh boy – here we go again! Tennessee barely won their last meeting with Texas when they were both near the top of the rankings. It was close the entire way with Tennessee getting only a 3 point victory. But no two games are the same. It's an odd situation for both teams to be in. Tennessee should be favored to put on a show like they did last time, but Texas is ready to fight their hardest and pull the upset. With names like Kazee, Bamba, Bagg, Smithers, Ainge, and James – Highlight plays are going to be abundant regardless of the final score. Tune in to watch a premier heavyweight SEC battle as these two continue to push their rivalry to the next level.
Texas
Everything starts with the man, the myth, the legend, Ray Tatum. The OPOY and star signal called for Texas has put on one of the best QB seasons in recent memory. His passing efforts have resulted in 38 touchdowns with a 75% completion percentage and 8.7 yards per attempt. Interceptions are still an issue at 11, but not to the extent that we saw in his Freshman season. Even if you shut him down, a nice dream for Tennessee, Geaux Bamba will carve you up with his 4.6 YPC average. If you focus the run, star WRs Vincent McCoy and Scooby Lewis will burn you in single coverage all day. Texas has an offensive unit that is nearly impossible to stop but amazing to watch.
Texas' offense is something to behold, but their defense is the bread and butter of how this team gets wins. Their 26.6 PPG against is the second-best mark in the league. A lot of what makes this team special is their ability to stop the run even in pass coverage. This is a testament to what a versatile unit the Longhorns boast. Safety trio Wells, White, and Smithers have been hitting hard since day one. Their ability to wrap up tacklers makes this a tough group to do anything against. Also, in the secondary, Jalen Davis and Terence Top are true stars. Their versatility comes up in all situations and make them some of the best all-around corners.
TENNESSEE
Quarterback Dewey Ainge is trying to take the league by storm and he's had a monster of a season doing so. It helps, though, when your receivers are making incredible plays. Nick Bagg, Conrad Farrell, and Cutter McGillicuddy are making the plays that they are, especially with consistency. Oh, and tight end Glenn Stewart is doing all that he's doing. That's a pretty major plus, as is halfback Donny Kazee finding ways to contribute in uniquely critical ways. Overall, this offense is just amazing!
Then you flip to the defense and you'll find that safety Buster Bates is making a major contribution. His devastating hits set the tone for linebackers Jumon Hilliard and Thomas O'Donnell. Those are the three major contributors as is safety Andrew Tillman, who works well with Bates. This Tennessee defense, despite how they appear on paper, is playing incredibly well. Oh yeah, and defensive end James Mitchell recorded six tackles for a loss last week, in an impressive victory no less.
WHAT TO WATCH FOR
Tennessee will likely try to put pressure on the Texas secondary with all three of their good receivers. For Texas to win this one, they need to effectively control the passing game.
KEY MATCHUP
Texas FS Jimbo Smithers vs Tennessee QB Dewey Ainge
Smithers is up for an All-American and DPOY due to his 143 tackles on the year. Ainge loves to pass, but with Smithers lightning hands and speed, he can catch up to you in a heartbeat. It will be interesting to see if Texas goes with pressure from their line as opposed to spying on the outside. Both strategies could work, but Ainge has the talent to figure it out either way. If Texas lets Ainge get out of control, this game is over before it even started. But if Texas gets a sack or two from their line, and maybe an interception, Tennessee's offense might slow down just enough to edge out a win
PREDICTION
We all know what happened last time these two teams faced. The game went both ways almost ending in a draw. Both teams have the talent to do the same thing again tonight. The staunch defenses should eat into a majority of the game and keep the scoring low. After the close game we saw last time, it is hard to predict anything reliable. There's more at stake with this game, so be sure to look for the heartfelt playing by both sides. I predict the Vols to win this one.
Texas 42, Tennessee 45