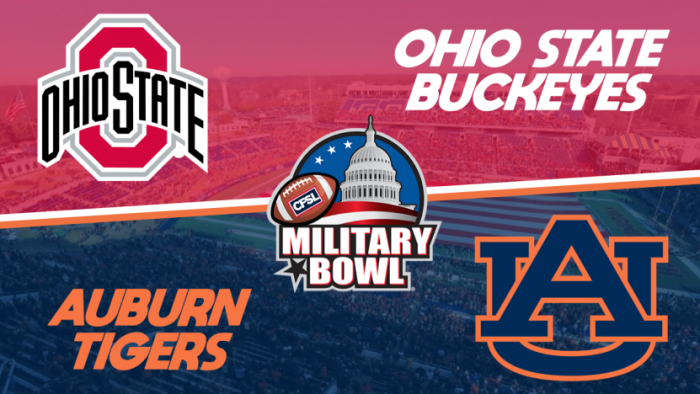 A salute to our nation's heroes continues bowl week as Ohio State (5-6, 2-4) takes on Auburn (6-5, 3-3).
Both the Buckeyes and the Tigers come into bowl week on losing streaks. Ohio State has lost three in a row while Auburn has dropped their last two. Both lost to their rivals last week as Ohio State fell to Michigan and Auburn to Tennessee. These two teams have a bit of history against one another. Auburn has never beaten Ohio State in three attempts. All three of those losses have come by one score or less. The last time these two faced was last season where Ohio State walked out with a 36-30 win.
OHIO STATE
A year marked by their AD leaving and a new AD promoted shortly before recruiting day gave these Buckeyes a late start to the season. A three-game losing streak didn't help much but then Ohio State caught fire. Led by quarterback Xavier Garcia-Allen and All-American safety Kevin Brackett, Ohio State turned it around quickly to win five games in a row, highlighted by their OT win over Notre Dame. After a big win over TAMU, Ohio State fell apart against Iowa, Oregon, and Michigan. Still, a bowl berth after the majority of the league wrote Ohio State off is impressive in itself and gives AD RussellMania building blocks for next season.
As mentioned before this offense runs through Xavier Garcia-Allen or XGA. Paired with XGA is sophomore running back Frost Carlson. Carlson had a career year with 1,213 rushing yards and 16 touchdowns on the ground. He also added another 430 yards receiving to go with one receiving touchdown. Royce Mills, headlines the wideout group of Speedy Johnson and Jay Duhbbin. Look for Duhbbin to be XGA's downfield threat as he is averaging 14.9 yards per catch.
On defense, All-American safety Kevin Brackett leads this defense along with another AA, cornerback Juan Cantu. Tom Pence adds depth to the cornerback spot with Scottie James roaming the middle. This Buckeye defense ranked 10th in the league in overall defense and will have a tough challenge going up against this Auburn Tiger offense.
AUBURN
A year that started off with high expectations, the Tigers raced out to a 3-0 record before falling completely flat against Washington, losing 52-9. Auburn never fully recovered and limped out to a 3-5 finish.  This team was led by All-American running back Billy Carter. Carter rushed for 1,741 yards and 17 touchdowns. He also caught another three touchdowns to go with his 437 yards receiving. Quarterback Griffin Jelkic looks to end his freshman campaign on a high note after passing for 1,792 yards and 11 touchdowns. He also added 711 yards on the ground with 10 touchdowns of his own. Wayne Carter, Jace Rosser, Bubba Davis, and Chris Bullard round out this Tiger offensive attack.
Defensively, Auburn played lights out against the rush but struggled to defend the pass. Second in rush defense, the Tigers were quick on defense with Ollie Peters, Eric LeClear and Rian Chambers forcing tackles in the backfield. In the teeth of the defense, there was Micah Myers, Jeff Foreman, and Jack Law. Corners Jesus Kitchens and LaRoi Sanders locked down the outside.
WHAT TO WATCH FOR
Heading into this week, Ohio State boasts the fourth best rushing attack in the league at 216.8 yards per game. On defense, these Auburn Tigers are second in the league in rushing defense at allowing 136.1 yards per game. The game tonight will be won in the trenches. Will Ohio State's offense succeeds in running the ball or will the Tigers have other plans?
PLAYER MATCHUP
Ohio State QB XGA vs Auburn SS Ollie P. Peters
The key to this game will be running the ball and Ohio State is able to do plenty of that based on the read-option. Xavier Garcia-Allen is able to spread the field quickly and can get to the outside in a hurry. The Tiger defense will need Ollie P. Peters to be able to meet him on the edge and securely tackle him, otherwise, XGA and Frost Carlson could have very good nights. Peters has the ability to limit this Ohio State offense and this should be a fun matchup to watch.
PREDICTION
Just like in the military, players need to step up when the moment asks for it. Both Auburn and Ohio State have played well at times this season but have struggled the past couple weeks. This bowl game is important for recruiting purposes as well as momentum for next season. While Auburn has plenty of star power on defense, the game will come down to if that defense can play at a high level against a very good Ohio State rushing attack. The Buckeyes, however, need to figure a way to balance the run and the pass as Auburn boasts one of the best rushing defenses in the league. I believe that Auburn will finally break the curse of Ohio State and win thanks to a steady dose of Billy Carter. Auburn wins by 10, 34-24.