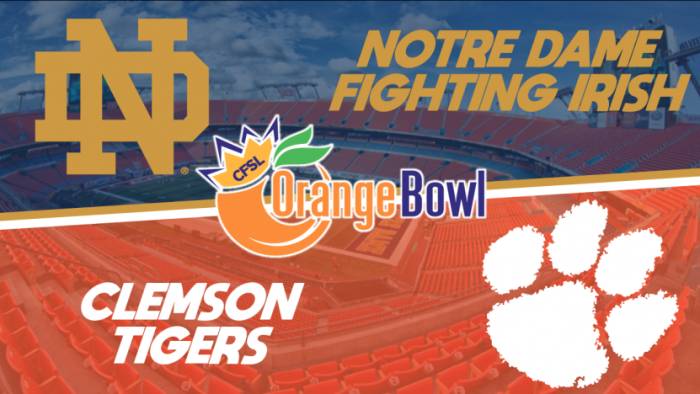 It all ends tonight. Season four comes to a conclusion with Big10 winner Notre Dame taking on SEC winner Clemson. Both of these teams have a stake in the championship race. For Clemson, a win all but guarantees a championship trophy. For Notre Dame, win by a lot and they have their second CFSL championship. Russellmania and Hornsnation provide the preview.
Notre Dame
For a title contender, Notre Dame has an interesting lack of offensive production in season four. You would expect a high scoring offense from this unit, but the Irish only score 32.2 points per game. It's not just the lack of points that is concerning either. Their 39% third down conversion rate is dead last in the league. Their first downs per game are tied for last. Even their yards per game is just .4 away from being last. One positive is their ability to limit turnovers through the air and the ground. This safety allows them to keep the chains moving and score on more of their possessions than some of the other high yardage offensive groups. With this in mind, I would expect Notre Dame to play fairly balanced on offense and work the Clemson secondary with crisp mid-range passes and a variety of different running plays.
As for individual players, a trio of five-star studs headline the Notre Dame offense. Starting things off is quarterback Jose Bueno, who is putting up a solid rookie season so far with a 139.4 QBR. Completing 67% of his passes, Bueno has had a good command of the ball all season with just four interceptions so far. In addition, his legs have resulted in a whopping 16 touchdowns on the ground. His favorite receiver seems to be Skyler Schnee, another freshman. While drops have been a minor issue, Schnee's 18.2 yards per catch average is one of the best in the league. Expect him to be a big play threat tonight as well as going into his sophomore season. Finally, halfback Joe Pantoja comes in as the most reliable man on the field. 14 touchdowns, 1070 yards, and zero fumbles. He gets you yards every time he touches the ball.
Outside of the freshman five stars, Notre Dame has a plethora of talent on an offense that will be ready to step up tonight. Look out for tight end Alistair Kye to make an impact with his blocking and soft hands. His 62 receptions on the year are the second most team-wide, though he only has got one TD on the season. Still, getting 10 yards per catch out of your TE is a great mark league-wide. Upton O'Goode also has made an impact, though on only 26 receptions. After catching 82 last season, you know he wants to perform big time in his last college game. Finally, Bojangles Jackson is a junior who is ready to take on some more responsibility next season.  Look for him to be in the mix tonight as a second or third option.
While the offense may not seem up to snuff for a title contender, the defense is one of the most stout units we have seen in recent memory. Allowing only 26.8 points per game, this team has guys in all the right places to shut down any offense. Their passing defense is top notch, ranking 4th on the year by allowing just 240 yards per game. Even more impressive is their 40% rate of allowing 3rd down conversions, only beat out by their opponent Clemson. But if you weren't impressed already, take a look at the 18 takeaways this team has racked up so far. It feels like every pass made could be an interception with the way this team comes down with picks. Add in their 25 sacks on the year and opposing offenses should be scared for their lives when they line up.
Things really get going for this defense with their big defensive end Shane Razorback. Razorback deserved every bit of hype from this season, finishing top five in DPOY voting. 12 sacks, 23 tackles for loss and 46 tackles. Those are big-time numbers for any defensive end. But to do it with the consistency he has since season 2 is incredibly impressive. Joining him on the line is Joshua Williams, a mid-season addition who has made mild contributions of his own. Totaling 3 sacks and 5 TFL on the year, the senior has proven the ability to set up pressure from the outside. Backing these linemen up are linebackers, Duke Thomas and McKinnley Hall. The two combined have 133 tackles this year and a monstrous 20 tackles for loss. If this front seven gets a step on you, expect to get blown up in the backfield every time.
Despite the power of the front seven, the real gem of this defense is their secondary. Turnovers are their specialty, totaling 13 interceptions and looking for more. Jackson Stone has been the biggest contributor to this total with six so far. If only those 4 pass deflections were picks too, then maybe he would have more than one touchdown on the year. Tyrell Solo brings four interceptions to the table but also has 80 and some massive hit power that you usually don't see out of corners. If that isn't enough weapons for you, how about the safety trio of Laquarius David, Lamont Terrier, and Michael Jerome. 246 tackles between the three make them one of the best units constructed this season. Toss in another five interceptions and I would be scared to throw on this unit. -RussellMania
CLEMSON
The Clemson Tigers, one of the most entertaining teams in the league looks to cap off a successful season with a National Championship. Led by superstar quarterback DJ Moss, this offense ranks first overall in the CFSL. Moss is joined by OPOY candidate Mike Chadwick who had a season for the ages. 1,235 rushing yards on 217 carries provided a 5.7 yards-per-rush number. His 17 touchdowns on the ground helped pace the Clemson rushing attack with Moss contributing 13 on the ground himself. Anthony Robertson III enters the game looking for his first 1k yard receiving season as he sits at 940 yards. Keith Blazer and Jay Moe round out the wideout core. This core has had each member post over 10.0 yards per catch. If this team is going to win tonight, it's going to be by their offense which ranks first in yards per game at 461.1.
Defensive standouts Tyson Ali and Mike Miller give this Clemson defense the ability to make quarterbacks pay with their 26 combined sack numbers. Linebacker Kobe King, likely in his final game, provides the human hit stick in the middle. Andrew Fuller, Stratton Mowry, Barry Allen, Jordyn Hall, and Nick Thompson round out the secondary that ranks 7th in passing yards allowed. Hall, playing in his final game as well, has put up 96 tackles with eight for a loss, an INT, and six passes defends. Overall this defense ranks first in nearly every major category and they should put a ton of pressure on the Notre Dame offense tonight. -HornsNation
PREDICTIONS
This game is going to be down to the wire like any Orange Bowl should. After thinking things through, I have to stick with the favorite here and take Clemson to win this one in a nail biter. Their season has been all around the best on the year. Add in some extremely talented players and a solid offensive playbook and I think Clemson can cut through a defense even as mighty as Notre Dames. In addition, Clemson's defense is the only one that has been rated better on the year than Notre Dame. Beating them on both sides makes it hard to choose any other outcome.
Notre Dame 24, Clemson 30
-RussellMania
Look this is a big game for Clemson. Win and you are National Champions in season four. Lose and all chaos breaks loose. For Notre Dame, you got here because Oregon failed to win the final game. There have been plenty of arguments that have proceeded this matchup that debated the Irish's championship degree. Both teams are hungry tonight and should provide fireworks.
For Notre Dame to win they need to finish on offense and chew clock. This Clemson defense is the best in the league and their offense can score points. If the Irish play a sound game and move the chains, they have a good shot at winning. The defense will need Moss to throw the ball as much as possible. Slow the run game and the Irish defense could get the ball back to their offense quickly.
For Clemson to win they just need to continue with what has worked all season. Outside of two games, Clemson has looked dominant on both sides of the ball. Miller and Ali need to wreak havoc on the young freshman Irish quarterback. Do that and we will be calling the Tigers champions after this game.
Clemson wins big, 54-21
-HornsNation