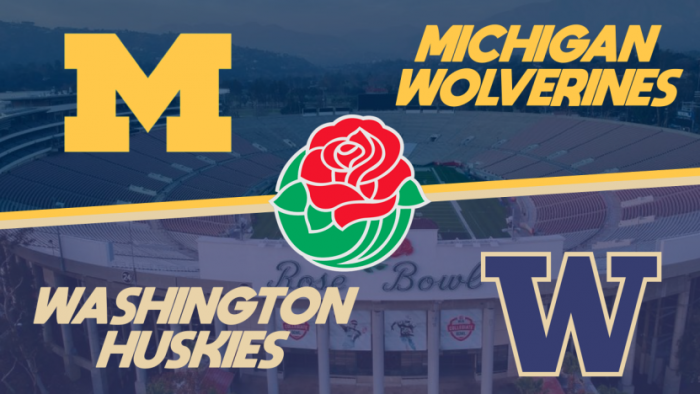 The Michigan Wolverines (7-4, 3-3) make their second straight trip to the Rose Bowl to take on the Huskies of Washington (6-5, 4-2).
For Michigan, they are coming off a 49-42 victory over their hated rivals Ohio State. Washington enters this game off a win over Oregon that sent the Ducks out of the running for a National Championship.
These two teams have faced each other twice before. Once this season that ended in a 30-24 Washington victory. They also played last season that ended in a 59-38 win for Michigan. Who will take the rubber match tonight?
MICHIGAN
The Michigan Wolverines come into this game with one of the top offenses in the league. Ranked fourth in points-per-game and third in first downs per game, this Michigan team can move the ball downfield. The only drawback is the number of turnovers that this team creates on offense. Ranked dead last in the league with 17 turnovers, quarterback Javon Mack will look to play mistake-free tonight. Brother EJ Mack, Michigan's running back, will look to pass the 1k mark on the ground, as enters with 994 yards rushing. Wideout Bobby Jackson enters the final game of his career and he would love to put a stamp on a successful but up and down campaign. Nick King and Darwyn Garcia round out the wide receiver core that has ranked 6th in the league with 287.5 yards passing per game.
Defensively, Michigan is very good against the run which should bode well against this Washington attack. Ranked third in the league in defensive rushing yards allowed, this team will rely on middle linebacker Jake Lake. Lake, an AA candidate, led this team in tackles with 94. He also secured 14 tackles for loss and one sack. Jesse Horrigan will join Lake in the middle of the field and will be assisted by Joshua Priest Jr., Elliot Wells and Blue McFadden in the secondary.
WASHINGTON
The combo of Doug Ohle and Ron Dayne Jr. complete their junior seasons tonight for a Washington offensive attack that is ranked one of the best. First in first downs per game, third down conversions, and sacks allowed, the Huskies are no stranger to scoring points. Tight-end and future 1st round pick Derrick Gray completes his senior season that saw him catch 54 passes for 588 yards and four touchdowns. Jacob Iverson, Lord Helix and Matty Rose provide an added arsenal for Ohle as they look to cap off a somewhat disappointing year.
On the defensive side of the ball, the Huskies are really good at limiting opposing offenses. Ranked second in the league in offensive yards per game at 399.7, the Huskies are led by freshman Erik Langston. Langston provided 77 tackles, 15 for a loss and three sacks. Add in two interceptions and a forced fumble, Langston provides the stability in the middle for Washington. Joining Langston is Richard Bradley up front, DeJounte Wilson on his side and Kalu James and Bradley Knox behind him. Austin Johnson, Freddy Petty, Winston Schmidt play the cornerback position for a Huskie team that allowed 241.9 yards through the air.
WHAT TO WATCH FOR
As mentioned before, Michigan turns the ball over at a league-worst rate. Javon Mack has tossed a league-worst 15 interceptions. This does not bode well if Mack turns it over a couple more times tonight, as Washington is very successful at moving the ball downfield. If Michigan turns the ball over, Ohle and company could make this a couple of scores that ends the game.
PLAYER MATCHUP
Washington HB Ron Dayne Jr. vs Michigan MLB Jake Lake
After Michigan linebacker Nate Jones left for the NFL, there was hope that Jake Lake could fill his shoes and provide the hammer in the middle for Michigan. While Lake has not put up the type of number Jones did, he has made plays when needed. Well, Michigan is going to need him tonight as Washington HB Ron Dayne Jr. has been known to put linebackers on their backside. Who will win this battle tonight will determine the winner of the Rose Bowl.
PREDICTION
While both of these teams have had a ho-hum season this year, both would love to build momentum and bragging rights for next season. Michigan has the firepower on both sides of the ball to keep up with any team. The only thing that holds Michigan back is turnovers. Washington, however, can move the ball at ease against some of the best defenses. They will need Erik Langston to play a solid game at linebacker. I predict that Washington gets rolling early thanks to a couple of interceptions by Javon Mack. Huskies win 41-24.