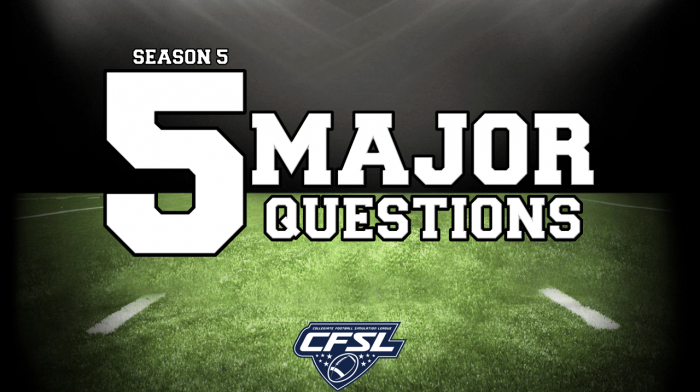 The new season always fills CFSL fans with joy, but the off-season can be long and arduous. That's fine though, because it allows us to ask some of these questions for you, the fans, to discuss and debate. So go ahead, hit up the social medias, let us know your thoughts and don't be afraid to let us know your answers. That being said, here are the five major questions heading into the new season. We'll work our way up to the biggest question.
5) CAN CLEMSON REPEAT?
It's never been done before. But could Clemson be the first team to make it to the National Title game in consecutive years? More importantly, can Clemson be the first team to ever win multiple National Titles? They derailed Notre Dame from doing just that by winning in the Orange Bowl, but who's to say they won't be derailed. With the move to the playoff system, Clemson may have the luxury of a first round bye, but winning the title just got a bit more difficult.
4) WILL AUBURN MAKE THE LEAP FROM GOOD TO GREAT?
The Auburn Tigers have been a team of consistency. Consistently inconsistent that is. They win some impressive games, but have struggled against some of the premier teams in the league. The nightmare of Tennessee may be gone, but the Tigers still have pressing matters with Texas and Clemson. Auburn has yet to beat those two teams, and they've had some struggles with Washington, and Hawaii before them. Auburn has always been a good team and even played in the National Title game in season one. But can the Tigers finally get out of the Clemson-Texas shadow and make a claim to be SEC Champions?
3) BETTER RECORD: MIAMI OR FLORIDA?
Ah, the new kids on the block. These two teams are going to be locked together and not just because they both reside in the state of Florida. They're entering into the league together, new athletic directors each. That alone is the makings of a bit of a rivalry. There's going to be some major competition to see who will boast the better record by season's end between these two teams. Add in the fact we'll get to see some nice quarterback duels over the next couple of seasons between Kingston Fox and Jose Bueno, and things get even more interesting.
2) CAN THE BIG TEN FINALLY WIN A TITLE?
It's been largely argued that the SEC has been the better conference. After all, the SEC has had a team crowned as a national champion for three straight seasons now. Notre Dame won the first ever National Title, but there was no Big Ten at the time. With the SEC boasting Clemson, Texas, and Auburn as their top three it's difficult to argue. Washington, Notre Dame, Oregon, Ohio State, and Michigan all have, to varying degree, questionable track records against just those three teams. Miami and Florida are expansion teams, as noted previously, and so we'll see what kind of noise they can create down the stretch.
1) WHO WINS THE NATIONAL TITLE?
Is this question a cop out? Maybe, but let's be fair, the new playoff system makes it intriguing. Who will be that team to win? Is it a team that secures a first round bye? What about a team that had to fight just to make the playoffs, can they go on a run? And you, the fans. Who would you cheer for? The Cinderella story team? The underdog? Or are you pulling for the favorites? It's all part of the equation, it's all part of the fun. An eight week season, and then the playoffs. Clemson, Notre Dame, Washington, Texas, Auburn, Michigan, Ohio State, Oregon, Miami, Florida, Penn State, and TCU. Only one of them gets the crown, but six of them will make the playoffs. Who's your pick?
So, buckle up and let us know, what are your thoughts to all this? Take it to league chat, and let's talk about it. I don't have the answers, but we'll get to all find out together.