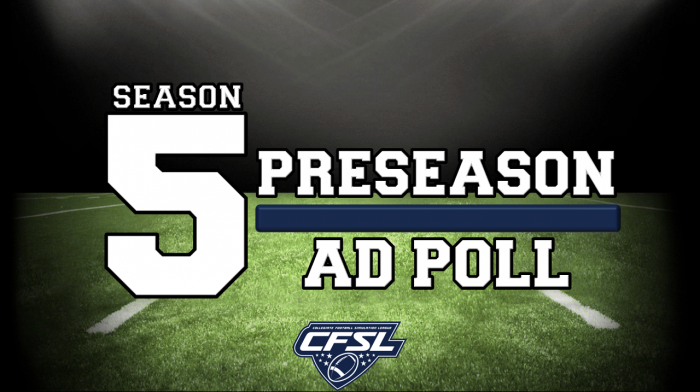 First of all, congratulations to Clemson on winning the National Title in season five. An impressive season was capped off with a win over Notre Dame, and the Tigers will look to repeat this season.
The Athletic Directors of each team were polled to rank the CFSL teams on where they should start season five. Let's take a look!
Clemson Tigers (9)
Texas Longhorns (3)
Notre Dame Fighting Irish
Washington Huskies
Auburn Tigers (1)
Miami Hurricanes
Florida Gators
Michigan Wolverines
Ohio State Buckeyes
Oregon Ducks
Penn State Nittany Lions
TCU Horned Frogs
1 CLEMSON TIGERS (9)
The Clemson Tigers start the year the way they ended last season, at the top of the league. Quarterback DJ Moss left early to likely hear his name called first in the NFL draft. Enter Michigan transfer Javon Mack. Mack comes to Clemson after three seasons with the Wolverines. Mack on his career has passed for 9,559 yards and 66 touchdowns. He has also rushed for 2,245 yards and 43 touchdowns. If you were looking to replace Moss with a playmaker, Clemson found the best one. Mack easily slides in under center for the Tigers and will be joined by returning halfback Mike Chadwick in the backfield. Wideout Anthony Robertson III briefly flirted with the idea to transfer but returned back to Clemson. Keith Blazer and Jay Moe also return to give Mack a solid receiving core.
The graduation of Tyson Ali was a big one but enter another transfer in Jack Tyler. Tyler, a Penn State transfer, joins senior Kobe King in what could be the best linebacking core in the CFSL. Don't forget about Mike Miller upfront and Barry Allen in the secondary. Andrew Fuller also returns as the schools only corner with Dionte Bing joining the team as a 4-star freshman. Clemson has the potential to have the best defense in the league again this season.
2 TEXAS LONGHORNS (3)
The Longhorns enter season five after a letdown to end season four. Two losses to Tennesee and Texas A&M took some of the shine off of the OPOY and DPOY awards that Texas took home. Quarterback Ray Tatum returns for his senior season after gaining OPOY and AA for season four. HB Geaux Bamba leaves Texas for the draft and is replaced by freshman 4-star Tarraj Walker. Wideouts Scooby Lewis and Vincent McCoy return after pulling in over 1k yards last season. Joining these two wideouts is TCU transfer, Ray Conley. Conley leaves TCU after catching 65 passes for 833 yards and nine touchdowns. Tight-end Jackson James put his draft hopes on hold after being the 3rd Texas receiver with 1k yards last year. This offense is explosive and could be in for an even better season five.
Defensively Texas loses outstanding AA linebacker, Justin Boudreaux. His shoes will likely be filled with sophomore Howard Cook. Let's not forget DPOY Jimbo Smithers who set the tackle record last season and returns for his junior year. Filling out the defense will be corners Terrence Top, freshman corner Jakari June, safety Zachary White, and freshman safety Tayshaun Thompson. The Longhorns will have some work to do on the defensive side of the ball if they want to secure a first-round bye in the playoff.
3 NOTRE DAME FIGHTING IRISH
The Big 10 champions come into this season ranked third by the ADs. After all but being counted out in the National Championship Game, the Irish hung tough up until the fourth quarter and fell short. Notre Dame will be with a new quarterback for the second straight season as Jose Bueno leaves Notre Dame for Miami. Highly touted recruit Leo Asiata takes reigns of this offense that will be joined by running back Joe Pantoja and receivers Albert Saenz and Thaddeus Jefferson. Alistair Kye provides Asiata with a safety net over the middle. Asiata should have no problems fitting in and look for this offense to continue to roll.
Defensively, the Irish return almost everyone from last season. Defensive end Shane Razorback enters his senior season and will be joined by newcomer Mason Miller at linebacker. Cornerbacks Jackson Stone and Tyrell Solo also return for Interception-U. Michael Jerome Pluth returns for his senior year at safety alone with freshman Zeus Williams. The key to this defense is turnovers and look for the Irish to gain plenty of them.
4 WASHINGTON HUSKIES
The team with the biggest offseason hype comes in at number four. Quarterback Doug Ohle and Ron Dayne Jr. enter their senior years and would love nothing more than to win another title. Jace Rosser returns for his second season after transferring from Auburn. Washington will need to get creative on offense if they want to put up numbers.
The defense of Washinton is in line to be one of the best. Raekwon Dong is the big man upfront with Digger Graves headlining the back. Richard Bradley returns to join Dong on the line. Erik Langston enters his sophomore year along with Austin Johnson and Freddy Petty in the secondary. Bradley Knox and Bubba Bullard round out the star-studded defense for Washington.
5 AUBURN TIGERS (1)
Rounding out the top five is the Tigers of Auburn. A couple of disappointing seasons the past couple years, Auburn will look to get over the hump this season and return to the title game that they were in season one. Griffin Jelkic and Billy Carter return in the backfield with newcomer Cross Ferry III and Bubba Davis at wideout.
Defensively the Tigers are stacked in the backfield. Safeties Ollie P. Peters and Rian Chambers return as well as Sky Taylor. New addition Max Hands joins at the corner position and will play opposite to sophomore LaRoi Sanders. New linebacker Mark Calloway looks to plant his flag as the best linebacker in the league and will be joined by returning linebacker Micah Myers and Jack Law.
6 MIAMI HURRICANES
The Miami Hurricanes make their first appearance on this list at six and why not? Miami played the part of transfer-to-us-U as they landed Jose Bueno at quarterback, Speedy Love at halfback, Nick Bagg and King Twixx on offense. On defense, Jess Horrigan, Jalen Davis, Lamont Terrier, and Buster Bates join the young Hurricanes as they will look to make noise in the tough SEC. The 'Canes also landed 5-star corner Alex Dawson as well. Only time will tell if the Hurricanes can exceed early expectations or if they will have a rough first season.
7 FLORIDA GATORS
The Gators join the league as a transplant from Iowa. Top recruit Kingston Fox will look to add his name to the upper tier of quarterbacks and will be joined by star halfback Avery Jordan. Darren Pegues, Nick King and Cole King add to his weapons on offense. On defense freshman, Xavier Halle leads this team along with juniors Marcin Olesniewicz, Othello Jones and Elliot Wells.
8 MICHIGAN WOLVERINES
The biggest surprise on this list is Michigan being ranked eighth to enter the year. Dewey Ainge leads the Wolverines post-Mack era with Adam Croft at halfback. Giorgio Pipino, Cutter McGillicuddy and Darwyn Garcia give Ainge plenty to work with at wideout. On defense, linebacker Jake Lake returns for his sophomore campaign along with Joshua Priest Jr. Lucky McFadden and Miles Freeman headline the secondary for Michigan.
9 OHIO STATE BUCKEYES
One of the hottest teams last season before cooling off, the Buckeyes come into this year ranked at ninth. Xavier Garcia-Allen and Frost Carlson headline the backfield while Speedy Johnson, Ricky Flores Jr, and Lawrence Lexington lead the wideout group. On defense linebacker, Martavis Marriott checks in for his first season at the shoe along with returnees Juan Cantu, Tom Pence, and AA Kevin Brackett. The Buckeyes could be the darkhorse contender for one of the six playoff spots at the end of the season.
10 OREGON DUCKS
Another surprise is the Oregon Ducks coming in tenth in the poll. After losing to Washington to end the season, the Ducks will look to make another run at the Big 10 title. Devonta Cribbs is joined by top running back Jimmy Tickle from Texas A&M. Dijon Swann and Coty Betts give Cribbs one of the best wideout duos along with Williams Cope and Davonte Lawson at tight-end. The defense took some hits from the offseason but will be headlined by Shaka Black at safety and Arik Austin at cornerback.
11 PENN STATE NITTANY LIONS
After a rough start to season four, Penn State enters this year at 11. Not a bad place to be but some work will be needed on both the offensive side of the ball and defensive. Walker Mills takes the reigns from Aidric Berry and will join sophomore halfback Robert Davis in the backfield. Ronald Fields returns on offense as well as Robert Gomez at tight-end. On defense, Happer Allen and Aiden Berry are the stars to remember with Drew Ekstrum and Winston Schmidt in their first seasons at Penn State.
12 TCU HORNED FROGS
TCU comes in as the last team in our rankings. Florida State transfers Jame Kovach and Jared Tetonis join the Frogs this season along with returnees Koda Adok and Horace Lynch. Jabril Jackson and Marlon Davis headline the defensive line, while Aaron Davis and Xavier Colon play linebacker. Dale Higgenbottom and Stokely Ferdinand round out the secondary.
*Remember these are unofficial rankings done by the AD's in the league.