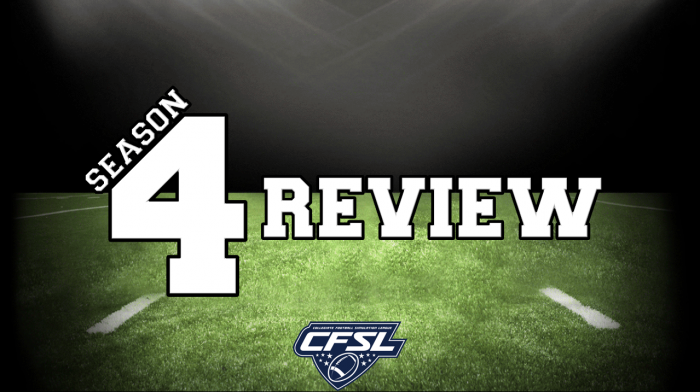 Each season is defined by star-studded moments. Whether it's a quarterback leading his team on a game-winning drive, or a player putting themselves on the national map. The season is defined by these moments, where the players make the season, they make it as great as it can be and season four was no different. Here's those moments and storylines from last season.
HELLO, BILLY CARTER
Auburn halfback Billy Carter may not have gotten the most fanfare when he first made the move from linebacker to halfback in season three. That all changed last season, and it started with week one. Carter put up 270 rushing yards with two rushing touchdowns against Florida State to open the season, and never really slowed down. Billy Carter would finish as an All-American at halfback and lead the league in rushing, totaling 1,883 rushing yards and 21 rushing touchdowns.
THE RETURN OF DAYNE
It's only fitting that to open the season, Washington halfback Ron Dayne Jr. took to the field and put up major numbers. He started season four off rushing for 224 yards and 4 touchdowns against Ohio State week one. For the remainder of the season, Dayne would remain in the top three of rushing leaders and finished with 20 rushing touchdowns. Dayne continues to piece seasons together to stake his claim as an all-time great at the halfback position, if it hasn't been cemented already. The exciting part, is who will establish themselves as the leading rusher this season? Dayne, Carter, or somebody else?
VOODOO SEASON
It was a season to remember for Texas quarterback Ray Tatum. He shattered records this season, starting in week five. When the Longhorns visited Penn State, Ray "Voodoo" Tatum completed 39 of his 48 passes attempts, finishing with a completion percentage of 81%. The story does not end there, he finished with a whopping 645 passing yards and eight, yes, eight touchdown passes. And that was just the beginning, as Tatum became the first CFSL quarterback to reach 12,000 passing yards and 90 touchdown passes in a career. Tatum, currently, has thrown for 12,226 yards and 91 touchdown passes. The only question now, is, how much does Tatum add to that this season?
JOE KANE'S MAGICAL MOMENT
Since we're on the note of quarterbacks and their performance, allow for week four to be called back into question. After all, it was a game for the ages. Florida State led quarterback James Kovach took on Freshman quarterback Joe Kane. No quarterback disappointed. But it was Joe Kane who brought the Hawkeyes from the dead to comeback and beat Florida State. Joe Kane finished with 249 passing yards and one passing touchdown, 177 rushing yards, and one rushing touchdown. Kovach finished with 432 passing yards and six touchdowns.
THE NITTANY SPOILERS
There are few teams who can make the claims that Penn State can. They beat the number one team in the nation on two separate occasions this season. First, they vanquished a tough Tennessee team, and then trounced the Wolverines of Michigan. But those pale in comparison to what happened in week 10. When the Nittany Lions and the Oregon Ducks squared off, few realized the implications the outcome of that game would have. Penn State defeated Oregon, and set up for a crazy finish in the Big Ten. Essentially, Penn State helped Notre Dame reach the Orange Bowl.
FLIGHT OF THE MUSTARD BIRD
On the note of Oregon and the Big Ten, we have to talk about the Ducks' wide receiver, Dijon Swann. Swann had a slow start to the season, despite the big expectations surrounding him. Then the second half of the season hit, and Swann took off. Over the course of the last five games of the season, Swann put up these numbers. 38 catches for 625 yards and five touchdowns. Swann averaged a little over seven catches a game for an average of 125 yards a game with a touchdown per game. That's on average. Now, take into account that of those 625 yards, 234 of them came in that loss to Penn State. On that night, Swann had 10 catches with two touchdowns and those 234 yards. The sky's the limit for Swann in Oregon.
RIVALRIES: NEW AND OLD
The Washington-Oregon game we've mentioned, but there are other rivalries that have mattered in this league. Tennessee and Auburn, their clashes had impacts on Auburn's season and Tennessee's chances. Auburn's title hopes slipped away while Tennessee's remained alive.Ohio State and Michigan, that outcome opened up the door for Michigan to have a chance, albeit a slim one. Those, we might surmise, fall under traditional rivalries. But, there are some newer rivalries. The most famous being the rivalry between Clemson and Texas. Every season, the match-up between Texas and Clemson plays a large factor in who wins the SEC and who has the better National Title odds. That rivalry didn't disappoint this year, where Texas won the rivalry, but Clemson managed to win the title.
OFFENSES AND ORANGES
Last season's Orange Bowl was historic. Not only did it cement Clemson's National Title crown as they finished with the best record in the league. But the fashion they did it in. Notre Dame got there thanks to Washington and Penn State both beating Oregon. But from there, the offenses went overboard. After the first quarter, each team put up double digits in each of the remaining quarters. It also was the most points scored in the Orange Bowl, a combined 110 points scored. Clemson was able to defeat the Fighting Irish 62-48, in a game where quarterback DJ Moss ended his career with 400+ passing yards and four passing touchdowns for Clemson. His counterpart, Notre Dame quarterback Jose Bueno put up 381 passing yards for six touchdowns, offset by a lone interception. It was an exciting onslaught of offense, and a fantastic way to close out both Bowl Week and the season.
So that's your season four in review. The biggest storylines of season four. We may have a missed a few, like the chaotic finish of the Big Ten and the resurgence of Penn State quarterback Aidric Berry in his senior season. Even still, it's tough to cover all of season four in one article. That said, let us know in league chat and on the social medias. What were your favorite storylines from season four? What are your biggest hopes for season five?