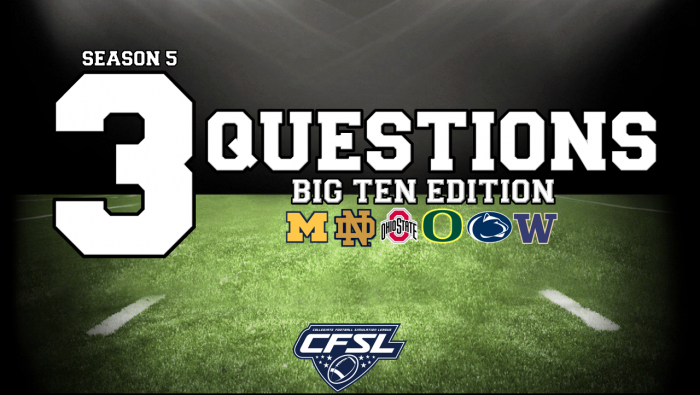 The Big Ten conference has had it's share of struggles in the past, at least as it pertains to a National Title. Ohio State, Oregon, and Notre Dame have all fallen short in each of the last three seasons. So can that change for the Big Ten this year? It can, if these teams can find the solution to the questions that may haunt them.
NOTRE DAME
The Fighting Irish represented the Big Ten to the Orange Bowl last season, but ultimately fell short against Clemson. They fought valiantly, though not without some scrapes along the way. The question of consistency remains for this team, among a few others. They haven't won a title since season one, hadn't been in position until this past season. Here are the three questions Notre Dame needs to answer if they hope to win a title.
1) NEW QUARTERBACK, NEW OFFENSE?
Does Notre Dame intend to change their scheme with a new quarterback at the helm? Gone is Jose Bueno, the former quarterback of Notre Dame, now in Miami. Enter the freshman at the position, Leo Asiata. Asiata's skill set differs from Bueno's and so the question is, how will Asiata be utilized? Will it lead to Pantoja seeing an expanded role in the offense?
2) SOFT IN THE MIDDLE?
Look, Notre Dame has always boasted two things. A stellar secondary, and a monster pass rusher. The secondary is reloaded, despite losing a couple members to the transfer portal. The pass rusher in question is defensive end Shane Razorback and he's entering into his senior season. All that said, does this linebacker corps have what it takes? Duke Thomas had moments last season, but can he rise to the occasions as they come? Or will it be Mason Miller, the newly added middle linebacker who comes to call?
3) PLAYOFFS ARE BACK, CAN NOTRE DAME WIN IT AGAIN?
Notre Dame won the title in season one, the first time playoffs were in the league. But, it is different this time. That season, only four teams got in. Now, six are in, and the conference champions get a first round bye. Will the Fighting Irish be able to claim that bye? They struggled to win the conference this past season, needing help to do so. Can they avoid that fate this season?
WASHINGTON
The Huskies present some of their own challenges, as they've had some inconsistencies over the past couple of seasons. They went from 5-7 to 7-5 between seasons three and four. But there's also been some identity inconsistencies as far as a running team or passing team goes. So, three questions that Washington needs to answer to win it all this season.
1) WHO IS WASHINGTON?
Halfback Ron Dayne Jr. and quarterback Doug Ohle are both seniors, marking this as their final season in a Washington uniform. But are they going to lean more on the run or on the pass? Ohle was an OPOY candidate and season two, and won All-American that season. Dayne has consistently performed at an All-American level. That's a potent backfield, and Ohle can run efficiently. We all know what Dayne can do. Both will be revered in the legends of the Huskies, but the question remains. Is this team going to lean more on the ground or through the air? 5-7 to 7-5, both in succession to a season two Hawaii team that won it all with a 10-2 record.
2) WHO LEADS THE DEFENSE?
This used to be answered by Dejounte Wilson, and Kalu James when he was added via transfer. Those were usually the two players the Huskies could look to defensively for a big play. Now, those are question marks. You'd believe linebacker Erik Langston would be one who can fill that role, and he certainly made strides in that department last season. Now, it's a toss up. Is it free safety Digger Graves? Defensive tackle Raekwon Dong? Somebody else?
3) GO TO WHO?
Washington's identity likely hinders on this question's resolution. Doug Ohle is suddenly looking for a primary receiver. Gone is receiver Matty Rose and legendary tight end Derrick Gray. So the question is, who will ring the bell for Ohle? Who's the "go-to" guy that Ohle can look to for a crucial third down catch, for a big play? Is it receiver Lord Helix? Is it the receiver transfer from Auburn, Jace Rosser? Whoever it is, Ohle needs to know and we'll find out in the spring game.
MICHIGAN
The Wolverines were in position to win the Big Ten, finishing 7-5 and defeating their arch-nemesis for a second straight season. But they fell short and haven't come close to repeating their success since season two, when they first made their debut. Since then, the Wolverines have finished with seven wins in each of the last two seasons. Answering these three questions could help them get past the seven win seasons.
1) IS DEWEY AINGE THE ANSWER?
Former Tennessee quarterback Dewey Ainge has moved north to Ann Arbor. Ainge offers a unique skill set, with an arm and an accuracy that is like few in this league. That said, the mobility offered by former quarterback Javon Mack, is now gone. Mack has moved to the SEC with the Clemson Tigers. The question here is, can Ainge do for Michigan what he did for Tennessee in season three? Ainge won a title for the Volunteers, can he do the same in Ann Arbor?
2) IS LAKE READY?
Michigan linebacker Jake Lake was brought in to fill the shoes of legend Nate Jones. Lake's freshman season isn't anything to scoff at, as he finished with 112 tackles, 16 for a loss, and a sack. That's really good, but he did so fairly quietly. Lake recovered two fumbles, scoring with one of them and he did force one last season. But, in a league that sees monsters at running back, Lake is going to have to become an even bigger monster.
3) IS JOSHUA PRIEST JR. THE NEXT GEAUX BAMBA?
Okay, this may be an odd question. Priest is a corner, Bamba was a halfback. What do they have in common? Well, let me explain. In season three, Bamba had four kickoff returns that went for touchdowns. They all took place in the first four weeks of the season. Bamba never had a kickoff return for a touchdown again. Will Priest be the next victim of this curse, or will he overcome it? Priest had five kickoff returns go for touchdowns last season. Oh, and he was the only player to have more than one kickoff return for a touchdown last season. Will he go scoreless in the kickoff return game this season or no?
OREGON
Some would feel sorry for Oregon after last season. They were in position to win the Big Ten, and be the first team in CFSL history to make consecutive appearances in the Orange Bowl. So, how is it that they wound up in the Music City Bowl? Well, they lost to Penn State and Washington in the last two weeks of the regular season. And then proceeded to lose to Iowa in the Music City Bowl. Here's what they need to answer to avoid that same fate.
1) WILL THIS DEFENSE BE ENOUGH?
Well, the Oregon defense certainly looks different from how it used to. Safety Shaka Black and corner Arik Austin will anchor a scarce secondary. After that, defensive tackle Ben Marquez and linebackers Joe Clark Jr. and Hollywood Sims will be counted on to handle the front seven. They lack the star power that some of the other defenses have, but if they can gel and play cohesively, there's a chance. That "if" is what Oregon is hindering on though. It's quite the gamble.
2) IS SHARING CARING?
This may be a strange question, but it's one Oregon will have to figure out. Halfback Jimmy Tickle has transferred in, and wide receivers Dijon Swann and Coty Betts are returning. Tight end Davonte Lawson was added in recruiting. That's a lot of star power on offense, so how do you share the wealth? What will that look like? Swann was overshadowed by a tight end early on last season, will he be happy if it happens again?
3) IS THIS THE SEASON OF SWANN?
Ever since he's come into the league, receiver Jared Tetonis has been heralded as the best receiver. Is this the season where Swann changes that? He got hot late last season, will that be enough for him to build off of? Swann finished with the third most receiving yards, 104 behind Tetonis. And like I said, Swann had a slow start. Swann finished with 1,120 yards with nine touchdown catches. Can he hit 1,200 yards and crack double digits in touchdowns this season?
OHIO STATE
The Buckeyes have had their share of ups and downs ever since they lost in the Orange Bowl back in season two. Chaos ran rampant, but there are certainly bright spots for the school. The Buckeyes found safety Kevin Brackett and corner Juan Cantu. They've got halfback Frost Carlson returning, and quarterback Xavier Garcia-Allen coming into his second season. That said, there are some concerns they'll need to address.
1) WILL OHIO STATE MOVE PAST THE FIRST DIMENSION?
Running the ball was the calling card for the Buckeyes last season. The rushing tandem of Garcia-Allen and Carlson led the Buckeyes to some nice wins. Unfortunately, the absence of a true threat via the air leaves Ohio State in a tough position. So, can Ohio State add another layer to their offense? Can they show that they've got the means to threaten through the air? Or will the Buckeyes primarily rely on the ground once again?
2) WILL THE SHARKS' BITE BE ENOUGH?
To be fair, this question is in conjunction with the first. Corners Juan Cantu and Tom Pence have the perimeter taken care of, allowing Brackett to patrol freely. But now he's got somebody else to patrol with. Linebacker Martavis Marriott has joined the crew of this Buckeye defense. That said, if Ohio State's offense is one dimensional, will this defense be enough to win games? On paper is one thing, but teams in this league will find weaknesses to exploit, so it's a fair question.
3) IS THIS CARLSON'S SEASON?
Frost Carlson has been severely overlooked and underappreciated by the CFSL. He's a phenomenal athlete and is an absolute beast at the halfback position who can do it all, as we saw last season. Unfortunately, he's had a tough time getting the recognition he deserves. He's never lead the league in rushing or rushing touchdowns, and has not had an easy time of reaching 1,000 yards. Is this the season when Carlson is able to put himself in the same tier as Ron Dayne Jr. and Auburn halfback Billy Carter?
PENN STATE
The Nittany Lions had a season that wasn't ideal. However, they won some impressive games, knocking off the number one team in the league on more than one occasion, and helped Notre Dame reach the Orange Bowl. Former quarterback Aidric Berry finished with the most rushing touchdowns in the league last season with 23. But, they finished last in the Big Ten and that's something they hope to correct. If they can find an answer to these questions, they've got a shot.
1) IS THERE A NEW FEATURE?
While Aidric Berry has moved on to the pros, Walker Mills has transferred in to fill the void at quarterback. Halfback Robert Davis remains. Wide receiver Ronald Fields has entered into his senior season, and is joined at the position by William Craft and Dee Kendrick. Oh, and Robert Gomez is back at the tight end position. So that leaves one question. What will be the main feature of this offense? Last season it was Berry and his legs, where Davis complemented him with his own rushing game. Will that be true for Mills? Or will Davis become the feature of the offense? The alternative is this offense trying to air it out and revolve around Mills' arm. Whatever it is, the Nittany Lions need to know.
2) CAN THEY STOP THE RUN?
This question is being asked, and that's a bit concerning. There are no linebackers to speak of on this roster at the moment. Defensive tackle Drew Ekstrum will anchor the center of the defense, and the secondary is loaded. But there's nobody to take care of the middle of the field other than walk-ons. Will the new safety, Aiden Berry, be enough to slow down any rushing attack? Can this defense slow down the run, let alone stop it?
3) CAN PENN STATE REACH THE PLAYOFFS?
Since Penn State entered the league, they've found ways to win the bowl games they've been in. They've had their struggles, and unfortunately some games they wish they could forget. But, can they erase all that by finding a way into the playoffs? If they can finish in the top three of the Big Ten, then they can get in. As we've laid out, despite the questions each team in this conference has, finishing in the top three won't be an easy task.
Each team has questions they need to answer, the good news is, we might get a glimpse at those answers next week. The spring games will get rolling and we'll get our first look at these teams. Keep in mind, this is just the Big Ten. The SEC edition of this will be out later.