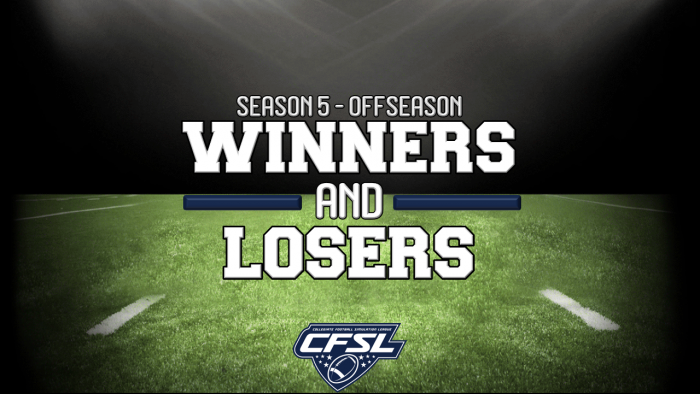 Every offseason there are players who change teams for whatever the reason and we see new incoming freshman chose where they will play. After the dust settled on National Signing Day heading into season five, I am left to look over and see who might have won and who could have done a little more to booster their title shot chances. Of course, this is just one opinion and we haven't seen these incoming freshman or old faces in new places on the field yet. The offseason is still young, and we still have to see the ramifications from the playbook draft coming up in a couple weeks and then spring games. Without further ado here is the winners and losers, I hope you enjoy and let me know what you think of your own winners and losers from this offseason.
WINNERS:
CLEMSON TIGERS
This shouldn't be a surprise. They landed Javon Mack, the former Michigan quarterback, in the transfer portal. It was shocking to me that he would leave. But he does go to a Clemson team that just won the title last season. Mack brings 9,559 career passing yards, 66 career touchdowns, 2,425 career rushing yards, 43 career rushing touchdowns, and a career quarterback rating of 148.3 to Clemson, South Carolina. Another high-profile transfer is Jack Tyler at linebacker, who is moving from Happy Valley to Death Valley. In his freshman season he finished fourth in tackles with 114, 16 tackles for loss, and four sacks. He was a force for Penn State and is now teaming up with Kobe King to solidify the Clemson defense that was stellar last season. Dionte Bing was the lone commit, and Clemson has a knack for generating stellar safety play.
MIAMI HURRICANES
When new teams are thrust into an offseason it could mean either sink or swim. New Athletic Director Ben Mills swam. Eight players on this roster are transfers. Highlighting the transfers is quarterback Jose Bueno. Bueno led Notre Dame to the Orange Bowl game and almost pulled the upset against favorite Clemson Tigers. Former Oregon halfback Speedy Love will look to find his magic from his freshman season. Former Volunteer receiver Nick Bagg will look to add to his solid freshman season where he finished with 11 touchdowns. Joining Bagg is receiver King Twixx to add to the offense. Other notable transfers are linebacker Jesse Horrigan, corner Jalen Davis, Free Safety LaQuarius David, and Strong Safety LaMont Terrier. Miami had a great signing day, receiver Maximillian Mack, corner Alex Dawson and linebacker Justin Thyme. If Miami can do on the field what they did off, then look out CFSL.
MICHIGAN WOLVERINES
This one might be a shocker to readers. Throughout the offseason it felt like defensive backs just kept leaving for no apparent reason. But Michigan was able to land the best the Quarterback in the transfer portal in Dewey Ainge. Dewey Ainge will bring 8,223 career passing yards, 59 career touchdowns, and a career quarterback rating of 160.6 to Ann Arbor. They also get a lesser known receiver who might not have been used right in Giorgio Pipino, and receiver from Tennessee Cutter McGillicuddy. Michigan had an eventful signing day as well. While players were leaving Ann Arbor, they were able to sign five star safety Miles Freeman, four star corner Lucky McFadden, and fellow three stars linebacker Ty Palmer, defensive end Jay Washington, and tight end TJ Walker. Look for Michigan to be a team worth watching with that offense and quarterback under center this upcoming season.
LOSERS:
NOTRE DAME FIGHTING IRISH
This might be shocker to everyone. How can a team that played in the Orange Bowl and fought mightily and seemed to have a good signing day end up on this list? Well, lets start here, first of all they lost their Quarterback from last season as he jumped to Miami. They did sign Leo Asiata, but he is just a freshman and we don't know what this offense will look like. Secondly, they had a number of transfers who left from that team a season ago. The Quarterback, Free Safety, and Strong Safety all left. Notre Dame landed receiver Albert Saenz from Florida State and signed strong safety Zeus Williams. They also added receiver Thaddeus Jefferson and linebacker Mason Miller. Can these players step up when the lights and pressure is on? We will see.
TCU HORNED FROGS
This one was a little harder. They did land stud receiver Jared Tetonis from Florida State and will get Tetonis for one season before they need to retool the receiving corp. But the question remains why did Dalton Andrews leave? Yeah, they brought in James Kovach who is a gunslinger in every facet of the word. The question marks surrounding this program is what can Kovach do that Andrews could not? Can the run game step up and show any sign of life? Is the defense ready to take a step in a direction where they are shutting down opponents? To me, this seems addition by subtraction. But luckily, we get to see what happens this season. TCU was able to sign free safety Stokely Ferdinand and got corner Dale Higgenbottom from Florida State. The question is, will it be enough?
FLORIDA GATORS
This was tough to write about. I say that because while they did land five star Quarterback Kingston Fox did they find the right talent to put around him. They did get four star transfer, receiver Nick King from Michigan. But I think a better fit could have been Ray Conley who ended up in Texas. The Gators also landed three star receiver Cole King. They do have Avery Jordan running the ball, but you have to have pass catchers for your quarterback. Just like Notre Dame, this is a team that will have to see what they can do with another season of a freshman quarterback under center. Florida also landed five star Xavier Halle at middle linebacker, four star corner Dakota Wolf to partner with four star free safety Elliot Wells. Time will tell what happens.
 So, that's my winners and losers for the off-season. Was I right? Did I miss the mark? What are your thoughts on our winners and losers? The best part about it, is that this is all speculation. We won't know with any certainty until season's end. Which just so happens to be about 10 weeks from now.