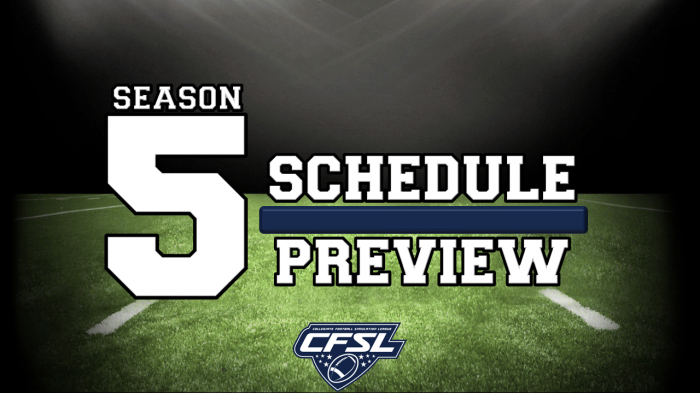 Ah, the new season. The best part about doing these articles, is that I get a first look at the schedule before anybody else, save the commissioner. It also means I get to have a lot of fun pulling apart the different story threads and getting to examine them with you, the fan, in this space. So, let's break down the schedule for season five, with five things you need to know about the schedule and the new season.
1) TOP THREE, BOTTOM THREE
There's been some adjusting of conferences and teams. Not to mention a playoff system has been introduced, which we'll get into later. In the meantime, there's a new format for the out-of-conference games. The three teams who finished with the better conference record from the previous season will square off against the top three teams from last season as the non-conference schedule. What does that mean for this season? Auburn, Clemson, and Texas get to open their season with some variation of Washington, Notre Dame, and Michigan. The reverse is true for the teams who didn't quite crack the top three of their conference. Ohio State, Penn State, and Oregon will face TCU, Miami, and Florida. After that, it's all conference games.
2) STATE OF NEUTRALITY
The neutral site games were introduced last season, and they're back with a vengeance this season. And with some moderate changes as well. Three of the four neutral site games this season take place in week one, with the fourth occurring in week two. So, let's get into those matchups briefly here.
CHICK-FIL-A KICKOFF: NOTRE DAME vs. CLEMSON
A rematch of last season's Orange Bowl. Seems fitting that it should usher in the new season. The Fighting Irish are looking to settle the score, but with a different quarterback at the helm. Come to think of it, that statement rings true for Clemson as well. What a strange world we live in.
TEXAS KICKOFF: MIAMI vs. OHIO STATE
This is an intriguing matchup for a few different reasons. First, it's our first look at the Hurricanes, led by Jose Bueno, and they get to debut in Houston against the Buckeyes. The second reason is, what scheme is Ohio State going to roll out for their returning backfield of Xavier Garcia-Allen and Frost Carlson? This one will be a fun one to watch.
COWBOY KICKOFF: AUBURN vs. MICHIGAN
In Jerry's World, two teams with some bad blood get to square off. Auburn and Michigan take the field, and the Wolverines have a brand new backfield, kind of. Dewey Ainge at quarterback and Adam Croft at halfback have transferred into Ann Arbor, but they'll open the season in Arlington, Texas. Opposing them? The sophomore at quarterback, Griffin Jelkic, and senior halfback Billy Carter. Buckle up.
METLIFE STADIUM: OREGON vs. FLORIDA
Here's your week two neutral site. The Ducks and the Gators are squaring off, meaning we get to see Kingston Fox suit up at quarterback for the first time this season as a Gator. We'll also get to see if Dijon Swann can pick up where he left off for Oregon last season. Oh, and whether or not the Ducks' defense can survive Fox.
3) TOUGHER OPEN OR HARDER CLOSE?
Some teams have stretches that few would envy. In some cases, it's the way their season opens up. For others, the way they have to end the season can be difficult. For example, I pointed out that Michigan and Washington begin their season against some variation of Auburn, Texas, or Clemson. Their conference schedule kicks off with the Wolverines and Huskies going at each other's throats. Then there's teams like Ohio State and Auburn. Auburn wraps up their season against Texas, Clemson, and Notre Dame. Ohio State will have to take on Oregon, Washington, and then their hated rival of Michigan. What would you prefer?
4) WHO'S AT HOME? WHO'S AWAY?
So, the home/road stretch for teams is fairly mild this season. No team has anything longer than three game stretch of either. Texas starts their season with three straight road games, but ends their season at home for the last three weeks. Penn State is on the road weeks two through four. Oh, and Miami, Washington, and Clemson all finish their season on a two game road stretch. Miami will come out of their neutral site game, and stay at home for two weeks. Oregon and Auburn get to finish their seasons with a two game home stretch so there's that to add to the fire.
5) SHORTER SEASON = MORE IMPORTANT
The season got trimmed from 11 to eight weeks. With that, though, means each game matters. Conference record dictates whether or not you get into the playoffs, and if you do, whether or not you get a first round bye. Overall record could play a crucial role in some format for the playoffs. Whether or not it does remains to be seen. Either way, with the shortened season, there's no longer any room for a "mulligan" game. A game that you can write off, because it could totally ruin your shot at a title. Could make it that much more difficult for you to make it there. There's eight weeks of the regular season here, that means each team has got to bring their A-game week in and week out, or they could be in trouble.
ARE YOU READY?
We've covered some of the highlights of the schedule, but there's a lot more to find. Each game has more weight behind it, and the sense of urgency should reflect that. Further still, there's no easy game in this league. Anyone can beat anyone, and you're not going to escape without losing at least once or twice. That said, you better make sure those losses aren't the ones that hurt you the most. So, are you ready?