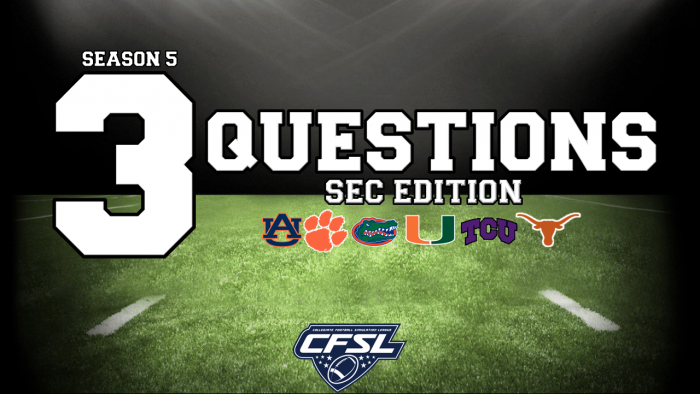 The SEC has often been heralded as the best conference in the CFSL. It's understandable when an SEC team has won the National Title in each of the last three seasons. However, there's some new faces in the SEC, and some new logos as well. And, no team is immune to having some things to answer and figure out. So, without further ado, three questions for each team.
CLEMSON
The Tigers won the National Title last season, vanquishing the Fighting Irish in the Orange Bowl on their way to being voted as the best. They did, after all, finish with the best record. That said, there's been some significant changes. DJ Moss is no longer the quarterback, and Tyson Ali has left a void in the center of that defense. In order to repeat as champions, the Tigers have some things to answer.
1) WAS MICHIGAN THE PROBLEM?
Javon Mack, in his senior season, has a new color scheme. He was a Michigan Wolverine, where he fell short of the Orange Bowl as a freshman before having consecutive seven win seasons. Now he's in Death Valley with the Clemson Tigers, who are fresh off a national title run. But, what happens if Clemson falls short? Was Michigan the reason Javon Mack never won a title? If he can't win a title with Clemson, what will that do to his legacy?
2) CAN THEY WIN THE SEC AGAIN?
The Clemson Tigers managed to win the SEC last season, it's why they went to the Orange Bowl. However, can they do it again? Texas and Auburn appear to have gotten stronger, and we'll see what Miami and Florida offer up this season. So can Clemson win the SEC and get a first round bye? Or, is their reign over the conference living on borrowed time?
3) SHOULD CLEMSON BE CONCERNED?
The Tigers have done well in retention and reloading their roster. Jordyn Hall left a void at safety, filled by Dionte Bing. Tyson Ali is gone from the defensive tackle position, but defensive end Mike Miller is still there. DJ Moss left early, but as noted Javon Mack has replaced him. Oh, and Jack Tyler is now joining forces with Kobe King. So, should Clemson be concerned that overconfidence may come into play? Should they be concerned of the competition in their own conference? Does anyone in the Big Ten make Clemson nervous?
TEXAS
Texas has had a Clemson problem for the past two seasons. Which is odd considering the fact that Texas leads the series between the two teams, having won two of the three meetings. So what's the Clemson problem? How about the fact that CFSL fans seem to keep overlooking the Longhorns in favor of Clemson, for some reason. Whether it's talent or the fact that Clemson, for the past two seasons, has finished with the better overall record. If Texas answers these three questions, that could change.
1) WILL TARRAJ WALKER BE ENOUGH?
Geaux Bamba is no longer a Longhorn and that alone presents an issue. Bamba was a reliable kicker and, more importantly, was a lethal weapon offensively. Bamba brought explosiveness and a dynamic to the Texas offense that forced opponents to respect it, even if they didn't utilize Bamba much last season. Enter the new halfback, Tarraj Walker. The four star freshman has major shoes to fill. Will Walker be enough of a threat for teams to respect the running game, or are they going to focus on Tatum?
2) CAN RAY TATUM DO IT AGAIN?
Ray Tatum is entering into his senior year at the quarterback position, and to outdo himself from last season will be difficult. All of Texas' receivers – Vincent McCoy, Dedric Scaliso, Scooby Lewis, and Jackson James the tight end – finished with 1,000 receiving yards last season. Scaliso is gone, and Ray Conley has filled that void. That pales in comparison to Tatum, who finished with 4,655 passing yards, 42 touchdown passes (which happens to be a single season record) and only 13 interceptions. And he was the first player to ever reach 12,000 passing yards and 90 touchdown passes in a career. Oh, and he set the record for most passing yards and touchdowns in a game last season. The question is, can he do it all over again? In a league that has since stocked up on their secondary?
3) HOW IMPORTANT WAS BOUDREAUX?
The former middle linebacker is no longer a part of the team, having graduated last season. Now, linebacker Howard Cook is all that remains of the Longhorns linebacker corps. For all the fanfare that safety Jimbo Smithers has received over the past couple of seasons, Boudreaux certainly left his mark. While Smithers may have set the single season record for tackles, he's still in the third level of the defense. Although, the way he's used, he tends to be dropped down into the second level. That said, we'll find out how important Boudreaux was to this defense. And, whether or not Texas can make it without him.
AUBURN
Auburn is a bit of an oddity. In season three, they finished with a record of .500, although that was the result of a three game losing streak, including their bowl game. They improved to 7-5 this past season, but they have one problem that has persisted these past couple of seasons. Three words: Texas and Clemson. Auburn has yet to defeat them, but answering these three questions could help them to rectify that issue.
1) IS GRIFFIN JELKIC THE GUY?
Auburn has had a quarterback dilemma ever since the fall of Moon. Blake Moon was the first Auburn quarterback, and carried the Tigers to the National Title game in season one. He was never the same after that, and it persisted through to season three. Then, enter Jelkic. He had a bit of a tough time last season, the freshman campaign taking a bit out of him. Fortunately for Auburn, halfback Billy Carter was able to shoulder the load on the way to leading the league in rushing yards. But, Auburn can't afford that for a second season. They need Jelkic to come into his own as a quarterback, especially from the pocket and through the air. If not, then Auburn will have to wait until next season to get passed Clemson and Texas.
2) WHO WILL LEAD THE DEFENSE?
Corner Jesus Kitchens left for the draft and safety Eric LeClear graduated. Leaving behind corner LaRoi Sanders and safeties Ollie P. Peters and Rian Chambers. Peters quickly established himself as a dynamic force last season, coming up with a couple of picks, including an impressive, one-handed pick six in the win over Ohio State in last season's Military Bowl. So, the initial answer is obviously Peters, but who else? Much like Texas, Peters can't do it all on his own. So, that leaves the question, is it Chambers? Linebacker Micah Myers? The freshman middle linebacker Mark Calloway? Who will be the guy to step up and share the workload with Peters?
3) IS THIS AUBURN'S SEASON?
On paper, it would appear the pieces are in play. Billy Carter is coming off his best statistical season, and Jelkic is in his second season, as is receiver Bubba Davis. Tight end Chris Bullard is gone, as is receiver Wayne Carter. But in Carter's replacement comes Cross Ferry III. Defensively, they've strengthened their linebacker corps by adding Mark Calloway to partner with Micah Myers. In addition, the secondary saw safety SKy Taylor transfer into its rankings, and the void of Kitchens is filled by Max Hands. The pieces are all in place, but can they put them together.
FLORIDA
One of the two new teams in the CFSL, and they come in with an interesting position. A new team, new athletic director, and with him a new quarterback. Unfortunately, they're entering into a rough conference given the three teams we've discussed ahead of them. The good news, they've put together a nice roster, but we've got some questions.
1) HOW WILL THE FOX PLAY?
Kingston Fox is a freshman at the quarterback position, but he's entering into a favorable situation. Halfback Avery Jordan and receiver Darren Pegues are seasoned, as both are juniors. Jordan had a down season last year from his freshman campaign, but if he can get reinserted into the forefront of this offense, it will lighten the load on Fox. And that's the question. How much of the load will the Gators expect Fox to shoulder? And, what scheme will they put him in? Are they going to ask Fox to do a bit of everything? Run and pass? Does Fox need to deliver from the pocket, is he going to have to utilize his legs more? What's the expectation here?
2) WILL THE SECONDARY BE ABLE TO SUPPORT THE FRONT SEVEN?
That's a long question, and the answer isn't any simpler. Look, Mohammad Dmour is the defensive end, and Marcin Oleśniewicz is the outside linebacker, joined by freshman Xavier Halle at the interior linebacker position. The secondary, sees freshman Dakota Wolf and junior Chaz Gorbachuk join safeties Elliot Wells and Othello Jones. Can this secondary be able to uphold the work that the front seven looks poised to offer? Will they be enough to face the fire power of Texas and Clemson?
3) WILL THEY FINISH ABOVE OR BELOW .500?
This is a difficult question, and some may say it's unfair. However, for a new team, the .500 record seems a fitting benchmark. It's tough to gauge a team that we have no real background for and so, the .500 benchmark is a great marker. Can they win a close game against one of the premier SEC teams, and win the ones they should, but fall to the creme of the crop? Or do they struggle in-conference? How do they stack up with their non-conference foes considering they're facing the "bottom three" of the Big Ten? Do they struggle? Do they win those games convincingly?
MIAMI
The second of our newbie teams. The Hurricanes come in with a different context than their Florida brethren. By that, I mean a large chunk of this roster is built around transfers on both sides of the ball. Jose Bueno is the quarterback, Buster Bates enters in as the safety. This list will go on and on. But, can they put it all together? Here are the three questions that we're asking to get at the heart of that single question.
1) AND YOU ARE…?
This is going to be the major question for Miami. Jose Bueno transferred in, and while he's shown he can both throw and run, he's got a major issue. Receivers Nick Bagg and King Twixx both transferred in, while the Hurricanes were able to bring in Maximillian Mack at the position. So they've got a talented receiver corps. They've also got Speedy Love at halfback, and he can do some impressive stuff. The pressure seems on to air it out, but Bueno had 16 rushing touchdowns last season, and Love had 11. So, we'd think that Miami would go for a balanced approach, but will that share the load enough for these receivers? For Love? Joe Pantoja struggled at halfback when he was teamed with Bueno, will that happen to Love this season?
2) YOUR FIRST LINE OF DEFENSE IS…?
The Miami defense is trying to make a case for the best secondary in the league. Safety Buster Bates who transferred in, is joined by safeties LaQuarius David and Lamont Terrier. On the perimeter are corners Jalen Davis, the former Longhorn, and Alex Dawson the new recruit. That combination looks to impress this season. That leaves us with linebackers Jesse Horrigan and Justin Thyme. Horrigan spent time alongside Nate Jones and Jake Lake in Michigan before transferring, where Horrigan is joined by the freshman Thyme. The question is this. How will Thyme and Horrigan handle the threat of Billy Carter and Mike Chadwick? Worse yet, can they match up with the running quarterbacks Mack and Jelkic? Bates can't do it all.
3) WILL THEY BE BETTER THAN FLORIDA?
I opened the expansion team conversation with Florida and whether or not they finish above .500. For Miami, that's not necessarily a concern. See, the Hurricanes and Gators may not be the most storied rivalry, but I'm going to try and spark something between the two of them. They're both in the state of Florida, so not only is there the question of who finishes with the better record, but who gets the bragging rights in the head-to-head matchup? Both Miami and Florida should start out concerned with being better than the other. Who comes out ahead in that race?
TCU
The Horned Frogs are quite the curious case. They started out their CFSL career with a 3-1 record. They only won one other game that season, and that was season three. Last season, they fell to only mustering two wins. So what's the problem with TCU? What issues do they need to solve? Well, let's lay out the major ones.
1) CAN YOU SAY IDENTITY CRISIS?
Yeah, I hate to say it, but TCU has had a major identity issue these past couple of seasons. Roster wise, they're talented, but the offense just hasn't been able to find their best fit. That was when Dalton Andrews was at the helm, a five star quarterback. Now, James Kovach is the quarterback. The four star transferred in, along with receiver Jared Tetonis. The question is, will TCU find the right scheme for Kovach? TCU has not had the benefit of a strong running game in their two seasons, and that's something that Kovach could have used in his career. The Horned Frogs need to find the right identity for their offense, or there's going to be trouble.
2) CAN THEY COVER UP THE WEAKNESS?
So, defensively, there's a lot of talent. Jabril Jackson returns as an edge rusher and linebackers Aaron Davis and Xavier Colõn join him. Transferring in is defensive end Marlon Davis, a four star with promise. Dale Higgenbottom is a transfer at corner while the safety Stokely Ferdinand was signed this season. Have you caught it yet? Can this front seven cover the holes in the secondary? That's the question at hand here. To do that, the TCU defense needs to find the best fit to limit how exposed those weak points will be. That's easier said than done, but they need to do it, and quickly.
3) WHAT'S THE GOAL?
TCU has yet to record a winning season. So, I have to ask, what's the goal for this season? Their best season saw them win three games and they've only won one conference game in each of their last two seasons. That's gotta change, and that change won't be easy. So what's the goal for the Horned Frogs? Is it to reach .500? To win multiple conference games? Are they aiming for a playoff berth? Whatever it is, TCU needs to find a goal and generate some urgency. We'll see if that shows next week.
So that's your SEC edition. Three questions for each team that they've got to answer. This conference has two teams fighting each other for the SEC throne. The rest of the teams want a shot at that throne, but to reach it they'll need to set the bar even higher for themselves. Can they do it? Will they do it? Answers that we'll find out over the course of this season. But what are your thoughts? What questions do you have for these teams? Let us know in league chat, and hit us up in the social medias. And, especially be sure to tune in to next week's spring games as we'll get our first glimpses at finding the answers, not only to the questions for these teams, but for the Big Ten as well.