It's the semifinal round, and after a good showing against Alabama, USC must face the reigning SEC Champions, the Texas Longhorns. A first for each team, and one that is exceptional, let's break it down.
USC TROJANS
The Trojans are coming off a very good performance, one that predominantly featured some impressive runs by both quarterback Kingston Fox and tailback Cain Robinson. They each ran for over 100 yards against the Crimson Tide, and both finished with a rushing touchdown, but it's a different beast tonight. Still, the good news is that Fox connected with receiver Mason Winters and tight end Monte Jones with regularity. Winters went over 100 yards receiving with a score on nine passes, while Jones' seven catches helped the Trojans get out of third downs. The fact of the matter is that this offense can defeat you a few different ways, and it will be all hands on deck tonight. Receivers Jace Rosser and Marcus Seals cannot afford drops tonight.
This defense has been fun to watch, and not just because of the 3-4 scheme, but because they play team football. Defensive end Charlie Rhodes stood out with six tackles, a couple for a loss, and a sack. But in all this defense is team oriented, with guys like Benjamin Kaye and Maine Patterson creating disaster and then safety Terrence Goldsberry gets a head of steam coming downhill to make a tackle. This defense survived the battering ram of the Crimson Tide a week ago, now they have to face a veteran quarterback who can create separation in the open field. This defense will be tested once again.
TEXAS LONGHORNS
They're back! Once again SEC Champions and once again presented with a first round bye. The Longhorns are faced with the opportunity to return to the National Championship game for a second straight season, which would be an absolute first, and even more impressive considering their 0-3 start to the season. The turnaround? Signal-caller Walker Mills has taken the game over, literally. The Offensive Player of the Year candidate has taken games over with his legs, but more impressive has been his arm. He's been working receiver Scooby Lewis in particular, but receivers Lord Helix and Ray Conley have seen their fair share as well. With tailback Tarraj Walker also seeing an increased workload on the ground, the question becomes how rusty will Mills be in the playoffs and in a spot he's never been in during his previous two seasons.
The Texas defense has been quiet this season, not being talked about with their usual flair. They're one of the best on third downs, and give up the fewest trips to the redzone. Safety Jimbo Smithers has snagged a couple of interceptions, but has quietly worked his way up to 70 tackles for his senior season, and he's the usual suspect for being the enforcer of the defense. This season, it's been linebackers Jeffrey Stewart Jr. and Howard Cook who have made the larger impacts while corner Terrence Top has been an absolute phenom, snagging pick-sixes with apparent regularity, to the point that he could set the single season interception record if USC isn't careful.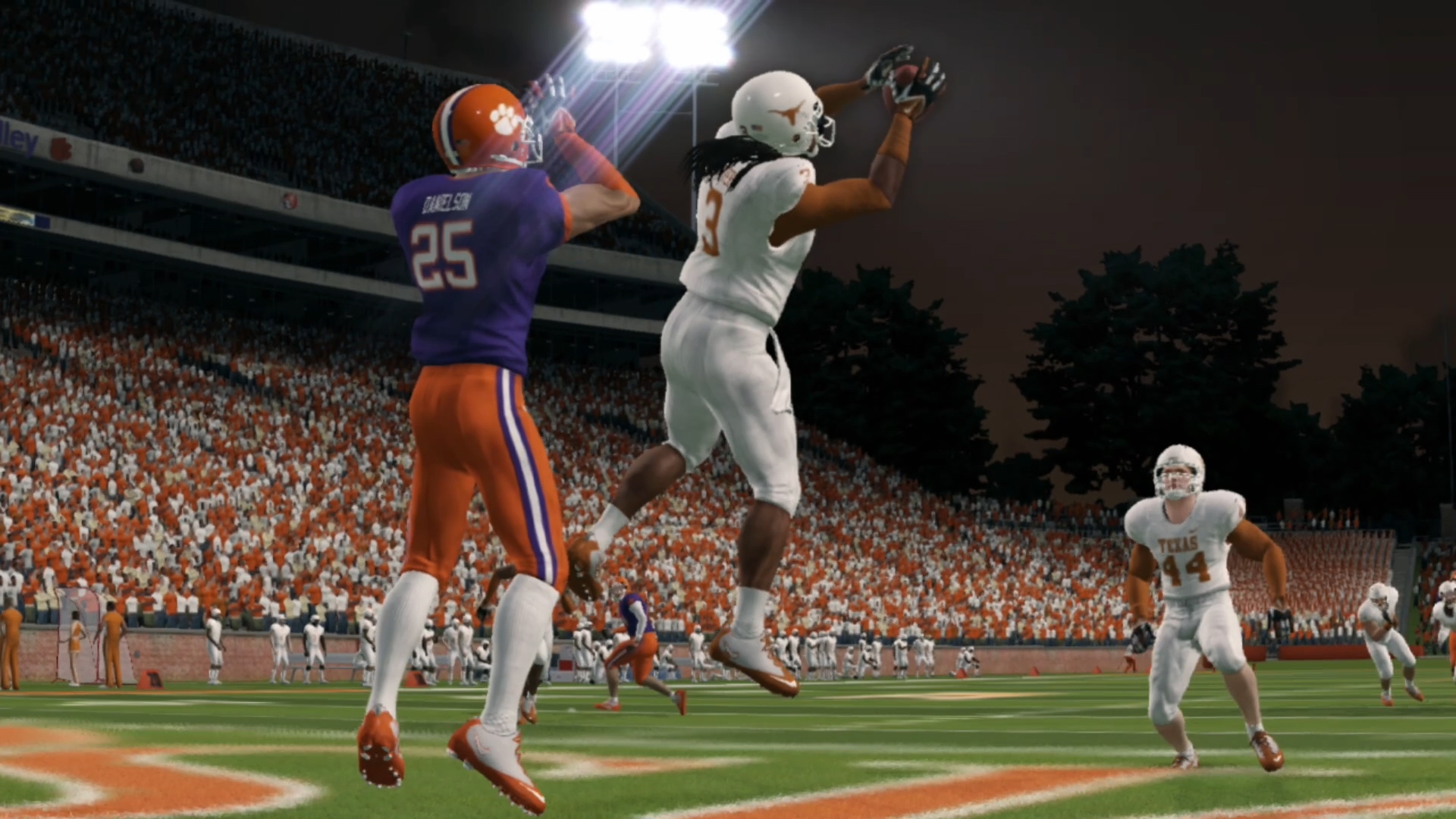 X-FACTORS
USC WR Mason Winters vs. Texas CB Terrence Top
Really both players are the x-factor for their team, and you can expect that Top and Winters will be lined up across from one another for the majority of the night. With Winters being able to stretch the field, and Top being the closest we've seen to a lockdown corner in a while, this is intriguing. Top can kill drives by himself, and if that wasn't bad, he can kill a drive, a quarterback's confidence, and give his team points all in one play. It's the matchup to watch all night.
PREDICTION
With USC coming into this game on a nice run, I have to feel like they're going to have a tough time solving the Texas defense. Because of how well USC's defense played last week, I expect they can fluster Walker Mills tonight, and at least limit his performance. In my mind this will be a low-scoring game, but I'm banking on Top coming down with at least one interception to either swing the tide, or seal the game. Give me the defending SEC Champions to move on and attempt to defend their National Title.
FINAL: USC 21, TEXAS 24