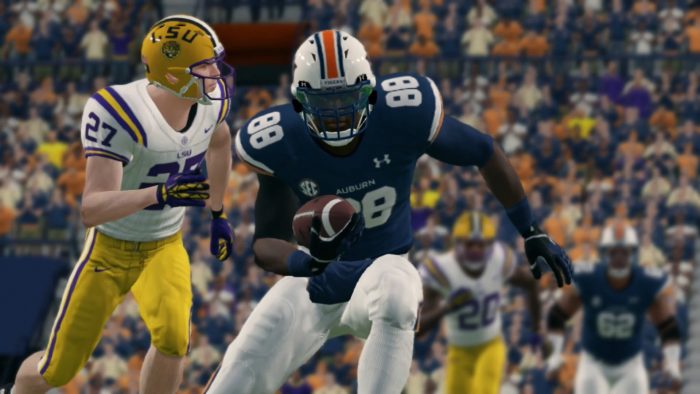 1) Auburn Tigers
Who's surprised? The Auburn Tigers are coming off a great year, and added quite a few pieces to their team that led them to having the third overall recruiting class for Season Eight. The Tigers picked up key pieces like elite quarterback Ron Newman, five star halfback Loki Lawler, five star receiver Austin Knight, along with many others. Auburn was also able to acquire transfer linebacker Isaiah Fowler, the reigning Defensive Player of the Year. Auburn did enough in the offseason to look poised for a run at the national championship this season.
2) Texas Longhorns
Jooby! Jooby! Jooby! The Texas Longhorns have a ton of returning starters, paired up with 16 new recruits coming in, giving them the sixth best recruiting class in the country! Of that, they were able to gain a commitment from five different five star players! I'm interested to see how Tyson Cane Blade fares in his farewell season for the Longhorns. Look for the longhorns to make some big moves this season, I definitely see them living up to the hype.
3) Oregon Ducks
Coming in at number 3 on the power rankings are the Oregon Ducks. They had a wild offseason, gathering commitments from the three Longtree brothers, Puma, Jedidiah, and Tutu. In doing this, the Ducks earned the fifth best recruiting class. Receivers Bugsy Bates and Dee Frost are hoping to gel with former Ohio State quarterback Jefferson Allen. The Ducks see themselves in a season defining week one game against the Florida State Seminoles, a game that could surely shape their season!
4) Florida State
The Seminoles find themselves nestled in nicely at our number four spot in the Power Rankings. Florida State is returning a ton of starters to their lineup, which will make up for the fact that they had the worst ranked recruiting class coming into Season Eight. Florida State is looking to silence the nay-sayers, and have a perfect opportunity in week one where they face the Oregon Ducks.
5) Clemson Tigers
Clemson cracks the top five in the Power Rankings. Clemson had an average recruiting year based on the number of recruits total, earning giving them the 10th recruiting class in the country. However, out of those recruits, they find themselves reloaded with three, five star players coming into town. Safety Josh Claydon will be looking to lead this Clemson defense to victory. Clemson looks to get off on the right foot against an outstanding Alabama team tonight in the Season Eight opener.
6) Miami Hurricanes
The Miami Hurricanes just missed out on sneaking into the top five, instead landing here at sixth. With a few early commitments, Miami looks to have a strong recruiting class to bolster its roster and make a push towards the national championship this season. That said, their recruiting class wound up being graded at eighth. Through all of that, Miami is looking to make a run at the playoffs, and the sophomore signal-caller in Axton Richardson is ready to take charge of the Hurricanes. Miami has a very good opportunity to find themselves in a playoff spot after the regular season.
7) Florida Gators
The Florida Gators finish just behind their rivals with the number seven spot on our Power Rankings. Florida found themselves near the bottom of the pack with their recruiting class, but they were however, land defensive end Casen Dinwoody. Florida is returning quite a few offensive starters, and adding receiver Malik Harris all in the hopes of making a playoff push this season.
8) Michigan Wolverines
The Wolverines of Michigan have landed at eighth in our rankings. In a recruiting class led by receiver Tim Benjamin and safety Michael Rowpeen, Michigan found themselves having the ninth graded recruiting class in the country. With a potent running offense spearheaded by sophomores Tanner Jones (quarterback) and Dior Chapman (halfback) Michigan is looking to silence the haters and climb the rankings to potentially find a playoff spot.
9) LSU Tigers
The LSU Tigers are next on the list, securing the ninth spot in our power rankings. Their recruiting class may have been limited, but they secured a gem in linebacker Brandon Stone, who is looking to lead this defense into being one of the best. We need to see consistent play from the offensive side of the ball, and if so, we could potentially see the LSU tigers slip into a playoff spot.
10) USC Trojans
Can they repeat? The USC Trojans are coming off a National Championship winning season, and they must feel on top of the world. However, with a lot of the starters on the team graduating, USC looks to be in a rebuild year. They were able to conjure up a top five recruiting class in the country, but we will have to wait and see how the incoming players affect the roster. USC has their fingers crossed to become the first team in CFSL history to win back to back National Championships!
11) Notre Dame Fighting Irish
We've placed the Notre Dame Fighting Irish at number 11 on the list. Notre Dame did fairly well in recruitment, raking in a top ten recruiting class in the country. It's well deserved of it's top ten ranking too, led by players like linebacker Dominic Schillizzi and receiver Austin Gombas. The Fighting Irish are hoping this infusion of youth can bolster a veteran cast back into the playoffs.
12) Ohio State Buckeyes
O-H! Despite the second best recruiting class, the Buckeyes have landed here at 12 in our power rankings. The youth on this Buckeye roster is gearing up for a big season, with freshman quarterback Jimi Germaine, halfback Manuel Silva, and two great defensive ends in Michael Krueger and Colten Allen leading the way. A tough early conference matchup between the Buckeyes and Trojans will be an excellent indicator to see how well they did at filling the void left by reigning Defensive Player of the Year Isaiah Fowler.
13) Nebraska Cornhuskers
Even with this low of a ranking at number 13, I feel this Nebraska team will turn some heads early on. Coming out of a recruitment where they were graded as having the best recruiting class in the league, they have plenty of weapons to prove everyone wrong about this ranking. Nebraska is returns signal-caller Scott Fountain, and they've surrounded him with a plethora of talent as he looks to pick up where he left off last season. Lots of question marks surround this team, however, and week one should shed some light on those questions.
14) Alabama Crimson Tide
Rounding out the list here is the Alabama Crimson Tide. Alabama saw themselves with the 12th recruiting class in the country. Even more questions surround this team as they are bringing in a completely new scheme, the triple-option. The Alabama offense has added some talent, but it doesn't appear to quite be enough on paper. On the field, though, that could very well change quickly as they look to return to the playoffs.