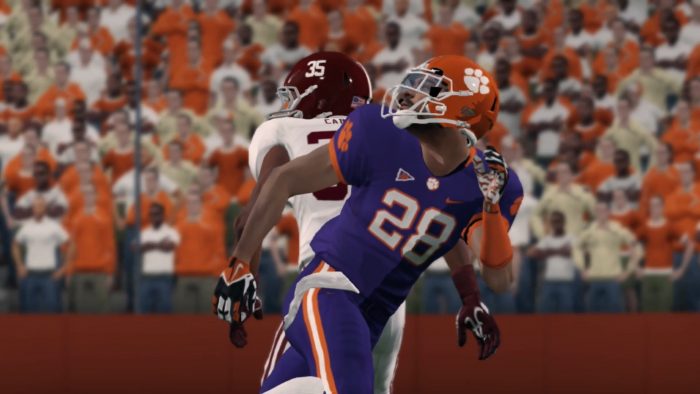 The Season 8 Chick-fil-A kickoff game features two conference rivals, Clemson and Alabama. Clemson returns star quarterback Will Slay and running back Dane Jones. Jones only played in Clemson's final three games last season and was able to rack up 290 yards (5.5 yards per carry) and 2 wins. Their lone loss was a 37-36 heartbreaker to Florida. Speaking of heartbreakers, Will Slay "slayed" the Bama defense last season in their showdown for 498 pass yards, including the final two daggers within the last few minutes of the game to give the Tigers a come from behind victory 38-31. This is an offense poised to do big things as they continue to add to their receiver corps as a means of building around Slay. The leader of which is incoming freshman Dorian Chase-Miller. Look for him to be Slay's favorite target this season as he can creat space and even be a vertical threat as well.
If you haven't heard yet, then you aren't paying attention; Alabama is the first team to run the Flexbone/Triple Option offense in a regular season game, which makes the next statement all that more important. The Crimson Tide returns quarterback Balion Siege, and running back Ferrell Norman. Siege is known to be one of the best running quarterbacks in the league and will get his opportunity to showcase that talent. Unfortunately, he will be absent due to suspension for the Tide's first two games. Which makes the return of Ferrell Norman, and addition of running back Jake Moon all that more important as Alabama tries to navigate uncharted waters without their quarterback.
All that said, let's get into the picks.
OKST's Picks:
Clemson 31, Alabama 32
The moment we've all been waiting for, the first team ever to run the Flexbone (triple option) offense full time in the regular season. From the first pitch, to the last fumble, Bama is committed to #LetTheBoneRoll. Clemson has had a great offseason and are sticking with the scheme they used to beat Alabama with last season. However, Alabama's defense is loaded with the talent to stop the big play that ultimately cost them the "W" last season. For that reason, I think Bama can run the clock and show this league the true meaning of "three yards and a cloud of dust". Look for Alabama running back Jake Moon to have several big plays on the pitch with his breakaway speed.
Matt Pack's Picks:
Clemson 42, Alabama 35
This one is interesting to me for several reasons. Clemson looked like a different team late last season with the addition of Jones at tailback. Second-year AD Clutch showed that he has a good grasp of how to put a gameplan together. Alabama comes in as the first team in CFSL history to run the Flex bone offensive system. I think Alabama will be very dangerous on offense, but they are going to miss their starting quarterback going against a talented Tigers team.
Tom Pence's Picks:
Clemson 34, Alabama 31
Well, we are finally here. It's week one, game one of the season. Clemson has had a very good offseason in recruiting and Alabama added some key pieces of their own. The Tide defense is as good as ever, and seeing their offense running the triple option is going to be amazing to see. The difference in this game, though, is that Clemson is balanced on both sides of the ball and have one of the best field goal kickers from last season. Fraser Flores will knock down the game winning field goal late.
Tim Benjamin's Picks:
Clemson 35, Alabama 17
The new season is here! My first season, and my first ever prediction! I really feel Clemson had a strong offseason, along with bringing back some key starters. Also, after noticing that Alabama will be without their starting signal-caller for the first couple of weeks, it seems they are having to get creative with who takes over in the interim. A different quarterback than anticipated with a whole new scheme leaves me curious to see how their offense fares. My prediction, Clemson wins this with ease.
Squidy's Picks:
Clemson 45 , Alabama 24
The game everyone has been waiting for, the first game of Season Eight! On one side we have Clemson, a team who did not make the playoffs a season ago, but only lost by one score in all of their losses. They also did not have halfback Dane Jones until late in the season. Alabama on the other hand is breaking boundaries going with a triple option offense. The tide were also able to fill out nicely but, they'll be missing their starter at quarterback for the first couple of weeks. The game will start out close but once the second half starts, Clemson quarterback Will Slay will turn on the jets and get the offense going. Without Siege the Tide has a tough task which is why Clemson will win big in Georgia.
David Roy's Picks:
Clemson 38, Alabama 28
If I'm being honest, I'm not quite sure what to make of this Alabama offense, even if Balion Siege was running the show. The Triple Option has never been seen before, and for the first time ever we're about to see it unveiled against a Clemson team that won on a prayer late by quarterback Will Slay. The one aspect missing? Tailback Dane Jones, who joined the following week, and had such a strong three weeks to end the season that he find himself nominated for All-American. Jones is playing Alabama this time, and he's looking to make sure prayers aren't needed. I'll take the Tigers.
The Verdict:
In an overwhelming 5-1 choosing, the Clemson Tigers are favored to get the win over Alabama tonight. But, it's week one and that means, it's the Wild West where nobody knows what's going to happen or go down. So buckle up, football is back for the CFSL and it's back with a fantastic matchup.