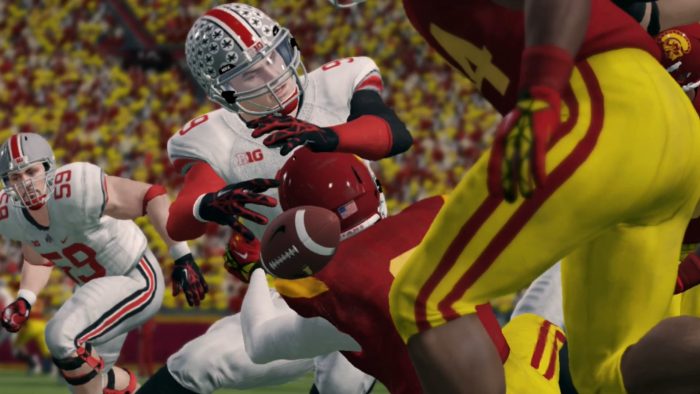 Week one surges on following a great opening night. While we caught a glimpse of the potential that LSU has shown this season, the rebuilt Texas Longhorns are looking to impress the CFSL by their merits as well. A supercharged, albeit young, Texas offense is looking to flash.
Following that game is an early Big Ten clash between Ohio State and USC, and their respective ADs are brothers. The two teams look sturdily built, but only of them can notch the early conference win. Let's get into the picks.
Houston Freeman's Picks:
Texas 45, LSU 35
This is my personal game of the week. I think the amount of recruiting Jooby has done this offseason calls for admiration from all of us. His team will be ready to shake and bake for Season Eight. I'm personally excited to see what that offense can do. LSU on the other hand, I think needs to prove themselves to the league. The team that finds their rhythm offensively first wins this one.
USC 28, Ohio State 24
The Champs are HERE! USC is looking to defend their title with a relatively different looking roster and coaching staff. I'm excited to see wide receiver Tim Cope lead this team in his junior season. Ohio State is going to be searching for answers on defense as they lost linebacker Isaiah Fowler to the transfer portal. I think the Trojans will start the season off right, and continue the quest as the first team to win back to back titles.
Matt Pack's Picks:
Texas 28, LSU 31
Texas comes in with the deepest recruiting class in the league, and former Alabama AD Jooby is gonna have his guys ready to compete. I'm excited to see their quarterback make his debut, and I expect "The Don" to make his presence felt early and often. To me, this game can go either way, but my pick is to ride with the Youngbloods in their sophomore debut, along with a talented defense, to help LSU pull out a close one.
USC 35, Ohio State 31
Two recent playoff contenders coming into season 8 with almost total rebuilds. Also, their respective ADs are brothers. Welcome to the CFSL. The Trojans DeAndre Burks and Carter Cook will duel it out with Jimi Germaine and Manuel Silva in the backfields. I expect USC's defensive vets Burney and Halle, along with junior receiver Tim Cope to make the difference in a close one.
Tom Pence's Picks:
Texas 35,  LSU 38
LSU looked really good in their Scrimmage with Notre Dame, and Texas has reloaded with a stock of talent. With that being said, I hate to go against the "Don" at quarterback, but the Youngbloods are proven and until someone stops them then it's hard to pick against them. This will be a close game and Jooby will be ready for LSU, but the Tigers edge out a win.
USC 41, Ohio State 35
Wow the battle of the brother AD's, super excited to see what happens. This is a major Big Ten clash and neither team wants to lose it. Both teams had huge recruiting classes, but the addition of halfback Carter Cook and returning receiver Tim Cope, plus the USC defense is just too much for the boys from Columbus. Trojans in a tight one.
Tim Benjamin's Picks:
Texas 42, LSU 38
With Texas' recruiting class coming in, I feel they have a great opportunity to start the season off right with a win here. LSU is a very talented team, and should be able to put up a close fight. I've gotta give this one to Texas though.
USC 24, Ohio State 28
I think Ohio State comes away with this one. USC lost a lot of their starting lineup, and I'm not sure how the incoming freshman will be able to pick up on the pace of play at the college level in week one. I see Ohio State taking the victory.
Squidy's Picks:
Texas 35, LSU 31
This offseason Texas hit a grand slam in recruiting. Jooby was able to get a lot of talent alongside a lot of depth to fill out his roster. LSU was not able to get a class quite like Texas, but they had less spots to fill. This will be a very close game but I think middle linebacker Tyson Cane Blade leading the Texas defense will be able to get a few stops late getting the Longhorns the victory.
USC 31, Ohio State 28
The defending National Champions USC come into season eight looking to repeat. With a new athletic director a lot of people are skeptical about what they will look like this year. Same goes with Ohio State. This has the setup to be a barn burner and features two teams that have everyone doubting. If USC can get freshman quarterback Deandre Burks and freshman halfback Carter Cook going they will win. You also can't forget about wide receiver Tim Cope who will be a big part of this offense in season eight. The game will come down to who has the ball last and I believe USC will win.
David Roy's Picks:
Texas 35, LSU 28
Depth. That word will haunt some teams this season, but not Texas. Their wells of depth at wide receiver should enable them to best any secondary, and while LSU's is really good, Texas' depth should prove the difference maker tonight. Expect an outstanding performance from Vito Pipino in his freshman debut as the Texas quarterback for the season in a duel with the opposing Gage Youngblood.
USC 31, Ohio State 34
In what I anticipate to be a fantastic game, I'll go against my peers with this one. This game could really go either way, but I like the versatility that Ohio State is bringing to the table, and their defense, believe it or not, looks to have improved from last season, even without Isaiah Fowler in the center of it all. Instead, this defense has added more talent and an improved pass rush with ends Michael Krueger and Colten Allen. While USC's quarterback, Deandre Burks, showed he can get out of trouble in the Army-Navy game, I think the Buckeye defense will be able to create a lot more trouble than he can get out of. Give me the Buckeyes to notch their first win under new management.
The Verdict:
Two great games on the slate tonight, and our analysts are split on both. There's a 4-2 split on Texas vs. LSU with the majority siding with the Longhorns and their stable of receivers.
The second game comes down to two brotherly ADs between USC and Ohio State and it's another 4-2 split, with the Trojans being favored to win on their neutral site contest.
Regardless of outcome, both games tonight promise a great deal of exciting action and should be able to do much more than entertain. Buckle up for another exciting night of CFSL football!