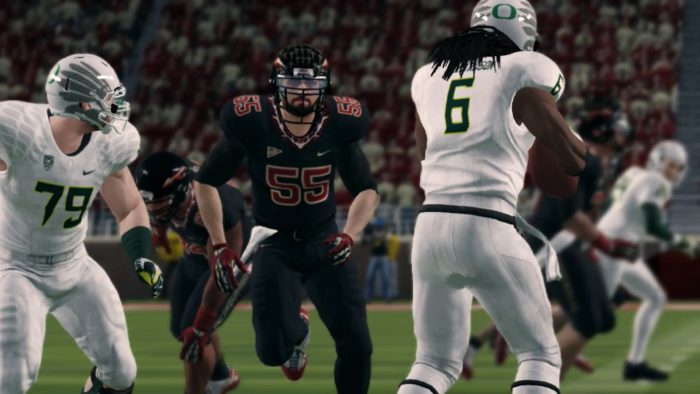 Wednesday night sees us get away from the neutral site games, but that doesn't mean the excitement has been lessened by any means. Two really exciting games on the docket, with Miami and Michigan going head to head followed by Florida State and Oregon. Miami and Oregon faced each other in the exhibition matches, but this will be our first look at the other two teams who will be taking the field tonight. Let's get into the picks to see how much of a role the exhibition games played in the minds of our analysts.
Houston Freeman's Picks:
Miami 27, Michigan 34
I think it's about time for Big Blue to make a run in the Big Ten, and rebound their legacy from last season. Michigan has the ability to win big games, we saw that last year, but the consistency has always been the issue. The new look Hurricanes are looking feisty, flashy, and furious. The question is, can they answer the bell from a consistency standpoint as well? Michigan gets the edge in this one because it's time for them to prove they can be a force.
Florida State 48, Oregon 55
Did someone say lots of points? Check. Farts in the wind? Check. Longtrees? Check, check, check. All three Longtree brothers found a home in Oregon, and they look to have the potential to be unstoppable. Frosty will have this machine well oiled and it's their game to lose. Florida State has a chance to build on last year, and start off with an incredible non conference win that could buy them a better playoff seed in the post season.
Matt Pack's Picks:
Miami 35, Michigan 42
Miami was very impressive in their exhibition loss to Oregon. They have a dynamic offense and their defense looked very sound. Michigan is coming off of their best recruiting class in a while, and Neversatisfied seems to be as dialed in as I've seen him in several seasons. I'll take the experience in this one, picking the home team to pull it off.
Florida State 35, Oregon 31
Oregon, who beat Miami in the exhibition game last Thursday, is also a well put together team with a veteran AD. They look formidable on both sides of the ball, and will definitely be a playoff contender. FSU comes back with basically the same team as last season, led by Adonis Jackson. I believe Jackson starts a possible comeback player of the year campaign tonight. Noles take a close one.
Tom Pence's Picks:
Miami 24, Michigan 28
I love what both these teams have done in the offseason. With that I think Michigan is primed to take the next step and Miami was picked as a pre season favorite in the SEC. Can the Wolverines move the ball on this Miami defense? If so then we will see a hell of a ball game. My heart wants to take the men from the Big Ten but I think Miami may have other things in mind for week one. I'm taking the fact that this is Doma's first true game as AD and experience will be the end result, Michigan wins.
Florida State 48, Oregon 41
Both these teams have very very good defenses, but they both have alot of fire power on offense. The fireworks will be going off, but not just offensively. I look for both teams to either score defensive or special teams touchdowns too. This is the grab your popcorn game, and Florida State will not repeat a 1-5 field goal performance from last season. Seminoles win in a slugfest.
Squidy's Picks:
Miami 45, Michigan 50
This is a game that could go either way. Both teams are very talented but they weren't able to make the playoffs last season. New Miami Athletic Director Doma did a great job this offseason in recruiting and the transfer portal. Same goes with Allan, the long time Athletic Director at Michigan. The defenses will have a rough showing and the offenses will take over. For Miami to win quarterback Axton Richardson will have to spread the ball around to all of the talent that is surrounding him. Michigan will have to do the same thing with sophomore quarterback Tanner Jones. I expect a high scoring game, but experience will get the Wolverines their first win of season eight.
Florida State 56, Oregon 59
If you're a defensive coordinator you will not be having fun here. Oregon has all the talent you could possibly need on offense to make this game a blowout but same with FSU. The Noles have much better receivers this season and a deadly running back quarterback combo in Vidar Lund and Adonis Jackson. But you can not forget about the Longtrees on the other side of the ball. They will be the difference maker in this game. If Oregon can slow down Jackson and stop the Noles early i think this game could be a blowout. On the contrary if that doesn't happen we could see a game a lot like last season. Close and down to the wire. I can see these two teams playing again in the playoffs but in week one, I got the Ducks on top.
David Roy's Picks:
Miami 38, Michigan 31
Miami looked impressive in the exhibition game, but this is the regular season and Michigan has stocked their roster with talent, especially at receiver. They've worked in some nice defensive players as well, and I'm excited for the duel between the halfbacks. Michigan's Dior Chapman and Miami's Marcus Duncan, two halfbacks who had similar seasons and have seen their careers get linked together. But tonight, I'll take the Hurricanes to win in the Big House like they did a couple a seasons ago, just with more points.
Florida State 28, Oregon 35
I like Florida State, and I like what they've done. But I like Oregon more tonight. Oregon found a gunslinger in quarterback Jefferson Allen to pair with their talented receivers in Dee Frost and Bugsy Bates. Likewise, this defense has seen some major upgrades for the Ducks. Florida State is working to build around both quarterback Adonis Jackson and halfback Vidar Lund. The question for me is the secondary. The Seminoles have a talented roster at the safety position, but the boundary corners could be in for a rough night against this Oregon offense. Buckle up.
The Verdict:
The vast majority of our analysts are riding with the Wolverines tonight, with a lone wolf calling for the Hurricanes to ge the win. Michigan has been given the 4-1 favorite by our analysts tonight for the first game.
In the second game, things get far more split. 3-2 is the call and most of our analysts are taking the Oregon Ducks to come out on top against the visiting Seminoles. The large consensus for both games, though, is that they should be extremely close and entertaining throughout the night, so bring your popcorn and get ready!