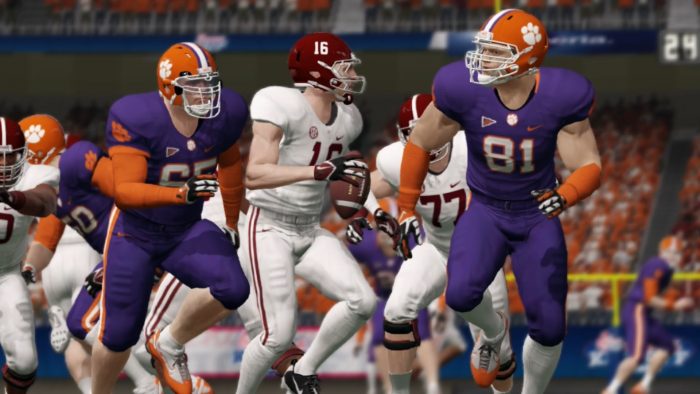 With week two continuing on, Michigan and Clemson cross paths once again, a matchup that has seen things land in favor of the Tigers, but tonight could very well be different if Michigan can get a fast start.
The second game is a bit more fun. USC and Alabama entered the league together and they've already butted heads three times in the span of two seasons, with one of those being a playoff matchup. Let's get into the picks to see if Alabama will even the score with USC.
Houston Freeman's Predictions:
Clemson and Will Slay will start cruising in this game, and will make themselves look like favorites to win the SEC. Michigan needs the offense to be full speed ahead in order to win this one.
Michigan 21, Clemson 34
The return of the Season Six expansion rivalry is here! Trojans beware! Bama showed the league last week just how dangerous the Flexbone can be… unfortunately another week without quarterback Balion Siege means the Tide will be forced to utilize back up Baron Adams (who surprisingly played exceptional last week). USC will be looking to give wide receiver Tim Cope as many touches as he can handle and hope he can have a repeat performance of last year against his old team. With the Bama defense greatly improved from last season, the Tide will roll in this one.
USC 28, Alabama 31
Squidy's Predictions:
Not really sure what to say here. Michigan just can't seem to find their groove. They have not been great the past few years and right when everybody said they would make the playoffs they lay an egg opening night. They still have a lot of time to turn it all around but that won't happen here. Clemson wins this one big
Michigan 24, Clemson 52
For the third season in a row the Tide will play the Trojans. USC leads the series 2-1 and it looks like they will make that 3-1. I want to say this game will be close but I just don't think it will be. There is too many questions with the triple option still without answers. USC will need to get receiver Tim Cope more involved and stay on their toes defensivley. I would love to see Bama make it a close game but I just don't think it will happen.
USC 31, Alabama 14
David Ware's Predictions:
Michigan has a lot of potential as we saw last week but the inconsistency they had worries me against the strong defense led by safety Josh Claydon.
Michigan 21, Clemson 35
After last week Bama showed the league that they will compete this year. I think they will make a strong run but in the end I feel that USC returns to championship form with a win.
USC 49, Alabama 35
WorldClassMatt's Predictions:
Clemson won last week against a team that was retooled. I think they will do it again this week against another retooled team. Michigan has the potential to be a very scary team, but it will take a little time to get them there. They will probably play catch up at the end of the game and come up just short.
Michigan 36, Clemson 38
I am calling for this game to be the upset this week. Alabama is coming off of a bad loss last week but has most pieces to be effective. The triple option was successful only some of the time due to a backup quarterback. Now that Alabama knows what it has, it fully unleashes. USC hasn't found it's groove yet. It is still suffering from the National Championship Hangover.
USC 18, Alabama 21
David Roy's Predictions:
Michigan started slow last week, but once they got out of the gate, they were able to make things interesting. In order to avoid a repeat of last week, they can't afford to stall at the starting line and need to start strong against a Clemson offense that crank up the heat quick between quarterback Will Slay and halfback Dane Jones. It'll be close, but Clemson gets the win.
Michigan 28, Clemson 31
USC and Alabama entered the CFSL together, and so it's only fitting that they're going up against each other again. USC started strong, but couldn't keep up with Ohio State, while Alabama started a bit sluggishly and just couldn't quite catch up to Clemson in week one. I appreciate what Alabama is capable of offensively, but I'm not sold on them being able to keep up with a USC team that can be dangerous if they can get halfback Carter Cook rolling. I'll take the visiting Trojans to win.
USC 35, Alabama 24
The Verdict:
It's unanimous in the expectation that Clemson takes the win tonight against the visiting Michigan Wolverines. 5-0 goes the predictions by our analysts, but that can change if Michigan can avoid starting out flat tonight.
As for the second game, our analysts don't agree. They fell 3-2 on this game tonight, and USC has been given the nod, but there's a sense that the full might of Alabama's triple option has not yet been unveiled, and they still had opportunities to beat Clemson. Get ready, because this game with USC could come down to the wire.