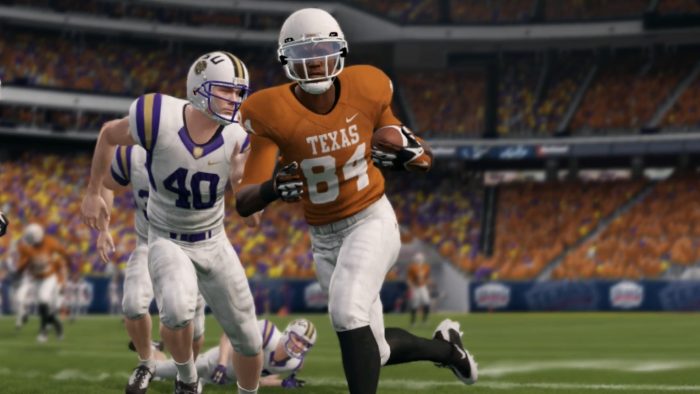 With week three on the horizon, we close out week two with a bang. Texas and Notre Dame are squaring off and this series has seen some serious heat over the past couple of seasons, and it should once again tonight as it's an early conference matchup and it could end in a shootout between quarterbacks Vito Pipino and Leo Asiata.
Auburn and Nebraska is a different animal. Quarterback Scott Fountain set the league ablaze last season, and now, Auburn's signal-caller Ron Newman is looking to do the same. Both quarterbacks can sling it and tote the rock as well, so we could be in for a lot of "wow" plays tonight.
Houston Freeman's Predictions:
Texas started the season exactly how they needed to, a huge win over LSU. Notre Dame started by handing Auburn their first loss of the season as well. Two great and storied programs will duke it out for the rightful owner of first place in the Big Ten
Texas 51, Notre Dame 48
If any team can rebound from an opening day loss it's Auburn. I wouldn't want to be on the receiving end of Auburn after a loss to Notre Dame. Nebraska narrowly lost to Florida in week one but I didn't see enough to impress me into giving the edge to them over Auburn.
Auburn 27, Nebraska 20
WorldClassMatt's Predictions:
Texas is standing on top of the CFSL at the moment. The only way they lose is if they give the game away. Their depth allows them to sub constantly, which ensures they are always fresh. Longhorn quarterback Vito Pipino looks to have another big game.
Texas 45, Notre Dame 21
This game may become an instant classic for the season if both defenses are able to live up to their hype. Both teams suffered close loses last week and I see the same this week. The deciding factor in this game sits at the quarterback position. If Newman can step up and lead the team, Auburn wins. If he can't get the ball to the many threats he has, they lose. I don't think he'll have the chance in the face of this Nebraska pass rush.
Auburn 23, Nebraska 28
David Ware's Predictions:
Notre Dame is going to come out fighting hard as we saw last week. I feel they will stay in the game until the 4th quarter when Texas's depth prevails. I expect another 400 yard game from Texas quarterback Vito Pipino.
Texas 42, Notre Dame 28
Both teams coming in after a heartbreaking opening week. I expect this to be a battle all the way to the end and I believe Nebraska's defense shows up and makes a statement.
Auburn 21, Nebraska 28
Squidy's Predictions:
This is a very difficult game to pick. Notre Dame has a huge upset against Auburn last week and all of the sudden you have to wonder, are the Irish a top team or is Auburn worse than we expected. I think its a bit of both. On the other hand Texas is coming off a great win over LSU. Both teams are riding high with a win under their belt and are looking to make it two. I think Notre Dame wins this game in OT. It could honestly go either way. While Texas does have a lot of depth and also a lot of talent, Notre Dame has Leo Asiata. Their top tier quarterback is the key to them winning this game. Experience will show and Notre Dame will be 2-0.
Texas 45, Notre Dame 52
Both squads played in incredible games last week but came up short. Auburn was supposed to blow out the Irish but they didn't. This week they will rebound and win. It will be a defensive battle but quarterback Ron Newman will find a way to get things done.
Auburn 28, Nebraska 21
David Roy's Predictions:
Hope everybody brought their ice, because things are about to get heated. Notre Dame and Texas is a conference matchup, and it's almost become a rivalry with bad blood between the two teams. These defenses could be in for a rough night, because the two quarterbacks are looking to air it out until dawn. The young gunslinger in Texas' Vito Pipino against the grizzled senior in Notre Dame's Leo Asiata. Get ready for a high scoring affair tonight, and one where the young Longhorns bring down the Fighting Irish.
Texas 52, Notre Dame 45
Auburn and Nebraska both dealt with heartbreakers last week. Auburn quarterback Ron Newman hit Peyton Myles down the seam, but the safety playing receiver had to lay out for the ball as time expired. Nebraska, they were in a back and forth affair with Florida last week, and fell on the wrong side of a one point difference as Florida engineered a game-winning drive. Tonight, Fountain and the Cornhuskers play host to an Auburn team that should prove to be an even match between the two, but I suspect the Tigers to get the edge tonight.
Auburn 38, Nebraska 31
The Verdict:
There's another lone wolf among the analysts tonight. Texas and Notre Dame is believed to be a high scoring affair, and the road Longhorns have been given the 4-1 nod by our analysts tonight. The second game? That's a bit trickier. Our analysts are actually split on this game, but Auburn has indeed been given the favored nod of 3-2 despite being on the road tonight.