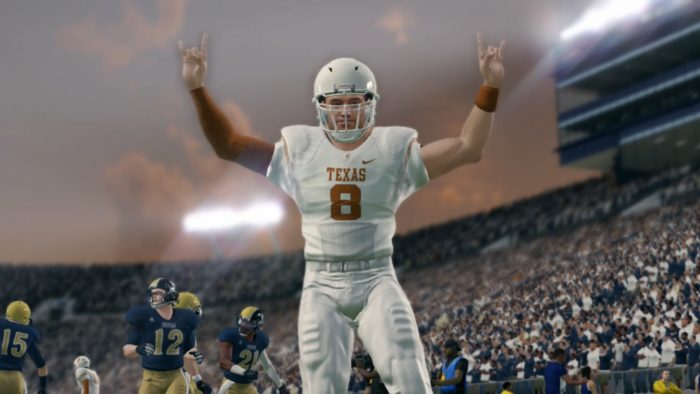 Welcome to Austin, where the Longhorns reign at 2-0 and the Ducks soar in at 1-1. Where Pipino is king, and hasn't turned the ball over. This game, in week three, may be one of the biggest matchups of the season. And you better believe the playoff implications here are hot and heavy. Here's our analysts' takes on the night.
Houston Freeman's Predictions:
Texas looks too hot to handle right now, even though Oregon's talent is off the charts. The Longhorns are built for a championship, and this is just a bump in the road.
Oregon 42, Texas 52
Matt Pack's Predictions:
I think we get the offensive fireworks from both teams in this game. Oregon quarterback Jefferson Allen and Texas signal-caller Vito Pipino will fuel the entire game. Oregon keeps it close, but Pipino looks unstoppable right now, until proven otherwise.
Oregon 45, Texas 49
WorldClassMatt's Predictions:
As good as Oregon is they don't have an answer for Vito and crew. Texas comes into this game undefeated. It has the nations best offense and a decent defense. I see Vito going off again. Look for Texas to stay undefeated.
Oregon 21, Texas 38
David Ware's Predictions:
This game has two powerhouses getting ready to square off. Oregon has a very explosive offense and I believe they are about to be in a shootout! Jefferson Allen will be matchesd against Texas quarterback Pipino and I expect Pipino to carry on his league dominance. I believe this game will be one of the games used to name him Freshman of the Year and Offensive Player of the Year candidate. I don't believe Oregon will be able to keep up with Texas for all four quarters which gives Texas the win.
Oregon 35, Texas 51
Squidy's Predictions:
GAME OF THE WEEK! This is going to be a blowout by Texas or a very close game. Quarterback Vito Pipino put on a show last week in a blowout over Notre Dame. Same goes with the Oregon signal-caller Jefferson Allen. On one hand we got a team with a lot of depth And some talent and a team with a lot of talent and some depth. Should be a great game.
Oregon 45, Texas 38
Dorian's Predictions:
What a game we have here with two dominant offenses facing off. Both teams looked good last week with both of their games ending in blowout wins. Expect this game to come down to the wire and for both offenses to go off. But Texas' Vito Pipino will pull some late game heroics to win a close one.
Oregon 42, Texas 49
David Roy's Predictions:
Well, after last week, tonight can't get much bigger for a regular season showdown. Texas saw their quarterback Vito Pipino absolutely tear into the Notre Dame defense, while Oregon rebounded from a close loss against Florida State by pushing around the Buckeyes. So week three comes hot on the heels of two offenses that have shown they can score, and score in bunches. But what defense has what it takes to apply the breaks? Linebackers Jedidiah Longtree, Tyson Cane Blade, and Justin Thyme will all be on the prowl tonight. At the end of the day, I love Oregon's talent, but I love the talented and deep roster of Texas a little bit more. Give me the Longhorns.
Oregon 42, Texas 45
The Verdict:
Lone wolf alert! Tonight's game is in the Lone Star State, and one of our analysts is taking the lone wolf approach. The majority believe Texas will get the win tonight though, in a 6-1 favoring of the home team. But the larger consensus? Points are going to be going up at a discounted rate, and we're going to be in for a close fireworks show.