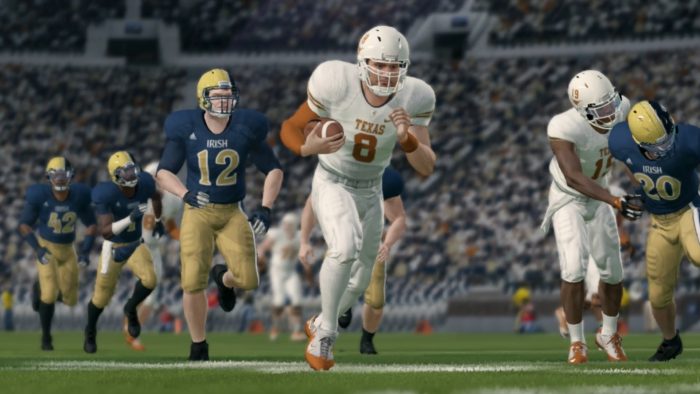 Week two is in the books, and as we gear up for week three of the CFSL, find out who topped our power rankings for this week. Keep in mind, these are not official rankings of teams, as the ADs have not voted on them, they're just Power Rankings put together by a couple guys.
1) (NC) Texas Longhorns (2-0)
How can you argue with the performance by quarterback Vito Pipino and these Longhorns? Eight total touchdowns against Notre Dame, eight passing touchdowns in the first two weeks of the season, and no turnovers yet. The Longhorns have come storming out of the gate early, and will have a tough test this week against Oregon.
2) (+2) Clemson Tigers (2-0)
The Tigers managed to handle business last week against Michigan. Was it closer than the Tigers would have liked? I have no doubt, nor do I doubt the Wolverines were more than ready for last week. Still Clemson is 2-0 and they're finding ways to win, which is important if you hope to make the playoffs.
3) (-1) Miami Hurricanes (2-0)
Look, I understand there's a case to be made for Miami being number two. But hear me out, while playing better than the refs ref is a true statement, Florida State isn't a bad team, even if quarterback Adonis Jackson has no touchdown passes yet this season. Miami was able to win by four, but we have no idea how that game could have ended otherwise. It was a good close game, and it could have gone either way, so it's understandable they'd fall a spot, especially after how their game ended last week.
4) (+3) Florida Gators (2-0)
Well, when you win games, who can argue? Look, Florida is the only other unbeaten team, but they're also the only team who has had to deal with single digit games so far this season. Even more, single point games. They beat Nebraska and LSU both by one. Florida is a team who grinds, and they find ways to grind out wins, hence their rise to the number four spot in the power rankings.
5) (-2) Florida State Seminoles (1-1)
Play better than the refs ref. Moral of the story. Look, Florida State is a good team, they played a close game with both Oregon and Miami, and they're 1-1 for those efforts. That's not a knock on a talented team. What they do need to do, though, is get quarterback Adonis Jackson sorted. No touchdown passes and three interceptions. Yes, this offense is run first, but he needs to show he can score with his arm too, not just turn it over.
6) (+2) Oregon Ducks (1-1)
An impressive showing last week for signal-caller Jefferson Allen and his Oregon Ducks. Especially after what Ohio State looked like in week one. The Ducks came out of the gate swinging, and none had a bigger swing than halfback Puma Longtree and his 100+ rushing yard performance. The Ducks have shown, once again, they deserve respect.
7) (-1) Auburn Tigers (1-1)
They didn't look good against Notre Dame, which looks even worse after how the Irish faired against Texas, but they really didn't look great this week either. The Auburn defense is without question one of the better units in the league, in part due to the leadership of sophomore linebacker Isaiah Fowler, but the issues of this offense have plagued them so far. The Tigers are lacking a willingness to strike downfield, but if they can resolve that, then they can very easily climb back up the rankings.
8) (-3) Notre Dame Fighting Irish (1-1)
The Fighting Irish were able to defeat Auburn in week one, and then Texas came to town. Notre Dame was not warned that they would need to batten down the hatches, because the Longhorns unleashed quarterback Vito Pipino upon their defense in what you could call an exposing performance. Eight total touchdowns given up to the freshman, and three of his four rushing touchdowns were from at least 50 yards away. Notre Dame looked unprepared, and they better get ready, because Ohio State is capable of doing the same thing this week.
9) (NC) Ohio State Buckeyes (1-1)
Their first loss of the season comes at the hands of an Oregon team who rebounded in a big way, and the Buckeyes just weren't ready for it. 44-13 was the final score of that one, but that doesn't mean Ohio State is a bad team. Nor does this number nine spot. It just means there's room for improvement, starting with showing their offense is capable of being able to keep up with some of the high-powered offenses in the league while also showing that their defense can slow down those offenses. There's work to be done in Columbus.
10) (+1) USC Trojans (1-1)
Lose in week one, come back and win a nailbiter against the Alabama Crimson Tide, also our first overtime game of the season. Halfback Carter Cook had three rushing touchdowns, including the game-winner, but they need more. USC needs more burst out of their running game, which can open up their explosive pass plays downfield, and Deandre Burks can't do it all himself. Until that changes, USC will have to continue to find ways to grind out wins.
11) (-1) LSU Tigers (0-2)
Losing in games as close as they played against Florida is tough. The CFSL does not have a bad team, but you're winless for some reason or other. And giving up what would be a 74 yard strike to Levi Temes for his first career catch? Yeah, that doesn't help, nor does watching your running game get completely shut down. The Tigers are good, just have to get some depth and solve some problems.
12) (NC) Nebraska Cornhuskers (0-2)
Nebraska is a lot like LSU. They've struggled to close games. The Nebraska defense was able to prevent turnovers from putting them in a two possession deficit. They were locked in the whole game against Auburn, but they gambled a little too much late and it cost them a win. Nebraska has got to find a way to recapture the explosiveness of quarterback Scott Fountain from last season. Fountain, as shown, can be explosive in the open field. They just need to get him there.
13) (+1) Alabama Crimson Tide (0-2)
Alabama's triple option attack has been impressive, and for everybody discounting them? Watch out, because Balion Siege is back under center. And for everybody who scoffs at that, there's an aspect going unspoken. Siege has a better arm, and Alabama will get a deep threat back that they've been lacking with Adams splitting out wide again. Alabama may be 13 in the power rankings this week, but don't expect them to stay here.
14) (-1) Michigan Wolverines (0-2)
Ah, the Michigan Wolverines. They showed last week they can play with anyone in this league. Now, they need to show they can win games. Their defense looked good, and their offense moved the ball well, but struggled in the redzone. Once Michigan can sort those aspects out, the Wolverines will be in good shape to compete for a playoff spot. Getting quarterback Tanner Jones and halfback Dior Chapman running around will do wonders for this offense.