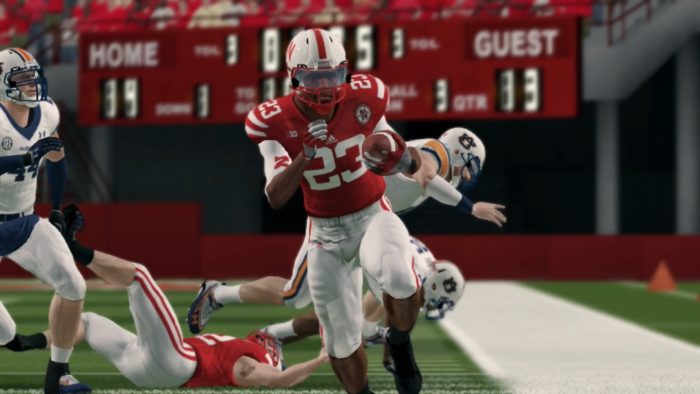 We return to Big Ten play as Ohio State squares off with Notre Dame and Nebraska looks to get a win in the Big House of Ann Arbor against Michigan. Ohio State and Notre Dame both sit at 1-1, but the Buckeyes have something the Fighting Irish don't and that's a conference win. Notre Dame can get to .500 in conference play with a win tonight, but Ohio State could put pressure on Texas at the top if the Buckeyes were to win.
Nebraska and Michigan, there's something different at stake. Much like the first game tonight, both teams have the same record and that means both of them are seeking their first win of the season. But Nebraska and Michigan have reached 0-2 in very different ways. Where Michigan has been slow out of the gate this season, and have struggled to keep up, Nebraska has kept pace with Florida and Auburn, they just haven't been able to seal the deal. A win tonight is big for each team, as it's their first conference game of the season.
Houston Freeman's Predictions:
Notre Dame is reeling after a 69 point defensive meltdown…. but so is Ohio State after a 44 point meltdown of their own last week. This one is a toss up in my opinion. The edge goes to Notre Dame since they are coming off a Championship Game appearance from last season.
Ohio State 21, Notre Dame 35
Nebraska has had two incredibly close losses this season, and will be doing everything they can to make it up and get over the hump. Michigan is on the struggle bus, but maybe they can find a way to hop off.
Nebraska 24, Michigan 21
Matt Pack's Predictions:
Look. I know how inconsistent the Irish have looked in two weeks, but the same can be said for OSU on offense. I'm riding with the player of the year in this one.
Ohio State 28, Notre Dame 35
Scott Fountain lost a heartbreaker last week, but he's proven he isn't just a running quarterback. Michigan is changing things up for their offense, but I expect the Husker defense to enforce their will all night.
Nebraska 24, Michigan 21
WorldClassMatt's Predictions:
I went back and forth on this one a couple of times. Notre Dame has the talent to win this game. Do they have the drive to win it? That's what I question. Ohio State by two in a close game.
Ohio State 36, Notre Dame 34
In this low scoring affair, the Nebraska defense will be controlling the game. Michigan's recent switch up on offense will take a game or two to come together.
Nebraska 21, Michigan 14
David Ware's Predictions:
Both teams are coming into week three following games where they played top ranked Big Ten teams and were outplayed. This is a must-win for both teams and I expect Ohio State to come out and set the pace early. Notre Dame will fight tooth and nail but will wind up just short. If Notre Dame wants to win, Notre Dame quarterback Leo Asiata has to avoid turnovers.
Ohio State 35, Notre Dame 28
This game is between two schools who both have been so close to getting their first win, but have come up just short. I believe both teams are on the verge of putting it together. It's going to come down to who will win the war between Michigan's offense and Nebraska's defense. If Michigan can be consistent they have a good chance. If Nebraska doesn't shoot themselves in the foot and can turn a few field goals into touchdowns they win. I'll take Nebraska on the road.
Nebraska 38, Michigan 31
Squidy's Predictions:
How could you not love this match up? Two heavily slept on teams in the Big Ten who beat solid teams but got crushed by top ones a week ago. The start of the season for these two have been pretty identical in a way. This game is screaming playoff implications and could be one of those early season nail biters that come back to haunt the loser. I'll take experience in this one. Give me quarterback Leo Asiata and The Irish at home.
Ohio State 35, Notre Dame 45
Call these two squads lucky. Sure, they both started 0-2, but in non conference games. The real test starts here and now. Nebraska has been in two close games but have lacked a scoring offense. If Hex can find a way to get them points Michigan won't be able to keep up. Fortunately for the Huskers, that's exactly what is going to happen. I got Nebraska big on the road.
Nebraska 48, Michigan 24
Dorian's Predictions:
Ohio State and Notre Dame both come into this matchup with blowout loses. I expect this game to have another two or three possession victor, as I see Ohio State as the better team. Even if Notre Dame had that big upset, it looked like a one-off. I see Ohio State getting this win and going 2-1 in conference on a night where Buckeye quarterback Jimi Germaine goes off.
Ohio State 35, Notre Dame 17
Both teams enter this game 0-2 as both teams look for there first conference win. I see this game being a defensive battle in the first half as Nebraska defense continues to show why they are a top defense. But I see Nebraska's offense struggling to keep up as Michigan quarterback Tanner Jones and receiver Tim Benjamin make some plays late as Michigan gets this win.
Nebraska 20, Michigan 27
David Roy's Predictions:
Ohio State and Notre Dame are both coming off losses they wish they could forget, but the good news is, Ohio State already has a conference win. Okay, good news for Ohio State, because a conference win is something Notre Dame doesn't have yet, and if they lose tonight, they fall to 0-2 in-conference. That's a tough spot to be in as far as making the playoffs go, but I'm guessing that's where Notre Dame will find themselves after tonight, in part due to Buckeye halfback Manuel Silva. Oh, and did I mention the pressure that Leo Asiata will be under because of defensive ends Colten Allen and Michael Krueger? Yeah, expect at least one turnover out of Asiata.
Ohio State 34, Notre Dame 28
Nebraska and Michigan may be winless, but Nebraska has been in two really close games they just haven't been able to close out. Michigan looked much improved last week after a maligned week one, and I anticipate they'll aim to get halfback Dior Chapman going this week. The issue is the Nebraska defense, led by safeties JoJo Schillizzi and Eric Mears. They tend to leave a trail of destruction and explosive hits in their wake, and that could spell trouble for Chapman. Nebraska needs to get their own halfback going in Casey Bronco, as he can open up the rushing and passing lanes for signal-caller Scott Fountain, just not sure if that happens tonight. It will be close, but Fountain can work some magic for a win.
Nebraska 27, Michigan 24
The Verdict:
Once again, our analysts have found themselves split for tonight, as Ohio State has been given a slight edge of 4-3 against the Fighting Irish. The issue is, Ohio State's road record isn't great and Notre Dame's record at home is stellar.
The second game, however, things are a bit different. Yes, we have a lone wolf sighting. Nebraska has been heavily favored by our analysts tonight, 6-1 to get the win over the Wolverines. But make no mistake, this game, like the first, should be close and come down to the wire on a night of Big Ten action.