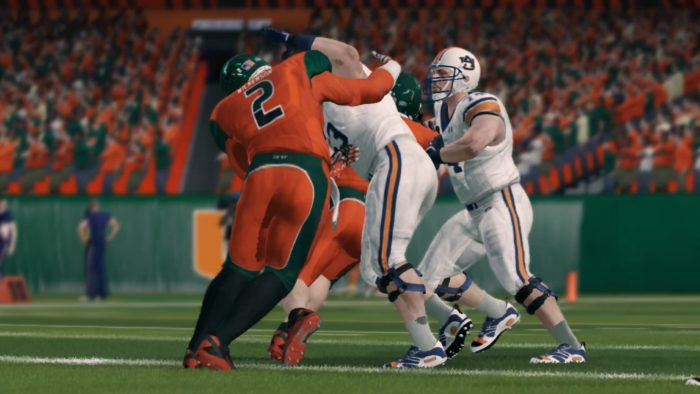 Week four sees a familiar matchup, since this was the Monday night matchup last season. And boy how things are similar. Florida is undefeated, much like they were at this time last season when they faced Auburn. Auburn ended that run, and our analysts tell you whether or not that will be the case tonight.
Houston Freeman's Predictions:
Auburn's history will prevail and earn them a win after Florida's close call with Alabama last week.
Auburn 28, Florida 24
Matt Pack's Predictions:
Florida has the best defense in the league early this season. AD Hunkydory has shown he knows how to build and call a defense. Their offense has done just enough to win them games. Auburn has somewhat returned to form last week against Miami. Auburn wins a close one.
Auburn 28, Florida 21
WorldClassMatt's Predictions:
Florida has started the season off well, going undefeated. Their wins have come by single digits against their foes. However, I believe quarterback Ron Newman and company will carry Auburn to a victory in this very important conference matchup.
Auburn 28, Florida 24
Squidy's Predictions:
In the game of the week, we've got quarterback Ron Newman and the Auburn Tigers heading to the Swamp trying to dethrone the undefeated Florida Gators. This may be the biggest game in the first half of the season. Florida has a deadly defense that I think will really slow down Newman and this Auburn offense. But the key word there was slow down, not shut down. Pack is going to get his guys ready for this game. Give me the Tigers by ten.
Auburn 31, Florida 21
Dorian's Predictions:
What a game we got here, Florida and Auburn. A game I'm excited to watch. I see this game being a shootout as Florida and Auburn's offenses put up a bunch of points, with quarterback Mathias St. John and Newman having huge rushing performances. But I see Florida's defense forcing Auburn to make a mistake as Florida gets a late field goal to win it.
Auburn 38, Florida 41
David Roy's Prediction:
Florida is 3-0, but that's because their defense has been stellar. The offense has the weapons to be able to score in bunches, but the Gators have been hesitant to do that, to open things up. Auburn, on the other hand, has shown they don't mind opening things up. They did last week after all. The running game will be there, but not much of it, which means the Florida defense will really need to worry about the passing game. That also means Florida will have to lean on theirs, and honestly? Florida has more weapons and a veteran signal-caller. Give me the Gators with a big performance from receiver Malik Harris.
Auburn 31, Florida 34
The Verdict:
Unsurprisingly, Auburn is favored by our analysts for tonight's contest, 4-2. The overarching expectating is that this game will be close, and it's not unreasonable. Even so there's the possibility of an upset, of Florida finding a way to win and remain undefeated. Whether or not that happens, you'll need to tune in tonight to find out.