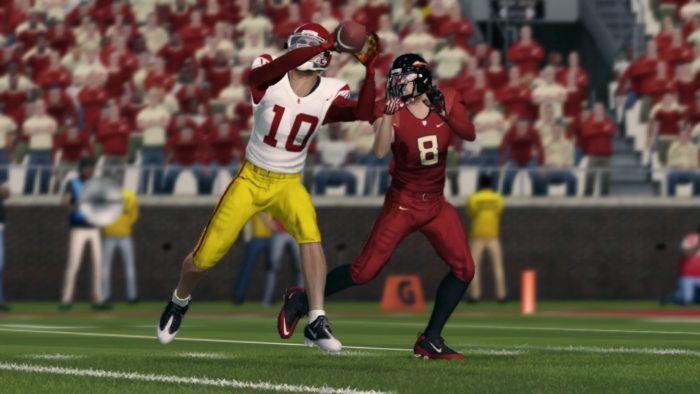 Two more conference matchups are on the docket tonight, as we turn our attention to the Big Ten for a showdown between the Ducks and Trojans. USC has an opportunity to improve to .500 within the conference while Oregon can get above .500 with a win tonight.
The other conference game takes place within the SEC as Florida State looks to topple the undefeated Clemson Tigers. A Clemson win allows them to keep pace with the Florida Gators, while a win by Florida State carries them to a .500 record both in the conference and overall.
Houston Freeman's Predictions:
Oregon's offense is just too much to be stopped by USC, and they don't have the return firepower either.
Oregon 38, USC 28
Clemson still looks to be the SEC favorite, but Florida State has played their opponents tough. I think Clemson goes on upset alert for this game, but still pulls it off.
Florida State 31, Clemson 32
Matt Pack's Predictions:
USC proved that they can stay in and close out a close game against a good team last week. Oregon, one of the most talented teams in this league, has been hit or miss on offense from week to week. If Jefferson Allen can not make mistakes against a veteran talented Trojan secondary, look for the Ducks to squeak this one out.
Oregon 42, USC 38
Two preseason SEC favorites clash in a game with huge implications in week four. Clemson has looked like Clemson, slowly and steadily winning their games so far. Florida State has looked like a powerhouse that can't put a full game together. The Seminoles can't afford another SEC loss this early. I'll take the underdog.
Florida State 28, Clemson 24
WorldClassMatt's Predictions:
The Longtree's are going to dominate this game. Whatever the over is, take it. Both teams have shown flashes of great play, but Oregon isn't going down without a fight. Both teams will go off on offense.
Oregon 42, USC 32
The Clemson defense is going to come up very big for them in this game. Clemson has a lot of momentum this season and I only see it getting stronger.
Florida State 21, Clemson 38
David Ware's Predictions:
Two teams with so much to prove and it's a pivotal conference game but I think the Longtree brothers come away big and Oregon improves to .500.
Oregon 45, USC 28
Florida State's record doesn't do them justice and this week will not help them. Clemson is good but I'm predicting upset alert and have Florida State getting the win as they overcome their heartbreaking defeats from the last two weeks to close out the win.
Florida State 28, Clemson 21
Squidy's Predictions:
If anyone thinks that Oregon will blow out USC they need to get their head checked. While I don't think FSU is as good as I once believed I still think they are a good team and USC just beat them. The ducks offense looked brutal last week and if they want a win they will need to find a way to use all of their talent. I think the key for USC to win this game is receiver Tim Cope. If they can get him going and hold back the Ducks' offense, the Trojans will find their first conference win. But I do believe Oregon will rebound. Give me the Ducks by seven.
Oregon 38, USC 31
I would honestly love to see Florida State go to Death Valley and upset Clemson. It's got all the makings to be an overtime game. Unfortunately, I'm not really sold on quarterback Adonis Jackson yet, so it's hard for me to pick the Noles. Give me Clemson by 13.
Florida State 24, Clemson 37
Dorian's Predictions:
A Big Ten matchup that could shape the entire playoff race for the conference. Oregon and USC both come into this matchup with a couple of close games, and they've gone different ways. Oregon has lost a couple of close games while USC has been able to prevail. I see this game starting out much the same as it has all season for USC, fall a little behind early before leading a late second half game-winning drive. I see Deandre Burks finally breaking out in this game as he connects to Tim Cope and tailback Carter Cook.
Oregon 28, USC 35
Florida State and Clemson should prove to be an exciting matchup, despite the differences in record. Don't be fooled, the Seminoles have a talented roster and should not be slept on as they have two close losses, primarily due to turnovers. Clemson has been able to win in a variety of ways, although they had some challenges last week. Both teams have seen their quarterbacks turn the ball over more than they would like, Clemson especially, Will Slay threw three interceptions last week. I see this game coming down to the wire. While we await Adonis Jackson breakout game, Will Slay will have a bounce back performance as he and receiver Dorian Chase-Miller connect for a lot of big plays. But I see Clemson's defense shutting down Adonis Jackson late as FSU loses a close one, in heart breaking fashion.
Florida State 30, Clemson 34
David Roy's Predictions:
There's some bad blood between USC and Oregon, and it's understandable as they both reside on the west coast. I like what I've seen from both teams, and Oregon's offense has big play ability, and a big arm quarterback, they just have to put it all together and I think they will be tonight.
Oregon 35, USC 31
Florida State has had their share of struggles, and the biggest problem is what it was last season at this time. Turnovers. That has been the most glaring issue for the Seminoles, and it has cost them a couple games this season. Tonight, they face a Clemson defense that profited on turnovers last week, and a quarterback in Will Slay who is looking to bounce back. I'll trust the Tigers.
Florida State 28, Clemson 38
The Verdict:
The Oregon Ducks have been favored tonight despite the lone wolf among our analysts. Our analysts seem to agree that this should be a one possession game, but Oregon should be the victor.
Our analysts are favoring the Clemson Tigers tonight, 5-2. While there's no lone wolf, it is a select few who are riding with the road warriors in the Florida State Seminoles tonight. The game will be close, Clemson will sweat, but the expectation is that they'll remain undefeated.