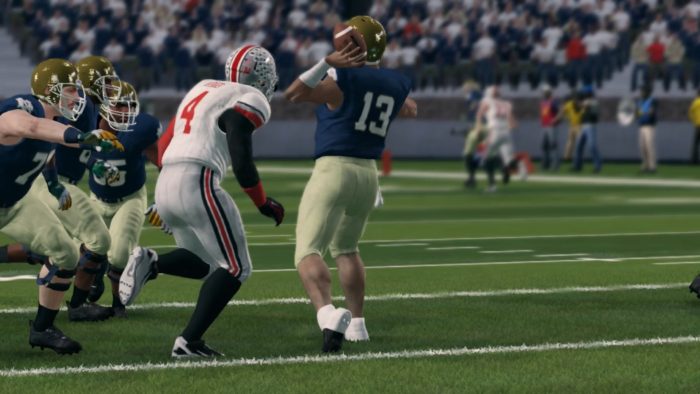 Week four is nearing the end, and we've got two exciting Big Ten matchups tonight! Notre Dame and Nebraska square off with Nebraska looking to build momentum off their win last week and surge to the top of the Big Ten by the end of the season. However, Notre Dame is looking to try and keep pace with the leaders in the hopes of a Big Ten crown.
The second game is far more intricate. The undefeated Texas Longhorns and the winless Michigan Wolverines. Don't let record be the indicator for the outcome of this game though. Michigan shocked the league last season by ripping into Texas, and it was the reason the Longhorns missed the playoffs last season. Don't let these Wolverines fool you.
Houston Freeman's Predictions:
Notre Dame just looks more impressive to me on paper, and I think they'll be able to control this game from the get-go.
Notre Dame 35, Nebraska 24
Texas looks like they're the best team in the Big Ten, and I don't think that stops this week against Michigan. Texas will control this one from start to finish.
Texas 45, Michigan 30
Matt Pack's Predictions:
Talk about a clash of the styles. The Irish and their high flying offense going against the tough as nails Nebraska defense. Nebraska has a chance if they can get to Asiata and cause bad throws. If they can't, I'm not sure Big Red's offense can keep pace.
Notre Dame 35, Nebraska 28
Texas is on fire on both sides of the ball. Michigan has played well defensively, and confusingly on offense. Michigan has the talent and the AD, they just haven't put it all together yet this season.
Texas 42, Michigan 31
WorldClassMatt's Predictions:
While Nebraska has a nasty defense, Notre Dame has Asiata. I look for him to pick apart the Nebraska secondary this week. Nebraska will keep up early but falls in the second half.
Notre Dame 28, Nebraska 14
This is going to be a huge points game. Both teams have an okay defense, but neither can stop deep threats. Both teams have top level quarterbacks and receivers. This is going to be a Wild West shootout. This will be another game that any over-under 72/73 should be taken.
Texas 52, Michigan 41
David Ware's Predictions:
Pretty exciting to see these two teams play as both made huge strides last week. I think Notre Dame is about to really show the league why they played in the national championship game though.
Notre Dame 35, Nebraska 22
Poor Michigan, I think they have the toughest schedule this year. I think they will give Texas a great game but overall, Texas is too strong.
Texas 48, Michigan 31
Squidy's Predictions:
Nebraska was able to pick up their first win of season 8 last week but their celebration won't last long. Notre Dame had a rough game against Texas but that was just a glitch in the system. Expect the Irish to be slinging the football giving this Nebraska defense a hard time. Give me Notre Dame by 21.
Notre Dame 42, Nebraska 21
This is the worst game possible for Michigan right now. Their confidence is low and right after a close game where they were so close to their first win of the season they have to play Texas. Hopefully the Longhorns can show some mercy. I'm sorry Michigan but give me Texas by 28.
Texas 52, Michigan 24
Dorian's Predictions:
Another huge Big Ten matchup as an explosive Notre Dame offense goes up against this extremely talented Nebraska defense. This game can go one of two ways. First, Nebraska can completely shut down the Fighting Irish, or two Notre Dame goes off on offense. Seeing as Asiata looked to be back in his offensive player the year form, and both wide recievers Austin Gombas and Dexter Jackson are balling out, I can see this being another test for Nebraska to handle. But I see this game being defensive a defensive game as both Notre Dame and Nebraska's defenses stand up, and I expect the Season Seven offensive player of year leading a game winning drive for Notre Dame.
Notre Dame 17, Nebraska 10
This game promises to be exciting, as Texas is clearly the team to beat and Michigan is coming off a heart breaking loss due to a pick six. I see this game being close until the third quarter where I believe Texas will be taking a two score lead in the fourth as quarterback Vito Pipino dominates and leads his team to a 4-0 record.
Texas 37, Michigan 24
David Roy's Predictions:
Seems I'm the odd man out this week. Oh well. I like Notre Dame, I like what their offense offers and what they can do, but hear me out. They have been wildly inconsistent through the first couple weeks of the season, and Nebraska's defense can prevent the Irish from doing what they did last week. I like quarterback Scott Fountain and halfback Casey Bronco of Nebraska and believe they can really take care of business tonight, riding on the momentum of their first win of the season. Defensive end Aaron Josephs should have a big night.
Notre Dame 24, Nebraska 27
I'm not done with my bold claims here buddy. Listen, Texas and Michigan met last season, it was a good game. Michigan knocked off a Texas team that was believed would go in and demolish the Wolverines. Guess what? Michigan won 33-17. Tonight, an offense led by halfback Dior Chapman, much like last season, can topple the mighty Longhorns and send them to 3-1. Buckle in, I'm taking the Wolverines to get the job done and end their winless drought.
Texas 31, Michigan 35
The Verdict:
There's a lone wolf for both games tonight. Notre Dame and Texas have both been selected by the majority of our analysts to get the win tonight, 6-1 for each team. However, in the CFSL anything can happen on gameday, and an upset in one if not both games is never solely off the table.