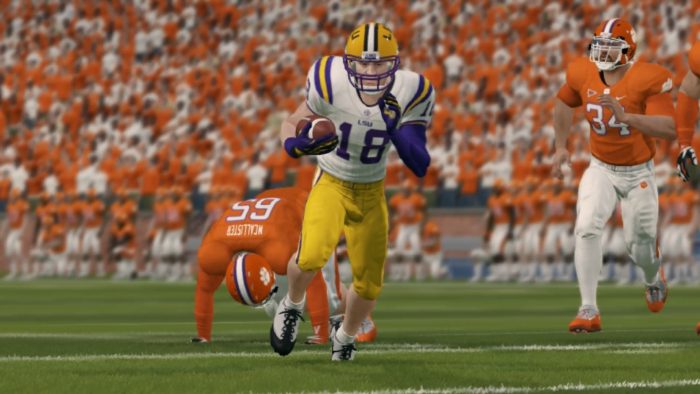 We're nearly halfway through the season, but in order to get there, we have a couple more games to get under our belts for tonight. It starts with a matchup between Ohio State and LSU with both teams looking to shake off their recent defeats and get into the winning column.
The second game is very similar, but the biggest difference is that it's a conference matchup. Miami and Alabama are both coming off heartbreaking losses and looking to shake off that feeling of defeat. In order to do that, they'll need to get a win tonight. Here's our analysts to close out week four.
Houston Freeman's Predictions:
LSU has the talent and playbook, but Ohio State just has some kind of "it factor" that I can't shake. I think this one is going to be a really close ball game that comes down to the last possession.
Ohio State 35, LSU 38
Miami has looked strong the entire season. Even after dropping one to Auburn last week, they're still a favorite to challenge for the SEC championship. Alabama continues to struggle offensively, but may be able to get things rolling with their second week of having quarterback Balion Siege at the helm.
Miami 31, Alabama 33
Matt Pack's Predictions:
Two teams struggling somewhat coming in, I expect the tigers to win on the arm of Gage Bodine. OSU is gonna be an excellent team, but they aren't there yet.
Ohio State 24, LSU 35
Miami has been consistent all season. They play well on both sides and don't make a lot of mistakes. Alabama is still trying to perfect their flex bone offense, and Miami is a tough assignment for any offense. I'll take the Canes to close the week out.
Miami 35, Alabama 21
WorldClassMatt's Predictions:
Youngblood is going to hurt Ohio with his legs and hands. LSU has faced several stiff defenses so far this year. Going against a bit lighter defense this week, they roll.
Ohio State 28, LSU 34
This game could be a blowout if Miami is able to run the ball effectively to setup the play action. The Miami Defense is one of the sturdiest against the run. The Triple Option is deadly against teams who can't stop the run. Miami wins big in this conference game to finish the week.
Miami 38, Alabama 21
David Ware's Predictions:
This is the week LSU gets their first win. I expect the Youngblood brothers to show up and show out this week.
Ohio State 14, LSU 21
Miami has a lot to prove after a tough overtime loss. Their defense seems primed to stop the triple option though so I give Miami the largest victory of the week 48-21
Miami 48, Alabama 21
Squidy's Predictions:
This is the game where LSU finally gets a win. I think this game will be close until about five minutes to go. LSU quarterback Gage Youngblood is going to show some leadership and show everyone who LSU really is. Give me the Tigers by 14.
Ohio State 31, LSU 44
I honestly don't know how this game will play out. Miami is the better team but, that doesn't mean that they will have the better game. I'm going to be bold here. Give me the Tide by 10.
Miami 21, Alabama 31
Dorian's Predictions:
Ohio State and LSU. I see this game being a close game as both Ohio State and LSU are looking rough. LSU is 0-3 with a string of late game losses, while Ohio State is 1-2 even with Ohio State's loss last week. They managed to put up 45 points, while their defense allowed 59. I see this game going into overtime where Germaine and Colt Youngblood dominate in this game, but I see the Buckeyes getting the win and advance to 2-2.
Ohio State 36, LSU 30 OT
Miami and Alabama meet in a conference game. This game is a must win for Bama if they wanna stay in the race for the SEC title, and Siege is gonna need to get his offense going. On the other side Miami is coming off a close overtime loss and a hard fought game against Auburn. I see Miami controlling most of this game but Bama rallying in the fourth and make the game close, but in the end they won't be able to keep up with the U as Miami wins.
Miami 34, Alabama 27
David Roy's Predictions:
Week four is ready to close, and Ohio State has struggled over their last couple of weeks despite a good opening to their season. LSU, on the other hand, have been in several close games, they just haven't been able to close the deal. That should change tonight.
Ohio State 28, LSU 31
Miami is no longer unbeaten, and to lose in overtime is never easy. That means the Hurricanes are looking to bounce back in a big way against Alabama team who also lost a heartbreaker. Balion Siege is still getting back into the swing of things, and so I believe Marcus Duncan and the Miami Hurricanes will get the win tonight.
Miami 38, Alabama 28
The Verdict:
There's a lone wolf for our first game tonight, as LSU has been given the 6-1 nod to defeat the Buckeyes. Ohio State has looked good, but have struggled lately, while LSU has just fallen short in each of their games this season.
The second game is a bit similar. Miami was heralded as one of the best teams in the league, and as such they've been given the 5-2 nod to get the win over the Alabama Crimson Tide tonight. Still, a Balion Siege led triple option is still a bit of a mystery to the CFSL, and they didn't look bad last week.