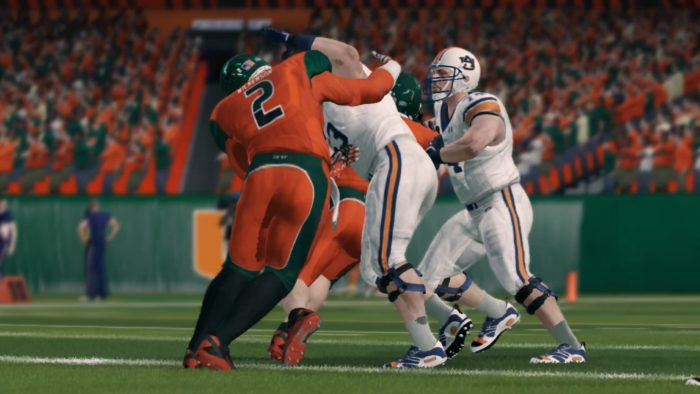 Week five trudges on, and as the playoff race in both conferences heat up, we've got two excellent SEC matchups for tonight. LSU and Florida State are looking to shake off a rough first half of the season, and a win tonight would accomplish that.
Florida and Miami, things are even more intense with this showdown. The Gators and the Hurricanes are in a really intriguing spot as the Gators look to remain unbeaten and the Hurricanes are still vying for an SEC title. A win tonight would likely cause chaos down the stretch in figuring out the playoffs for the SEC. Here's our analysts' thoughts on tonight's games.
Houston Freeman's Predictions:
LSU sits on a 4 game slide but still looks dangerous week in and out. They've got the talent to win this one, but something about Florida State has me leaning towards the Seminoles. I think quarterback Adonis Jackson has a big game and FSU pulls it out.
LSU 35, Florida State 36
This is the game of the week in my opinion, Florida sitting at 4-0 and Miami at 3-1 for another battle for the worst state of the union. I'm going with Miami in this one, quarterback Axton Richardson will simply be too much for this Florida team.
Florida 42, Miami 48
Matt Pack's Predictions:
Two teams that need a win in the worst way. Both of these programs are still technically in the race for a playoff birth, but something has gotta give here. What happened to FSU against Clemson was an aberration, but I hope it woke them up. LSU continues to keep it close in games, only to fall short. Give me the road team in this one.
LSU 42, Florida State 35
Ah, The Natty Lite Championship. This rivalry, steeped in terrible memes and poor photoshop, is one of my favorites. Florida got their first win in league history against Auburn last week based on a strong defense, and an offense that showed new life. Miami is very good, downright dangerous on offense, but I'm not positive they've played a defense like this yet. Florida beats Miami in a close one.
Florida 38, Miami 35
WorldClassMatt's Predictions:
I believe Lund will have a breakout game against LSU's anemic defense. Florida State stumbled out of the gate this season but I see a turn around coming starting this week.
LSU 30, Florida State 32
Florida has a tough defense, however, their offense can't keep up. It's going to take over 35 points to beat Miami this season. Florida's offense won't be able to deliver against a Miami defense that steps up when needed.
Florida 21, Miami 42
David Ware's Predictions:
Both teams are not where they expected to be going into the season. The quarterback-halfback combo who is most explosive will win this one. Can LSU's Youngblood's get their first win or will Jackson and halfback Vidar Lund rebound from three straight losses? This will be a tough battle no question and I expect LSU to pick up their first win of the season.
LSU 28, Florida State 21
The Natty Light Championship has major implications for the playoffs. Florida is 4-0 and looking strong. They have squeezed by in each win this year and will have a monster test this week in Richardson and halfback Marcus Duncan for Miami. Will the hard running St. John and Jones be able to move against the stacked defense of tackle Gilbert Wilkerson, linebacker David Ware, safety Isaac Krout and company. For Florida's defense, they have defensive end Casen Dinwoody and defensive tackle Barkivious Oswald anchoring the line, with linebacker Wyatt King behind them. This will be down to the final play with Miami handing Florida their first loss of the season.
Florida 45, Miami 49
Dorian's Predictions
This game is a must win for either team to stay alive in the playoff race. Both teams are 0-2 in conference play. LSU has lost a lot of close games, and is looking for their first win, and on the other hand, Florida State has gone through a bit of a slump winning their first game but then losing the rest. Even after jumping out to a 14-0 lead against Clemson, they didn't score after that. I see both teams fighting hard in this one and it coming down to wire, but I see Colt Youngblood going off as they get the win.
LSU 31, Florida State 28
Can't get any better than that? The Natty light championship has a lot of things on the line right here. Miami wants to go 3-1 in conference while Florida wants to secure their first playoff birth in CFSL history. I see both quarterbacks, Axton Richardson and Mathias St. John, going off as this turns into an offensive shootout as it heads into overtime like last season and Florida gets the win securing their first playoff birth.
Florida 34, Miami 31 OT
Leej17's Predictions:
Florida State is looking to bounce back after a tough loss to Clemson last week, while LSU is looking for their first win. If Adonis Jackson and the rest of the Florida State offense can take care of the football, I think this team will be tough to beat. I think the home field advantage will give Florida State the edge they need to beat LSU.
LSU 31, Florida State 35
The way things are looking right now, these are two teams that could be representing the SEC in the playoffs. I think if Florida wants to win this game, they have to control the tempo and keep it a low scoring game, so look for Bentley Jones to have a big game this week. For Miami, Axton Richardson has to give them another great performance to pull this game off. I think Miami will find a way to win this one.
Florida 38, Miami 42
The Verdict:
Our analysts really can't agree on anything, as they are 100% split on both the LSU-Florida State game, and the Florida-Miami. 3-3 is the split, and now it's only a matter of the teams on the field determining the outcome as the tiebreaker.