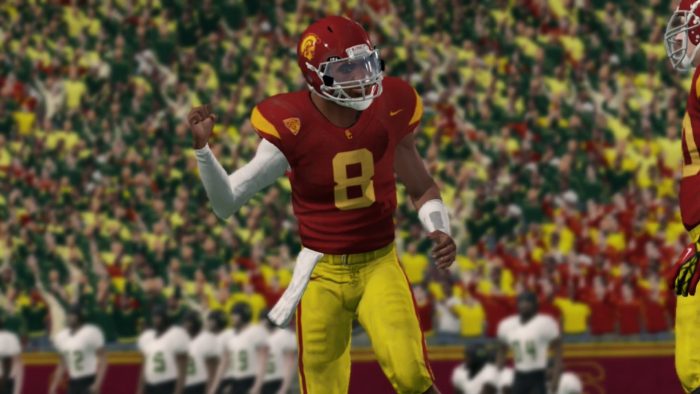 We're near the end of week five, and we've seen two unbeaten teams fall this week. While USC and Nebraska fight for leverage in the Big Ten, Ohio State and Texas will be fighting to do the same, and the Longhorns are fighting to remain unbeaten.
Houston Freeman's Predictions:
USC has looked fantastic this season as they've rolled to 3-1 behind the leadership of Deandre Burks. I believe their offense will control the game from the start and leave Nebraska hanging on for life.
USC 32, Nebraska 24
Texas is GOOD. I mean… REALLY GOOD. It seems like no matter what the league throws at them this season, they can't be stopped. Unfortunately for Ohio State, Texas is going to keep this train moving in exciting fashion.
Ohio State 30, Texas 45
Matt Pack's Predictions:
USC has pleasantly surprised me. Burka has proven to be a capable field general in his freshman campaign, and Tim Cope is back to firing on all cylinders. Nebraska has been better as the season has went by, but this offense has got to start scoring touchdowns. Scott Fountain has proven he can pass and run, and their defense is a world beater, but I need to see more.
USC 45, Nebraska 37
Oh look, it's Texas on a Thursday night. Michigan made Pipino look human last week, and I believe that trend continues. Ohio State looked dangerous on offense and tough on defense against LSU. Call me crazy, but I'll take the Buckeyes.
Ohio State 49, Texas 45
David Ware's Predictions:
This game can go either way. I believe USC can run away with it and I can see Nebraska shutting them down. I believe the difference of quarterback experience can affect the outcome. I really like what USC has done the last couple of weeks and Tom Cope is on a roll, but Fountain and the powerful defense I think will close this one out.
USC 14, Nebraska 21
Texas has been powerful this year and really made some noise. The film from the Oregon game showed a few opportunities to possibly beat Texas and I think Ohio State is a team that can exploit that. I see Dylan Turner having a huge game. I love what AD Jooby has done this year and I expect to see them in the playoffs and be powerful, but this week I am going with Ohio State.
Ohio State 42, Texas 35
WorldClassMatt's Predictions:
This will be the tightest game of the week. Burks and Cook have not figured it out enough to beat that Nasty Nebraska Defense. Scott Fountain will be buying steak dinners for his D after this game.
USC 14, Nebraska 21
This will be another week that Vito tears another team up. The Ohio State defense cannot stop such a prolific pass attack with how they've played the pass this season. Texas will roll and stay undefeated.
Ohio State 36, Texas 54
Dorian's Predictions:
Nebraska and USC, oh how we remember last season. Nebraska came to the Coliseum and beat the heavily favored USC Trojans at home to give them their first home loss, but this time the roles are reserved as I see the Trojans doing the same to Nebraska as they come into Memorial Stadium and beat the Corn Huskers as Burks and Tim Cope go off.
USC 31, Nebraska 27
Ohio State comes into this game 1-2 in conference play while Texas is 3-0 looking to clinch their third playoff spot in four seasons. Texas has a dominant offense while Ohio State's defense has been allowing over 40+ points. I see this game being a shootout as Germaine and Sliva go off and Ohio State winning a shootout.
Ohio State 49, Texas 45
Leej17's Predictions
While these two teams have varying overall records, their conference records are tied at one win and one loss. This game has a potential to be a turning point for both teams. If Nebraska wins, they have some momentum for a late season playoff push, whereas if USC wins, they can keep proving to the league they mean business.
USC 34, Nebraska 28
Vito Pipino has accounted for 20 touchdowns already this season and I don't think he plans on slowing down. This Ohio State defense has had some troubles so far this season which I think makes this a tough game for them to win. I believe Texas will come out of this one unbeaten.
Ohio State 38, Texas 45
The Verdict:
Our first Big Ten matchup tonight features USC and Nebraska, and it's the Trojans who have been given the nod. Our analysts have come to the 4-2 decision on this first game, but make no mistake, Nebraska has found momentum and they're hoping to ride with it.
As for our second game tonight, the Buckeyes and the Longhorns have caused a rift among our analysts as they are split evenly 3-3 on who will get the win tonight. Texas is the last unbeaten team in the CFSL, but the Buckeyes are hoping to stun the league with an upset tonight.