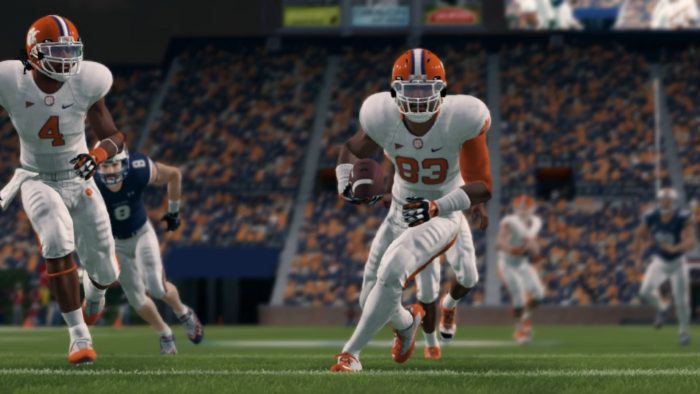 Week six is here, and there's no better way to kick it off than with this game right here. Two teams sitting at 4-1 squaring off in an SEC matchup, where the winner takes a huge stride towards the number seed in the conference. Here's the take by our analysts.
Houston Freeman's Prediction:
Clemson will be looking to bounce back from their first loss on the season against a similarly matched Miami team. I think Will Slay will have a monster game and keep the Tigers in first for the SEC.
Miami 38, Clemson 45
Matt Pack's Prediction:
Miami, coming off a win in the Natty Light Bowl, is riding high, while Clemson just dropped their first game of the season to Auburn. The SEC is no joke, and that's gonna be proven again tonight. These two are gonna put on a show on both sides, but somebody has to lose.
Miami 42, Clemson 41
WorldClassMatt's Prediction:
This is going to be a fantastic game. Clemson boasts the number two team defense in the league overall, while Miami owns the number four spot. However, their offenses get it done completely different. Slay and the team will attempt to keep up, however, the Richardson/Duncan/Gunner match-up is too great for Clemson to stop.
Miami 38, Clemson 33
David Ware's Prediction:
This is a major game with playoff seeding implications. This is going to be a battle as Miami has been on a roll and Clemson is hungry after suffering their first loss. Both teams have a great defense and big play capabilities on offense. This will be a back and forth game and I feel it will come down to third down percentage. Miami closes it out and controls their destiny.
Miami 38, Clemson 35
Dorian's Prediction:
What a game we've got here with both Clemson and Miami looking to clinch playoff spots. I see this game coming down to the wire as Slay and Richardson go off, but Miami gets the win in a high scoring overtime affair.
Miami 41, Clemson 35 OT
Squidy's Prediction:
Oh boy am I excited for this one. Two top tier SEC teams going at it in a playoff type game. What more can you ask for? Clemson is coming off of a bad game but I predict a big rebound from them tonight. Give me the Tigers by seven.
Miami 35, Clemson 42
Leej17's Prediction:
Clemson's defense is leading the league in turnovers and points per game and is tied for second in the league in sacks, so their defense has been great all year. While Axton Richardson and Marcus Duncan have proven to be a great duo, I don't think they will be able to overcome this tough Clemson defense.
Miami 24, Clemson 31
The Verdict:
A game of this magnitude, it's no surprise that our analysts are split in a 4-3 decision over who will get the win tonight. That said, Miami has given the nod to get the win on the road tonight in what should be an exhilarating matchup, one you don't want to miss!