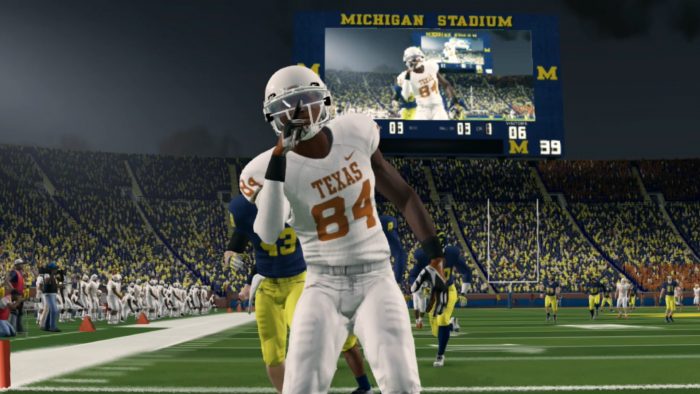 Week six rolls on to some Big Ten action, as Texas and USC square off. The Longhorns are in prime position to potentially clinch a playoff berth as well as a Big Ten title, but they have to win tonight for either of those things to be possible.
Notre Dame and Michigan are also squaring off tonight, and that means there's going to be some fireworks as Michigan is fighting back into the playoff race while Notre Dame is hoping for a shot at the Big Ten crown. Here's what our analysts think of tonight.
Houston Freeman's Predictions:
Texas continues to roll off win after win and I don't think it stops with USC at this point. While USC is a very talented squad, the Texas offense doesn't seam to have kryptonite just yet.
Texas 37, USC 28
Notre Dame pulled off a close win against Bama a week ago as a result of some good ole fashioned luck due to a missed field goal at the end of regulation by Alabama. The question is… did Bama beat up on the Irish enough to slow them for Michigan? I'm not going to allow one win to change my mind on the wolverines just yet, so the Irish will pull it off in convincing fashion.
Notre Dame 32, Michigan 21
Matt Pack's Predictions:
Texas is rolling, but teams are starting to get closer to finding the formula. USC comes off a heartbreaker last week. USC has a defense that is theoretically built to slow this high flying Texas offense. I think it's gonna be a close one. Gonna gamble here.
Texas 35, USC 38
Notre Dame is another high powered offense that struggled against a good game plan last week. They won, but they had to see some issues. Michigan, and particularly AD Allan, knows how to find the weak spot, and they finally got over the hump last week. I'll take the home team.
Notre Dame 35, Michigan 41
WorldClassMatt's Predictions:
This isn't going to be the shootout that people are calling for. Both teams want to clamp the other down defensively, and are planning on it. I see Vita making a couple less mistakes than Burks. Texas stays undefeated.
Texas 32, USC 28
Michigan showed us all a lot of grit in last weeks win. They proved they belong with the big boys. However, I have a habit of not betting against last years OPOY. Asiata and team find their win into the win column again.
Notre Dame 38, Michigan 35
David Ware's Predictions:
Texas being undefeated is very impressive. The last two weeks they have had to fight for the win. USC is hungry after loss last week. They know this is a big win for them as playoffs are nearing. I don't think it's possible to run the table in the CFSL and I believe the urgency of USC will help them prevail.
Texas 35, USC 38
Notre Dame is really starting to click and we are seeing what got them to the national championship last year. Michigan got a big win last week and I feel momentum is powerful. I'm calling upset of the week right here.
Notre Dame 31, Michigan 35
Squidy's Predictions:
Tim Cope's Predictions:
Texas comes into match up 4-0 in conference and 5-0 overall. While USC is 3-2 and 2-1 in conference after a heart breaking loss which saw them blow a 35-19 with three minutes left. I see this game being a back and forth affair. One where the Trojans bounce back and win it, I don't see Texas' defense being able to stop USC's offense as USC gets the win here.
Texas 37, USC 40
Notre and Michigan has the making of being a great one. As Notre comes into this game 3-1 in conference while Michigan is 1-2. Asista is showing that his player of the year performance last year was no fluke. While Michigan Jones is off to a bit of slump, having thrown 10 interceptions this season. But I see Michigan continuing there win streak and getting the edge over the fighting Irish as Tanner Jones and Tim Benjamin go and win it for Michigan.
Notre Dame 21, Michigan 35
Leej17's Predictions:
Texas is the only remaining unbeaten team in the CFSL. While USC is coming off a tough loss to Nebraska. I have been really impressed by Deandre Burks the last couple of weeks and his ability as a dual threat quarterback. I think this will be a close game, but I just find it hard to bet against Texas.
Texas 38, USC 35
Leo Asiata has looked impressive again this season, but Notre Dame's defense has given up the most points per game this season. Michigan is coming off their first win of the season in an great game against Oregon. While Michigan is much better than their record says I don't think they will have enough to beat Notre Dame.
Notre Dame 35, Michigan 31
The Verdict:
Our analysts are split on both games tonight, 3-3 each. While Texas is the hot hand, they've been slowing down to a simmer of late, and USC is still a dangerous team. Meanwhile, Notre Dame has seemingly looked like a different team every single week and Michigan looks like they're righting the ship by making a playoff run.