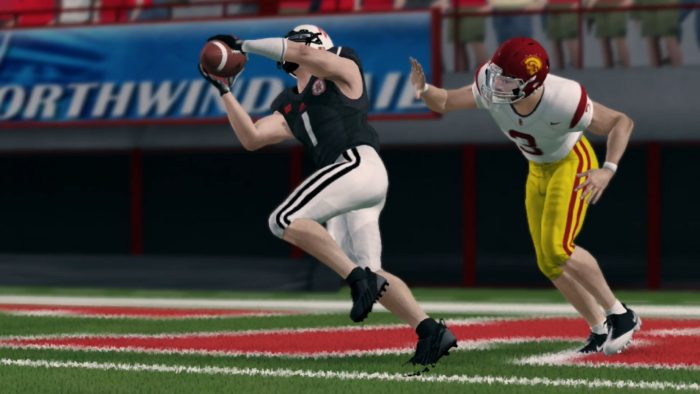 Week six is nearing its end, we have two excellent matchups, and unfortunately, we're at the point in the season where teams could very well be eliminated from the playoff race, beginning tonight. Ohio State is 1-3 in conference, both LSU and Alabama are seeking their first win of the season. A loss tonight for any of the aforementioned teams would dash their playoff hopes. Nebraska, who faces Ohio State tonight, is in position to make a run and win the Big Ten, but a loss tonight would severely damange those chances and could end up hurting their playoff hopes. Here's what our analysts think about the final night of week six.
Houston Freeman's Predictions:
Nebraska was on the positive side of things last week where as Ohio State was on the losing side. I think Nebraska has a good chance to continue their success this week as well, as long as Scott Fountain takes care of the ball.
Nebraska 31, Ohio State 26
The battle of the final two winless teams is here. It's been a tough season for both LSU and Alabama, but it's perhaps been a season more frustrating than normal simply because both teams seem to be just on the wrong side of the score week in and week out. Alabama has lost all but one game by 3 points or less including one in over time and one by a missed field goal at the end of regulation. LSU has also lost all of their games by a single possession… What that tells me is that we're in for a crazy night. This is likely to be another defensive battle, one that I think Alabama can pull off.
LSU 30, Alabama 31
Matt Pack's Predictions:
Ohio State HB Manuel Silva is gonna have another rough week this week. Running against this Husker defensive front is a nightmare. If Germaine can get the passing game going, they have a chance. Nebraska, looks like they've figured it out on offense. Spells trouble for the Buckeyes.
Nebraska 28, Ohio State 21
Something has to give here. Two teams that could easily be closer to .500, yet are still searching for their first win. I think this game is gonna be won in the trenches, and I have Bama the edge there.
LSU 28, Alabama 31
WorldClassMatt's Predictions:
Even though Ohio State feels like they are starting to get their groove going, Big Red has other plans. Both teams are evenly matched this season expect in one area of the game. The running game between these two teams is owned by Casey Bronco. I see Bronco carrying the Huskers to victory this week.
Nebraska 21, Ohio State 14
LSU does have a good team despite their record. They have been toe to toe with several great teams this season. However, it seems they can't come through with the win. Alabama has a scary defense and an offensive scheme that punishes lack of defensive depth. LSU is the second worse team in the league in run defense. I see Alabama being able to exploit that all the way to the win
LSU 21, Alabama 14
David Ware's Predictions:
Great matchup this week and tough defenses. Ohio State can hit you from either pass or rush and really makes things difficult for planning. For Nebraska to win Fountain has to show up big time. I'm going with Ohio State here.
Nebraska 17, Ohio State 24
Huge game here as both teams are ready to get their first win. I can see either team coming out with the win as they both have been competitive all year. I'm taking LSU to get the win in overtime
LSU 31, Alabama 28
Squidy's Predictions:
Oh boy could this game mean a lot. Pretty much every team in the Big Ten can get to the postseason. Nebraska is coming off a huge win over USC where they put together a phenomenal late comeback and converted an onside kick. I can imagine they are confident and filled with energy and will be ready to get another victory. If quarterback Scott Fountain can replicate his performance from last week Nebraska will win. With that being said, give me Nebraska by 13.
Nebraska 33, Ohio State 20
This could very well end up being a CFSL all-time game. Even though there is not much at stake playoff wise there is ego wise. Neither team wants to be winless and will play like it's a playoff game. I have a feeling that Bama will be able to get it done tonight. Give me the Tide by one.
LSU 20, Alabama 21
Dorian's Predictions:
Nebraska comes into this matchup trying to stay alive in the playoff race, but moreso for a shot at winning the Big Ten as does Ohio State. This game is a must win for both teams, but for the Buckeyes especially. I see Ohio State getting the win here, though Nebraska's offense didn't get it going until late in the fourth a week ago. That said, I don't expect to see a comeback this week.
Nebraska 31, Ohio State 38
LSU and Alabama will be a good game. LSU and Alabama could just as easily be 5-0 considering how close each of their games have been this season. Alabama finally gets the win as the triple option is too much for LSU to handle.
LSU 37, Alabama 38
Leej17's Predictions:
These are two pretty evenly matched teams. Nebraska's defense has looked especially impressive so far this season. But on the other hand Ohio States offense has looked really good as well. This game is hard for me to pick, but I am going to have to go with Nebraska.
Nebraska 27, Ohio State 24
I am really excited for this game. I think both teams have played better than their records show. The triple option has shown some signs of life for Alabama this season, but hasn't given them enough to get the win yet. I think that changes this week.
LSU 27, Alabama 30
The Verdict:
Hear that howling in the distance? That's because there's a loan wolf with our first game tonight. Nebraska is seeking the opportunity to win the Big Ten, but Ohio State is fighting for their playoff lives tonight. Still, most of our analysts are going with the hot hand, 6-1 for Nebraska tonight.
There's not a lone wolf for the second game, but it's not exactly a close split either. The majority of our analysts expect Alabama to be able to take care of business tonight, with a 5-2 split on the finale for week six.