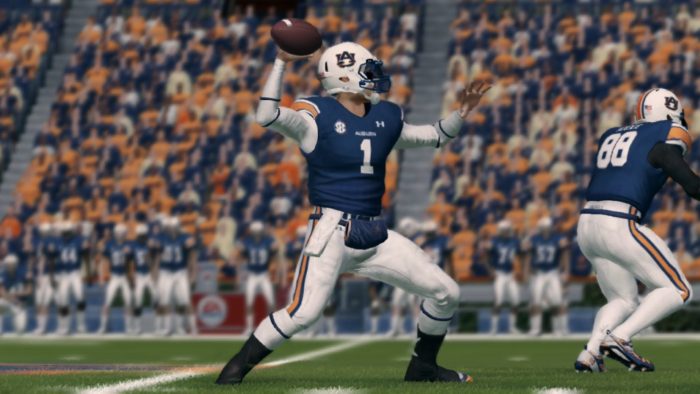 Week seven rolls on after an SEC Champion was crowned last night. Tonight, Texas is hoping to bounce back from their first loss of the season and win the Big Ten, something Nebraska would like to do as well. Auburn and LSU, on the other hand, is something of an elimination game for either team. Buckle in, it's a big night.
Houston Freeman's Predictions:
Last week, Texas fell for the first time this season. However, I believe they're still the best team in the league and will show exactly why against Nebraska.
Nebraska 28, Texas 38
LSU picked up their first win of the season against Alabama last week, but I think it will be short lived. Auburn will get back on track and keep their sights on the playoffs.
Auburn 35, LSU 30
Matt Pack's Predictions:
Nebraska will be going for the upset in this one. Texas took their first loss last week, and will look to bounce back. Big Red's defense will keep them in it, but I think Pipino has a better week.
Nebraska 21, Texas 35
Two teams headed in opposite directions. LSU just picked up their first win last week, whereas Auburn played their worst game of the season. It's a must win for Auburn here.
Auburn 42, LSU 41
WorldClassMatt's Predictions:
That Nebraska defense (when it shows up) is scary, however, Pipino and company are even scarier. Now that Texas has their loss out of the way, it is full steam ahead into the playoffs.
Nebraska 21, Texas 48
This will look like last weeks LSU's win in points, however, the LSU defense will not be able to stop Newman. He has shown he is a big playmaker against any team. #Brrrrr
Auburn 42, LSU 38
David Ware's Predictions:
Huge game for both teams as the Big Ten conference title is still up for grabs. Texas has struggled for four weeks now and got their first loss last week to USC. I know they are the favorite, but I feel an upset brewing and I'm taking Nebraska.
Nebraska 28, Texas 24
Major game for both teams as a loss would hurt Auburn and eliminate LSU from playoffs. LSU coming off of their first win of the season is in good shape to keep the momentum going, but unfortunately they face an Auburn team used to fighting to reach playoffs. I give Pack and his experience the edge in this one.
Auburn 35, LSU 31
Dorian's Predictions:
Nebraska comes into this matchup 2-2 in the Big Ten still fighting for their playoff hopes, while Texas is 4-1 in the Big Ten coming off a loss where Pipino threw three interceptions. I see this game being one sided for the most part as Texas coasts to a victory and are crowned the Big Ten champions.
Nebraska 21, Texas 34
What a game we've got here! LSU got their first win of the season last week and are looking for a shot at the post season, while Auburn has had an off season this season, but I still see Auburn taking this one. I see it being a shootout to the end, but Auburn pulls it out.
Auburn 56, LSU 51
Leej17's Predictions:
Texas is coming off their first loss of the season while Nebraska is coming off an eight point loss to Ohio State. If Nebraska wants to stay in the playoff race, they have to win this week. It will be interesting to see how Texas comes back after their first loss. I think they will come back stronger than ever and take this game.
Nebraska 38, Texas 41
This is a must win game for Auburn if they want to keep their playoff hopes alive, while LSU is coming off their first win. I think Ron Newman and the rest of the Auburn offense will be too much for LSU.
Auburn 38, LSU 31
The Verdict:
There's a lone wolf tonight, as our analysts are riding with Texas for the most part, expecting the Longhorns to bounce back against Nebraska. But the Cornhuskers have their sights set on winning the Big Ten as well, meaning there could be a two game skid going down tonight.
In the second game, our analysts are in complete agreement that Auburn will get the win tonight. All props to LSU, but our analysts believe the other Tigers will come ahead. Still, there's a lot on the line tonight for both teams, meaning anything can happen in a Tiger War.