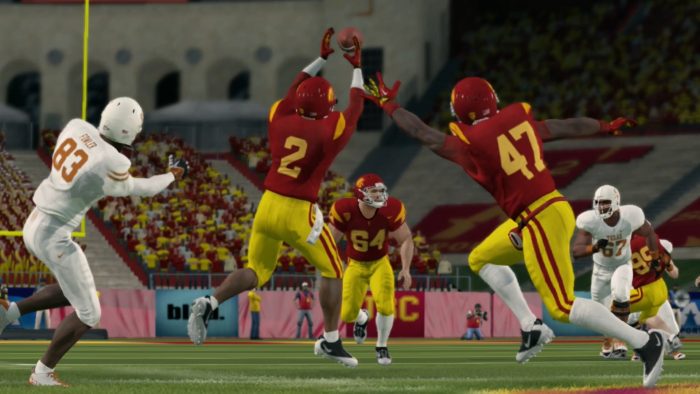 Our Wednesday night action for week seven may be a little unsung, but its importance cannot be understated. USC is fighting for a playoff spot and need a win tonight in order to keep pace for one. Likewise, Florida State is fighting for a playoff spot, and Alabama is looking to play spoiler, something the LSU Tigers would greatly appreciate as it helps their plight for the playoffs. Here's what our analysts think of tonight's contests.
Houston Freeman's Predictions:
USC has a shot at the playoffs but needs to pick up this win against Michigan. The Trojans will get the offense revved up in a close shoot out.
Michigan 41, USC 42
Alabama continues to struggle to find their first win. Things looked like they might all come together as the Crimson Tide grabbed a lead in the second half, but the defense was unable to hold out against LSU. Florida State looked great against Auburn last week, but can they continue that success this week. Alabama will finally find a win.
Alabama 35, Florida State 31
Matt Pack's Predictions:
USC is as hot as anyone in the Big Ten. Michigan will put up a fight, but the Trojans will pull away late.
Michigan 21, USC 38
FSU looks to keep their momentum going into week seven. Alabama is coming off of another heartbreaker against LSU. FSU needs this one bad, but Alabama won't go down easily.
Alabama 28, Florida State 35
WorldClassMatt's Predictions:
Michigan wants to play spoiler this season and if they win this game, it could put USC at risk. USC is 2-2 in the Big10 and will really need to beat Michigan as their chances the week after looking at ND are not that good. This is basically a must win. Tanner Jones and Tim Benjamin hook up big time to spoil an easy walk into the playoffs for USC. Betting Line +5 drops for Tim Cope, which I am taking.
Michigan 38, USC 24
After last week, Bama knows they can hold their own in a shootout. If the triple option doesn't quickly work, I see Bama abandoning it completely for one of the last games of the year and letting Siege go ham on a weak FSU secondary.
Alabama 28, Florida State 21
David Ware's Predictions:
Michigan really needs a big win this week to help carry momentum for next season, while USC is riding a high from beating Texas last week. I believe USC wins this game and helps set the tone for making playoffs and trying to become first team to repeat as CFSL champions.
Michigan 21, USC 35
Alabama is due a win this year as they have played their hearts out, and Florida State has been playing well too. With Bama eliminated from playoffs and Florida State having to get the win, I see Alabama pulling the role as spoiler with 38-35.
Alabama 38, Florida State 35
Squidy's Predictions:
This one is pretty simple. USC needs to use wide receiver Tim Cope and get a solid run game going with power back Carter Cook and quarterback Deandre Burks. If they can do that, it will make their road to the playoffs a whole lot easier. Give me USC by 17.
Michigan 21, USC 38
If we were to see an upset in these final two weeks, I would say this could be it. Bama is coming off a tough tough loss to LSU and is out of playoff contention. That being said, they can still take some other teams down with them. I'm guessing most of the other experts are gonna pick FSU, so I'll go with Alabama. Give me the Tide by 7.
Alabama 20, Florida State 13
Dorian's Predictions:
Well USC has seemingly looked like a playoff team once again with a new squad, while Michigan has had a tough road this season. I see Michigan coming out on fire and Michigan leads for most of the night, but I see USC storming late in the fourth to comeback and win the game as Burks leads his team on a comeback.
Michigan 35, USC 42
Bama and FSU, what a great matchup we've got here. Florida State looked good against Auburn while, Alabama did as well against LSU. I see the triple option being too much for FSU to handle and Alabama gets there first win.
Alabama 35, Florida State 27
Leej17's Predictions:
USC is coming off a great win against Texas. Their defense looked great against their explosive offense. Michigan is one of those teams that I think will stay in any game they play, so I think this game will be close, but I think USC will come out on top.
Michigan 27, USC 34
Alabama is still searching for their first win. The triple option has shown some promise, but it hasn't brought in a victory yet. For Florida State, their path may not be an easy one, but their playoff hopes are still alive. While I would love to see Alabama get their first win, I don't think it will happen this week.
Alabama 26, Florida State 31
The Verdict:
Our analysts are riding with the Trojans in the Coliseum tonight. Well, most of them are anyways, but there is a lone wolf who thinks the Wolverines will successfully play spoiler tonight. The second game, it's a little bit closer. While Florida has a shot at the playoffs, many of our analysts believe that the Crimson Tide will play spoiler and put those playoff lives in jeopardy. Five of our seven analysts are rolling with the Tide tonight, on a night laden with playoff aspirations.