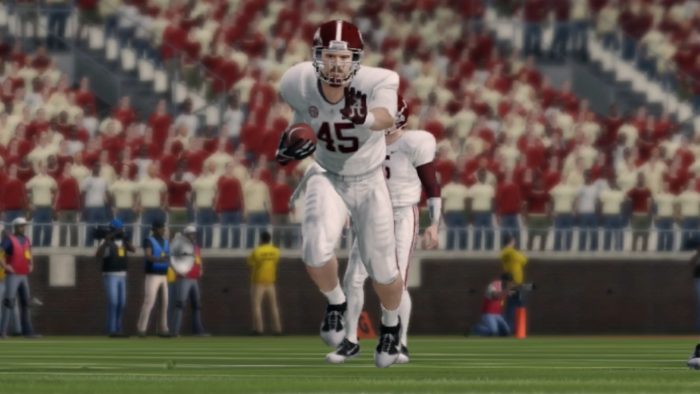 Week eight is upon us, and there's rivalries to be had, playoff berths to be secured, and momentum to be obtained heading into the offseason. Alabama and Auburn is a fierce rivalry, and the question of the Auburn defense looms large in the face of the triple option. Linebacker Jack Hawkins will need to really step up against this dynamic threat.
The second game is a CFSL rivalry that has been renewed and it is burns hot. The tow juggernauts and conference champions in Clemson and Texas face off, prepping the way for the playoffs with what could be an epic aerial battle between quarterbacks Will Slay and the freshman wonder in Vito Pipino. Here's our analysts on tonight's action.
Houston Freeman's Predictions:
After a year's hiatus the Iron Bowl will return. Alabama got their first win of the season by scoring 50 in a barnburner. Auburn has dropped their last two after spoiling Clemson's undefeated season three weeks ago. Give me Alabama in a game where they'll be looking for momentum to go into the offseason and have averaged 47 points in their last two games.
Alabama 40, Auburn 38
Texas has already clinched the Big 10 and Clemson has clinched the SEC which means this is simply for braggin' rights. Both teams have looked fantastic all season long. I think Texas has the edge here but just barely. I'm expecting game of the year. Texas will hold off a late game surge by Clemson in a shoot out.
Clemson 42, Texas 45
Matt Pack's Predictions:
Auburn has underwhelmed, especially after the loss of Fowler. Alabama has come on at the end of the season and is looking tough on offense. It's the iron bowl. Anything can happen.
Alabama 42, Auburn 45
Clemson looks to be playing better than anyone else in the league. As good as Texas is, this game may prove a point.
Clemson 49, Texas 35
David Ware's Predictions:
I am going to go off of momentum for this game, Alabama will feed off their first win and edge out Auburn.
Alabama 17, Auburn 14
Talking about two powerhouses matching up! At first glance its a bragging rights game but this very well could be National Championship preview. This game will be exciting as can be, Texas has struggled for a few weeks and Clemson has been on a roll. I am giving Clemson the edge in this one.
Clemson 45, Texas 41
Squidy's Predictions:
The Iron Bowl! Bama is our unfortunately but they can send home Auburn. Honestly I would have thought Auburn would be at the top of the SEC right now but they aren't. It's a tough game to pick but I am going to have to go against the Hogs. I want the Crimson Tide by 10.
Alabama 23, Auburn 13
SEC vs BIG TEN! The two conference champions square off tonight in week 8. We could possibly see this in the National Championship but that's a whole other story. This one is one of the older and bigger rivalries in the CFSL and it should be a fun one. Give me the Tigers by 14.
Clemson 52, Texas 38
Leej17's Predictions:
Auburn has stumbled a bit since beating Clemson in week 5. Alabama is coming off their first win. I think this game has the potential to be close. But I ultimately think that Ron Newman and the rest of the Auburn offense will be too much for Alabama's defense.
Alabama 35, Auburn 38
This is the battle of the two conference champions. Both of these teams have proven to be the at the top of the league. I think for Clemson to win Will Slay and Dane Jones have to take control of the Clemson offense. Tonight I think they both will have big games.
Clemson 38, Texas 35
The Verdict:
Our analysts are split for the first game, and fittingly so as these two rivals lock horns once again. Alabama has got momentum on their side as Auburn tries to get the wind back in their sails. And the Crimson Tide are favored 3-2 tonight!
There's a lone wolf going with the young Longhorns, as Clemson has been granted the label of favorite by our analysts, 4-1 tonight. This rivalry has been filled with many twists in turns since their first meeting in the league, and tonight should be another exciting chapter between these teams.