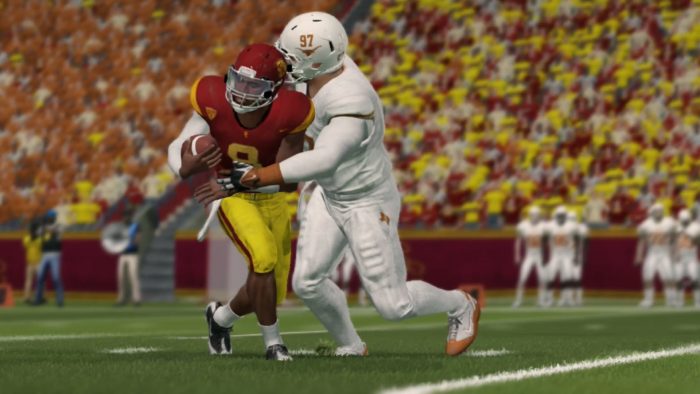 1) (NC) Texas Longhorns (6-1)
Last Week: W 37-17 vs Nebraska
This Week: Monday, August 3rd at 8:45 pm CST vs Clemson
Well surprise, surprise look who is setting at number one. This past week the Horns put on a show at DKR against the Huskers and now the eyes of Texas are upon the SEC Champions. The Horns have been sitting on top of the CFSL Mountain for quite some time and now they may have their toughest test yet with the Clemson Tigers. Austin Texas is buzzing and it's all title talks.
2) (NC) Clemson Tigers (6-1)
Last Week: W 55-31 vs Florida
This Week: Monday, August 3rd at 8:45 PM CST at Texas
No movement in the #2 spot as Clemson had another tough opponent and continued to dominate. Clemson's schedule does not get any easier this week as they face off against the Big10 champions Texas Longhorns. No rest for them as they prepare for the playoffs.
3) (NC) Notre Dame Fighting Irish (6-1)
Last Week: W 46-39 vs Oregon
This Week: Tuesday, August 4th 8:45 PM CST at USC
Notre Dame is sitting pretty in South Bend at the number 3 spot this week and may have one of scariest passing attacks in the CFSL. No defensive back in the CFSL is safe and they tremble at the name Asiata. The win over Oregon this past week gives them the momentum they need going into week 8 as they face their rivals at USC.
4) (+1) USC Trojans (5-2)
Last Week: W 34-16 vs Michigan
This Week: Tuesday August 4th 8:45 PM CST vs Notre Dame
The Trojans have been the only team to hand the #1 Horns their only loss on the season. Now they need another huge win against the Fighting Irish of Notre Dame. The USC Trojans are sitting at #4 for a reason! They have one of the most balanced teams in the CFSL and the Legion is always dangerous!
5) (+1) Florida Gators (4-3)
Last Week: L 31-55 vs Clemson
This Week: Wednesday August 5th 8:45 PM CST at Florida State
Not too long ago we were talking about 4-0 Florida, now they have lost three in a row and are struggling. To be fair they have faced some tough teams and this week they have their rival FSU. Can Florida win and secure a playoff spot or do they lose and cause more mayhem?
6) (–2) Miami Hurricanes (4-3)
Last Week: L 23-30 at Ohio State
This Week: Wednesday August 5th 8:45 PM CST vs LSU
Miami has dropped two straight and are looking to secure their playoff spot. They have a lot to prove to themselves and others as the playoffs are approaching. This week they have the task of playing red hot LSU who has won two straight. If they win they are in, if they lose then let the madness begin.
7) (+1) Auburn Tigers (3-4)
Last Week: L 27-41 at LSU
This Week: Monday August 3rd 7:00 PM CST vs Alabama
Auburn is trying to close out their season on a positive note. They lost last week to division rival LSU and play host to Alabama this week. This game is worth a year of bragging rights. Look for Auburn to leave it all on the field for this game
8) (+1) Ohio State Buckeyes (4-3)
Last Week: W 30-23 vs Miami
This Week: Thursday,August 6, 2020 8:00 pm CST vs. Michigan
Last week the Buckeyes beat a dangerous Miami squad and Colten Allen set the CFSL single game record with 9 tackles for loss! Although their record doesn't show it, this team is dangerous but they turned it on just a little too late in the season. On Thursday night the Buckeyes face the Wolverines in one of the biggest rivalries in CFSL history. What better way to close out the season with the 500th CFSL game!
9) (+2) Nebraska Cornhuskers (2-5)
Last Week: L 17-37 at Texas
This Week: Tuesday August 4th 7:00 PM CST vs. Oregon (neutral site game)
The Huskers just have not been able to figure it out this year. Coming off a heartbreaking loss in Austin, Scott Fountain and company look to bounce back this week as they travel to Denver Colorado to face the high flying Ducks. With their playoff hopes slowly fading away, the Huskers will look to stay in the hunt.
10) (+3) LSU Tigers (2-5)
Last Week: W 41-27 vs Auburn
This Week: Wednesday August 5th 8:45 PM CST at Miami
LSU has gained a lot of momentum as the season has started to come to an end. They have managed two straight wins and put themselves in position to possibly sneak into the playoffs. This week they have the task of facing Miami who is looking to clinch their playoff spot. Overall LSU has to be happy with the way the season has ended to help them going into the offseason.
11) (–4) Florida State Seminoles (3-4)
Last Week: L 30-51 vs Alabama
This Week: Wednesday August 5th 8:45 PM CST vs Florida
After several tough games this season for FSU they were matched up against a winless Alabama and FSU was on the wrong end of Alabama making a statement. They lose four spots and are now facing Florida this week at home. Definitely not the season Florida State was hoping to have!
12) (–2) Oregon Ducks (2-5)
Last Week: L 39-46 At Notre Dame
This Week: Tuesday August 4th 7:00 PM CST vs. Nebraska (neutral site game)
At the beginning of the season the Ducks had all of the hype. Now they're just looking to close the season out with a win. Heartbreak after heartbreak is getting old for the Ducks I'm sure but don't doubt this squad! Regardless the rank, they are still one of the most dangerous teams in the league. They will close the season in Denver Colorado as they face their conference rival Nebraska.
13) (-1) Michigan Wolverines (1-6)
Last Week: L 16-34 at USC
This Week: Thursday,August 6, 2020 8:00 pm CST at Ohio State
Well we've seen the Wolverines here pretty much all season. The experts have said over and over that this team could have very well been at the top of the rankings, things just haven't gone their way. The perfect send off game for season eight is on the horizon though! The last game of the year for Big Blue is the 500th CFSL game and it's against their arch rival Ohio State.
14) (NC) Alabama Crimson Tide (1-6)
Last Week: W 51-30 at Florida State
This Week: Monday, August 3rd, 7:00 PM CST at Auburn
Alabama coming off their first win of the season after so many close calls. This week they have their big rivalry game in Auburn and I am expecting big things for them this week.