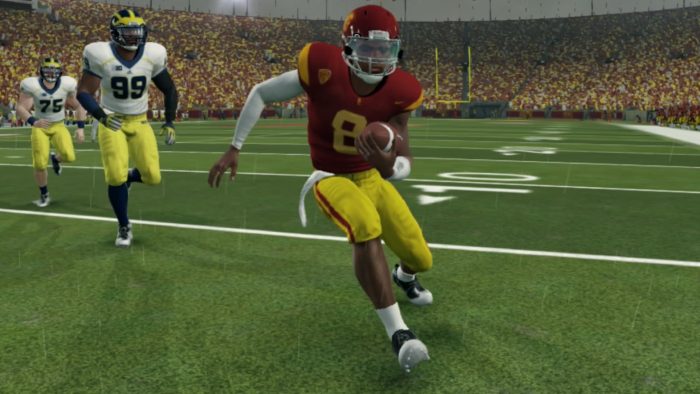 Week eight rolls on, and the Big Ten could very well solidify their final playoff spots here tonight. Oregon and Nebraska is going head-to-head, and Nebraska's playoff lives hang in the balance tonight. They need this win, and then they need help. Half of that help hinges on Notre Dame and USC as the Trojans are fighting for their playoff berths.
Houston Freeman's Predictions:
Oregon is out of playoff contention, but looking to play spoiler for Nebraska. Both teams sit at 2-5 and it's a much needed win for some momentum heading into the offseason. I think Oregon can pull this one out if they keep turnovers to a minimum.
Oregon 38, Nebraska 28
Notre Dame and USC are playing for the two seed here out of the Big10. USC has been playing hot this season, but I think Notre Dame will just be too much.
Notre Dame 37, USC 32
Matt Pack's Predictions:
Nebraska has fought all season long and are much better than their record shows. Look for them to finish strong.
Oregon 31, Nebraska 38
I called it against Texas, and I'm calling it again for this Trojan team. Notre Dame is explosive on offense, but USC has the defense to slow them down.
Notre Dame 38, USC 45
David Ware's Predictions:
Both of these teams need to finish their season with a win to help them going into the off-season. I love Oregon's team, but can they play 4 quarters? I am going Nebraska.
Oregon 14, Nebraska 21
Don't look now but Notre Dame is looking to get retribution on USC for the championship game from last season. USC needs this win for their playoff status and Notre Dame wants to secure the #2 seed. Huge game with lots of excitement and I am giving USC the edge in this one as they upset Notre Dame.
Notre Dame 31, USC 35
Squidy's Predictions:
The Iron Spike will be at Mile High Stadium for this one. A newer rivalry sprouted in the CFSL will surely be a fun one. Oregon can sour Nebraska's season here and they will do just that. Give me the Ducks by 10.
Oregon 49, Nebraska 39
This one is very simple. Notre Dame can ruin USC's season, but if USC wins they are in the playoffs. Nebraska will surely be watching this one because a USC win puts them out. It will be interesting to see if the Trojans can put up points without wide receiver Tim Cope. Sadly I do not think they will be able to keep up with quarterback Leo Asiata and the Irish. Give me Notre Dame by 13.
Notre Dame 49, USC 36
Leej17's Predictions:
Nebraska is coming off a 20 point loss to Texas and Oregon is also coming off a loss this week. If Oregon wants to win, I think they are going to have to turn this game into a shootout and out score Nebraska. I think Oregon will take this one.
Oregon 41, Nebraska 35
This game is very important for many teams looking to make the playoffs. USC has been really good on both sides of the ball this year but I really think this game is going to come down to defense. USC has given up only 25 points a game while Notre Dame has given up 36 points per game. For this reason, I am picking USC.
Notre Dame 24, USC 27
The Verdict:
The Oregon Ducks have been given the nod 3-2, which is not good news for the Cornhuskers and their playoff lives. Likewise, our analysts are giving the nod to the USC Trojans of 3-2 which locks up the Big Ten playoffs should that come to pass.