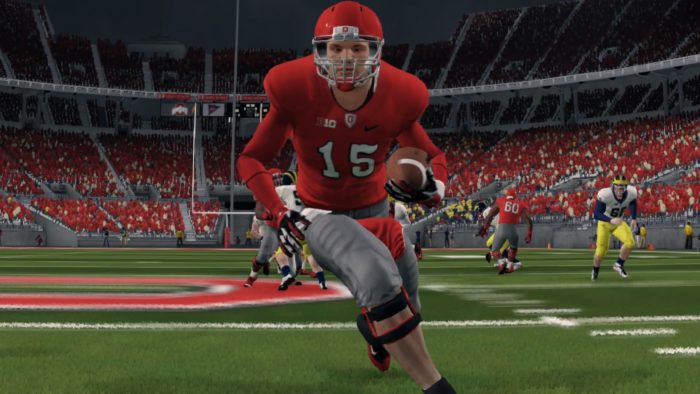 Ah, the playoffs. My favorite time of year. While some teams are dusting off their golf clubs these teams are playing for something bigger than a birdie. On this list I will be going over each team and what they need to do to get to the top.
Big Ten
Texas
The kings of the Big Ten are looking to make a run for their second National Title. Sitting pretty with a bye week and possible Offensive Player of the Year candidate, Vito Pipino, it is very achievable. The Longhorns have looked strong all of season eight. I mean even in their loss to USC I did not think they were terrible. They have a very simple game plan that has been very effective. Pipino has been an elite passer in his freshman campaign and also a solid runner. Texas also has two elite receivers in Oliver Fields and Cash Jackson who are both top three in receiving yards. The offense will mostly pass but can also run which has been deadly so far. The only problem is that Vito Pipino has 11 interceptions. If you want to make a playoff run you can't be turning over the football. I'll say that time and time again. Even if Pipino does turn the ball over he may not need to worry, this Texas defense will have his back. While they may not have a ton of flashy names, they will get the job done. Coming into the playoffs with 10 takeaways and 20 sacks, the defense is on fire. Tyson Cane Blade has been a bit quiet this season but he can still make big plays. Same with Josh Huffman. He has the ability to completely take a game over and that will be huge going into the playoffs. For my final prediction I will give them a second round loss. I may be completely wrong here but I just don't think the Longhorns have what it takes right now. I think we will see a more conservative Pipino and that will hurt the Texas offense. I also think that if they have to play Notre Dame they are screwed. I am sorry Texas, but this may not be your year, better luck next time.
Notre Dame
Leo Asiata is the heart and soul of this team. He's got one more chance at the promised land and will need everything he can give to get there. He has the receivers to do it. Dexter Jackson and Austin Gombas have both been phenomenal this year. Also, halfback Kaiden Saint III is a sneaky good player who can really make an impact if he's not accounted for. If we flip to the other side of the field you'll find out that Notre Dame's defense is very good as well. Players like Zues Williams, Minkah Solo, Bubba Bertier, and Dominic Schillizzi have been the backbone of the defense and have been able to make big plays. They have also been able to rack up 10 takeaways and 24 sacks. The Irish have a first round meeting with FSU. The Seminoles are a run first team and if Notre Dame can get sacks early on it may be a long night for the Noles. Notre Dame will need to keep up the offensive productivity, keep getting sacks, and wear down their opponents defenses and they should be good. For my final prediction I have Notre Dame either losing to FSU or winning the National Championship. I personally would love to see a rematch against Texas where I believe they would win. I think Asiata going out on a win would be great but nothing is given in this league so he will need to earn every yard going into the playoffs.
Ohio State
Not the most flashy team but a team that will get it done. OSU is looking to surprise some people. They were able to beat Miami in week seven with an outstanding performance from the D-line and will need a similar performance again. OSU had a solid regular season. A few losses they probably wanted back but that doesn't matter since they are in the playoffs. Jimi Germaine has been very solid a quarterback this season and same with Manuel Silva at halfback. Their offense hasn't been over the top but it hasn't been bad either. They need to try and avoid shootouts as much as possible. I think they will find lots of success if they can possess the ball as much as possible on offense. Tiring out opposing defenses and making big plays late. Colten Allen and Dameko Brewer are going to be huge parts of their playoff run and will need to be at the top of their games. Legion has done an amazing job in his first season but I just dont think he has what it takes. The best the Buckeyes will do is the second round but this is just the start. Next season, no matter how their playoffs go, they will be a force to reckon with. 
Everyone make sure to tune in on Monday night to watch the CFSL Playoffs to see if my predictions were correct. That leaves me with one final question. What are your CFSL playoff predictions?